Cryptocurrency and the Future of Global Finance
April 20-21, 2023 at the University of South Florida Sarasota-Manatee in Sarasota, FL.
Every financial crisis seems to trigger anxiety in the investment community and this one is no different. Some of the questions we're hearing from readers and in the financial press we list below in a few categories.

The Dollar on the world stage:
Is the Dollar losing its reserve currency status?

If so, what would replace it?

Are we another Argentina, Argentina-Norte?

Can China, or a basket of currencies including China, displace the dollar?
Cryptocurrency:
Does the current banking crisis prove that digital and cryptocurrencies are viable alternatives to the mainstream banking system?

What is the Federal Reserve's position on cryptocurrencies?

Are cryptocurrencies an asset class, pure speculation, or something in between?

Do cryptocurrencies now have a place in the asset allocation process?

How much portfolio risk is introduced by adding a cryptocurrency?

Is the volatility within the cryptocurrency market predictable?

There are more than 20,000 cryptocurrencies. Should I own only some or a large swath as a hedge?

Are their correlation coefficients between bitcoin and traditional asset classes?
Russia-Ukraine Conflict:
Is there an outcome that will restore the prevailing world order and stability in supply chains and energy markets?

Are IMF economic forecasts of Russian GDP growth reliable?

How much risk does my portfolio have in relation to the conflict?

Will the drop off in Russia-provided rare-earths result in a slower transition to carbon-neutrality?

Are there ample substitutions for Russia-Ukraine supplied grain that won't fuel inflation and economic ruin in the developing world?

We plan to explore what we know and what needs more clarity at an upcoming conference organized by the Global Interdependence Center (GIC) at the campus of the University of South Florida Sarasota-Manatee (USFSM). As a sponsor, Cumberland has helped curate many of the panelists and keynote speakers so we might bridge the knowledge gap for the benefit of our advisors, clients, and wider audience that watch our weekly videos and read our commentaries.

If you're a local to the Sarasota-Manatee area, which includes Tampa Bay, we invite you to attend April 20-21, 2023 in person for our two days of talks and interactive discussions  including keynote remarks from Christopher J. Waller, Ph.D., Member of the Board of Governors of the Federal Reserve System, and Kevin Rudd, Ph.D., Australia's Ambassador to the United States of America.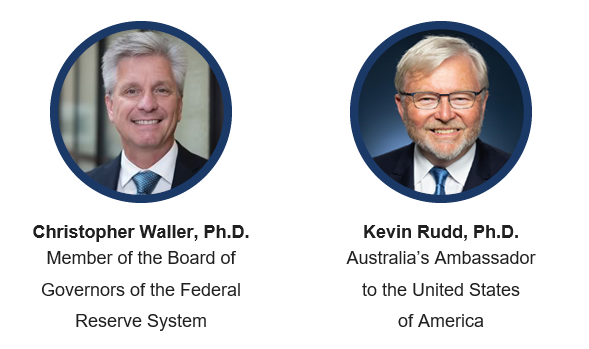 A detailed schedule, list of participants, and free reservations are available here: https://www.interdependence.org/events/cryptocurrency-and-the-future-of-global-finance/