David Kotok, chairman of the board & chief investment officer at Cumberland Advisors, joins Yahoo Finance to discuss the market outlook ahead of earnings season and growth expectations.
Image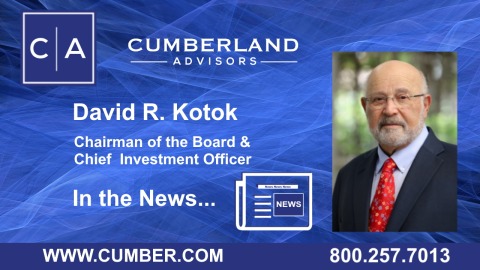 Excerpt:
DAVID KOTOK: Well the reopening trade, travel and nature certainly is taking place. We already see it. We see it in economic activity. It's clearly underway. We are still overweight the healthcare sector-- pharma, biotech, in the broad sense, medical devices. And the reason is this. It's American companies-- Johnson & Johnson, Pfizer, and others-- that are essentially now leading the world to confront COVID.
What does that mean? It means vaccines, it means treatments. It means oral treatments. It means booster shots. It means dealing with millions of people who have long-haul disabled structures in their physical or psychological being because of COVID. So, we are overweight the medical sector. It's going through a correction. We think it has a sustainable trajectory ahead of it.
We also like the big banks in the United States. We like the defense sector. I'm sorry to say, Julie-- I wish it were different-- but this is a dangerous world, and it hasn't changed. So it's not just travel and leisure. It's not just cruise ships. There's a broad place to be. There are sectors which are less certain. And we would underweight them or be careful with them. Because we don't think this is a yield-driven recovery, i.e. utilities or consumer staples. We think it's a different trajectory this time. Someone has to choose the sectors and in other cases, avoid them. We also like the recovery of small and mid-caps. It's got a long way to go.
Read the full transcript and see the video interview here: https://finance.yahoo.com/video/america-solid-foundation-sustain-growth-150743967.html
---
Links to other websites or electronic media controlled or offered by Third-Parties (non-affiliates of Cumberland Advisors) are provided only as a reference and courtesy to our users. Cumberland Advisors has no control over such websites, does not recommend or endorse any opinions, ideas, products, information, or content of such sites, and makes no warranties as to the accuracy, completeness, reliability or suitability of their content. Cumberland Advisors hereby disclaims liability for any information, materials, products or services posted or offered at any of the Third-Party websites. The Third-Party may have a privacy and/or security policy different from that of Cumberland Advisors. Therefore, please refer to the specific privacy and security policies of the Third-Party when accessing their websites. Sign up for our FREE Cumberland Market Commentaries Cumberland Advisors Market Commentaries offer insights and analysis on upcoming, important economic issues that potentially impact global financial markets. Our team shares their thinking on global economic developments, market news and other factors that often influence investment opportunities and strategies.
David R. Kotok
News Source
Yahoo! Finance