David R. Kotok quoted in this excerpt from Politico.
 
Boomflation ignores the yield signs
Image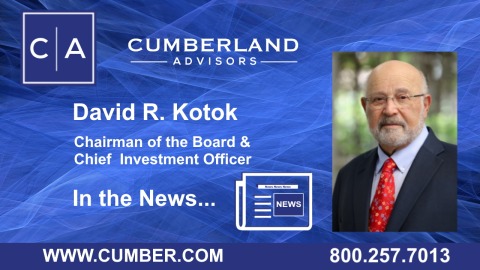 By BEN WHITE With help from Joanne Kenen

03/30/2022

AHEAD OF THE CURVE — This week, a very wonky event took place in a corner of the U.S. bond market. The "yield curve," which sounds a lot sexier than it is, "inverted." Or one of the most closely watched yield curves did. Oh my.

Some economists and financial Twitter nerds (of which I am one) exclaimed: "This means a recession is coming soon!"

Well, maybe. But other indicators, including some favored by the Fed, are much less worrisome. Here are a few to amaze your friends at parties when you shrug off the latest inversion and show you know better.

Other bond yields — Comparing three-month yields to 18-month yields, or 10 years to three months, "both imply sustained growth compared to the inversion of the 10-year/two-year spread," Brusuelas said. He added, "That is consistent with the strong labor market and solid consumer spending." Veteran investor David Kotok of Cumberland Advisors emailed a similar sentiment: "I'm not very concerned. … If you look at longer-term bond spreads," he said, "the curve is not flat." So. Never mind.

Read the full story at Politico: https://www.politico.com/newsletters/politico-nightly/2022/03/30/boomflation-ignores-the-yield-signs-00021767
---
Links to other websites or electronic media controlled or offered by Third-Parties (non-affiliates of Cumberland Advisors) are provided only as a reference and courtesy to our users. Cumberland Advisors has no control over such websites, does not recommend or endorse any opinions, ideas, products, information, or content of such sites, and makes no warranties as to the accuracy, completeness, reliability or suitability of their content. Cumberland Advisors hereby disclaims liability for any information, materials, products or services posted or offered at any of the Third-Party websites. The Third-Party may have a privacy and/or security policy different from that of Cumberland Advisors. Therefore, please refer to the specific privacy and security policies of the Third-Party when accessing their websites.
---
Sign up for our FREE Cumberland Market Commentaries
---
Cumberland Advisors Market Commentaries offer insights and analysis on upcoming, important economic issues that potentially impact global financial markets. Our team shares their thinking on global economic developments, market news and other factors that often influence investment opportunities and strategies.
David R. Kotok