Excerpt from...
China faces a potential Lehman moment. Wall Street is unfazed
By Matt Egan, CNN Business - September 16, 2021
Image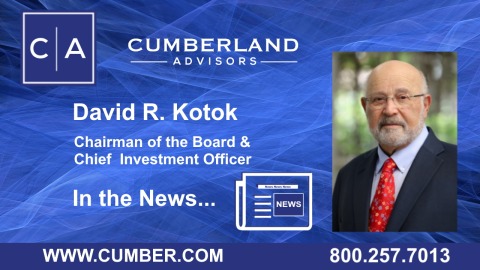 The implosion of Lehman Brothers, 13 years ago this week, showed how the collapse of a single entity can send shockwaves around the world.
Echoes from that event are resounding today as a massive property developer on the other side of the world teeters on the brink of default.

The risk is that the collapse of Evergrande, a Chinese real estate company with a staggering $300 billion of debt outstanding, could set off a chain reaction that spreads overseas.
David Kotok, co-founder and chief investment officer of Cumberland Advisors, agrees, dismissing Evergrande as a "Chinese domestic credit problem."
"It does not look as if it has any contagion effects on American companies or American financial markets," Kotok said. "We see no credit spread widening,"
Credit spreads, the difference between corporate bonds and ultra-safe Treasury rates, remain very narrow. That's a sign that investors aren't worried — especially given the Federal Reserve's unprecedented support for the economy and markets. Of course, that can change in a heartbeat.
"I would change my view at once if I saw any contagion or spillover" into the world's biggest economies, Kotok said.
The US Treasury Department declined to comment on the Evergrande situation.
Read the full article at CNN Business: https://www.cnn.com/2021/09/16/business/wall-street-evergrande-china/index.html
---
Links to other websites or electronic media controlled or offered by Third-Parties (non-affiliates of Cumberland Advisors) are provided only as a reference and courtesy to our users. Cumberland Advisors has no control over such websites, does not recommend or endorse any opinions, ideas, products, information, or content of such sites, and makes no warranties as to the accuracy, completeness, reliability or suitability of their content. Cumberland Advisors hereby disclaims liability for any information, materials, products or services posted or offered at any of the Third-Party websites. The Third-Party may have a privacy and/or security policy different from that of Cumberland Advisors. Therefore, please refer to the specific privacy and security policies of the Third-Party when accessing their websites.
---
Sign up for our FREE Cumberland Market Commentaries
---
Cumberland Advisors Market Commentaries offer insights and analysis on upcoming, important economic issues that potentially impact global financial markets. Our team shares their thinking on global economic developments, market news and other factors that often influence investment opportunities and strategies.
David R. Kotok