Excerpt from...
How Will Climate Change Impact the West Coast of Florida?
by Brittany Mattie
The second Florida Climate Forecast will take place on November 19, 2021 in the Selby Auditorium at the University of South Florida's Sarasota-Manatee campus. Hosted by Sarasota-based nonprofit, Climate Adaption Center (CAC), this in-person event will focus on Florida's west coast and explore what our climate will prospectively look like in the years 2030, 2040 and 2050. The conference will also present first-ever forecasts of its kind and will examine how public, private and academic sectors can prepare for the future.
Image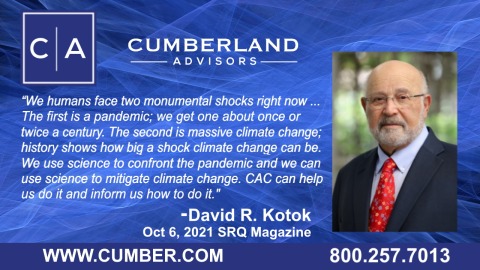 Area-specific issues of conversation include ... Economics: financial risk and opportunity in a changing climate. "We humans face two monumental shocks right now in Sarasota," says Chairman of Cumberland Advisors David Kotok. "The first is a pandemic; we get one about once or twice a century. The second is massive climate change; history shows how big a shock climate change can be. We use science to confront the pandemic and we can use science to mitigate climate change. CAC can help us do it and inform us how to do it."
Read the full Event Post at SRQ Magazine's website: https://www.srqmagazine.com
---
Links to other websites or electronic media controlled or offered by Third-Parties (non-affiliates of Cumberland Advisors) are provided only as a reference and courtesy to our users. Cumberland Advisors has no control over such websites, does not recommend or endorse any opinions, ideas, products, information, or content of such sites, and makes no warranties as to the accuracy, completeness, reliability or suitability of their content. Cumberland Advisors hereby disclaims liability for any information, materials, products or services posted or offered at any of the Third-Party websites. The Third-Party may have a privacy and/or security policy different from that of Cumberland Advisors. Therefore, please refer to the specific privacy and security policies of the Third-Party when accessing their websites.
---
Sign up for our FREE Cumberland Market Commentaries
---
Cumberland Advisors Market Commentaries offer insights and analysis on upcoming, important economic issues that potentially impact global financial markets. Our team shares their thinking on global economic developments, market news and other factors that often influence investment opportunities and strategies.
David R. Kotok