Cumberland Advisors' Matt McAleer & John Mousseau discuss inflation, markets, & the economy with SNN-TV News Director, Craig Burdick.
"Inflation is like water. It gets into every crevice." -John R. Mousseau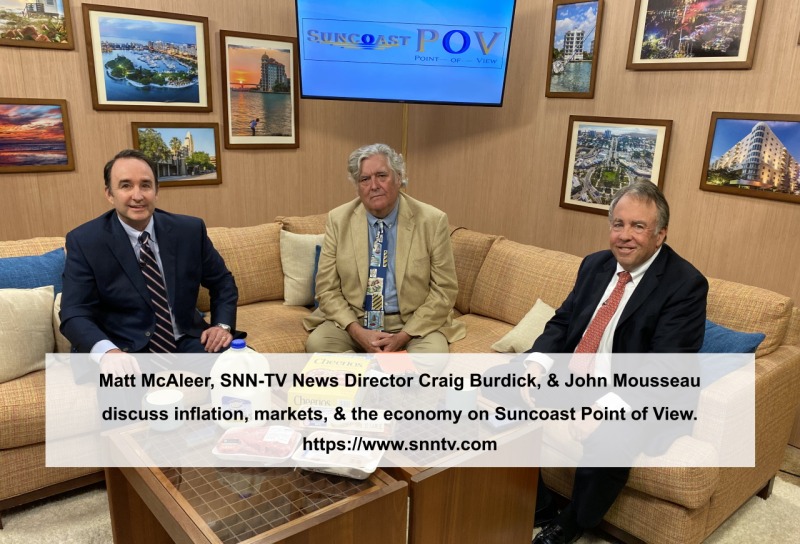 In this interview on Suncoast POV, Craig Burdick invites Cumberland Advisors' John R. Mousseau, CFA, President, Chief Executive Officer, & Director of Fixed Income and Matthew C. McAleer, Executive Vice President & Director of Equity Strategies, for a discussion on inflation. How does inflation affect investors and for the average consumer and what are the ripple effects at the supermarket and gas station? These topics and more are discussed.
Use the link below to view the video of this Suncoast Point of View conversation taped at the Sarasota SNN TV Studio.
YouTube URL: https://youtu.be/AKUlr5vgpOE
---
Links to other websites or electronic media controlled or offered by Third-Parties (non-affiliates of Cumberland Advisors) are provided only as a reference and courtesy to our users. Cumberland Advisors has no control over such websites, does not recommend or endorse any opinions, ideas, products, information, or content of such sites, and makes no warranties as to the accuracy, completeness, reliability or suitability of their content. Cumberland Advisors hereby disclaims liability for any information, materials, products or services posted or offered at any of the Third-Party websites. The Third-Party may have a privacy and/or security policy different from that of Cumberland Advisors. Therefore, please refer to the specific privacy and security policies of the Third-Party when accessing their websites.
---
Sign up for our FREE Cumberland Market Commentaries
---
Cumberland Advisors Market Commentaries offer insights and analysis on upcoming, important economic issues that potentially impact global financial markets. Our team shares their thinking on global economic developments, market news and other factors that often influence investment opportunities and strategies.
Matthew C. McAleer & John R. Mousseau, CFA
News Source
Suncoast News Network