EMEA Morning Briefing: Stock Futures Jump After Credit Suisse Gets Central Bank Support
Provided by Dow Jones - Mar 16, 2023
Quoted: David R. Kotok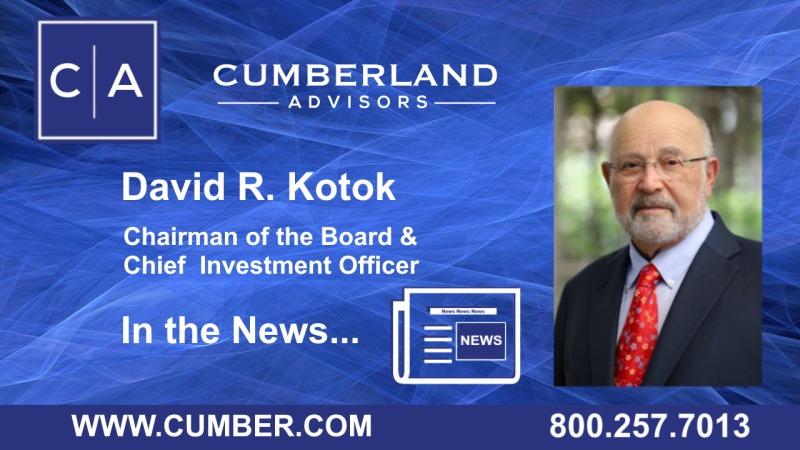 Excerpt follows:
---
Investor fears about contagion drove a market rout that wiped out nearly $75 billion in the value of European bank stocks, according to an analysis by Dow Jones Market Data.
Selling that had been mostly contained to U.S. stocks is broadening on the risk that banking-sector turmoil could be what tips the U.S. economy into a recession that analysts have been predicting for over a year. The market's obsession with inflation and whether the U.S. Federal Reserve would raise interest rates by a quarter-point or a half-point has been eclipsed by the new fear.
"It has all the signs of a panic in the stock market and it has all the signs of panic in the bond market," said David Kotok, chief investment officer at Cumberland Advisors. If risk premiums start to surge in corporate and mortgage-bond markets, that will likely set off another leg of selling in stocks, he said.
Efforts by U.S. officials and regulators to stop Silicon Valley Bank's collapse from spilling over into the financial system appeared to have stabilized markets Tuesday. But the selloff in stocks and hunt for safe assets began again Wednesday, showing that investors remain on edge about the potential for tremors in the global banking system.
---
Read the full article at www.morningstar.com
https://www.morningstar.com/news/dow-jones/20230316229/emea-morning-briefing-stock-futures-jump-after-credit-suisse-gets-central-bank-support
---
Links to other websites or electronic media controlled or offered by Third-Parties (non-affiliates of Cumberland Advisors) are provided only as a reference and courtesy to our users. Cumberland Advisors has no control over such websites, does not recommend or endorse any opinions, ideas, products, information, or content of such sites, and makes no warranties as to the accuracy, completeness, reliability or suitability of their content. Cumberland Advisors hereby disclaims liability for any information, materials, products or services posted or offered at any of the Third-Party websites. The Third-Party may have a privacy and/or security policy different from that of Cumberland Advisors. Therefore, please refer to the specific privacy and security policies of the Third-Party when accessing their websites.
---
Sign up for our FREE Cumberland Market Commentaries
---
Cumberland Advisors Market Commentaries offer insights and analysis on upcoming, important economic issues that potentially impact global financial markets. Our team shares their thinking on global economic developments, market news and other factors that often influence investment opportunities and strategies.
David R. Kotok