Excerpt from....
Fed Minutes Reveal Little for Markets
The Fed is staying the course for now when it comes to interest rates.
By Tim Smart | July 7, 2021
Image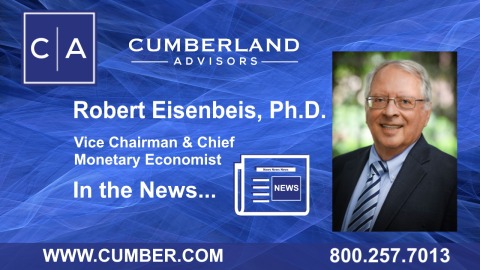 Minutes released Wednesday of the Federal Reserve's mid-June meeting of its monetary policy committee offered little further guidance to markets as to when the central bank might begin raising interest rates or otherwise cutting support to the economy.
Some participants expressed that while the coronavirus pandemic had largely been brought under control, uncertainty over the future course of the economy remained "elevated."
The Fed has maintained that it would not raise interest rates despite a recent spike in inflation well beyond its goal of 2% annually as long as the labor market remains short of a full recovery that is broad-based. Some 850,000 jobs were added in June and job openings data released earlier Wednesday show there were 9.2 million positions open in May, just shy of the record 9.3 million in April.
"We are now well aware of the emphasis the (Fed) has begun to place on the jobs situation for low-income people and minorities, who were hit especially hard by the pandemic," says Robert Eisenbeis, vice chairman and chief monetary economist at Cumberland Advisors. "In this latest report, the unemployment rate for men was 5.9%, women 5.5%, whites 5.2%, whereas the unemployment rate for blacks was 9.2%, Hispanics 7.4%, and Asians 5.8%. Interestingly, despite the improvement in hiring, in each case the unemployment rate ticked up slightly from what it was in May 2021."
Ahead of the release of the minutes, the yield on the 10-year Treasury fell to 1.30%, its lowest level since February and a sign the bond market believes the Fed will stay close to its current policy. At a press conference following the mid-June meeting, Fed Chairman Jerome Powell acknowledged inflation had risen "notably" but also said he considered it temporary amid dislocations in the economy caused by the pandemic. He also said the committee members had been "talking about talking about" reining in its asset purchases.
Read the full article at the U.S. News & World Report website: https://www.usnews.com/news/economy/articles/2021-07-07/fed-minutes-reveal-little-for-markets
---
Links to other websites or electronic media controlled or offered by Third-Parties (non-affiliates of Cumberland Advisors) are provided only as a reference and courtesy to our users. Cumberland Advisors has no control over such websites, does not recommend or endorse any opinions, ideas, products, information, or content of such sites, and makes no warranties as to the accuracy, completeness, reliability or suitability of their content. Cumberland Advisors hereby disclaims liability for any information, materials, products or services posted or offered at any of the Third-Party websites. The Third-Party may have a privacy and/or security policy different from that of Cumberland Advisors. Therefore, please refer to the specific privacy and security policies of the Third-Party when accessing their websites.
---
Sign up for our FREE Cumberland Market Commentaries
---
Cumberland Advisors Market Commentaries offer insights and analysis on upcoming, important economic issues that potentially impact global financial markets. Our team shares their thinking on global economic developments, market news and other factors that often influence investment opportunities and strategies.
Robert Eisenbeis, Ph.D.
News Source
U.S. News & World Report