Robert Eisenbeis, Ph.D. quoted in this excerpt from U.S. News & World Report ...
Fed Raises Rates One More Time, Offers No Hint Whether It Is Finished

By Tim Smart | July 26, 2023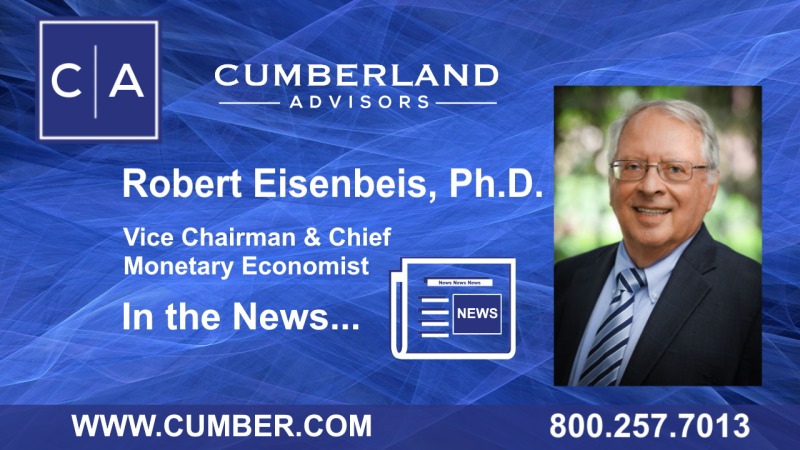 The news comes as there are anonymous reports of some division within the Fed between the "hawks'' who believe more rate hikes are necessary and the "doves" who think monetary policy is sufficiently restrictive.
For the most part, the markets have bought into the dovish view, boosting stocks in recent weeks in anticipation of interest rate cuts coming later this year or early in 2024 as the economy slows down sharply.
Recent data has clearly shown some economic slowdown, but not enough to suggest a broad recession is imminent.
"The picture gleaned from these data is that there are signs of positive growth in the 1.8–2% range, continued modest price pressures, and a relatively firm labor market," Robert Eisenbeis, vice chairman and chief monetary economist at Cumberland Advisors, wrote on Tuesday. "All point to the conclusion that the current policies are working and that the incoming data show little signs of an imminent recession."
Read the full article at U.S. News & World Report: https://www.usnews.com/news/economy/articles/2023-07-26/fed-raises-rates-one-more-time-offers-no-hint-whether-it-is-finished
Links to other websites or electronic media controlled or offered by Third-Parties (non-affiliates of Cumberland Advisors) are provided only as a reference and courtesy to our users. Cumberland Advisors has no control over such websites, does not recommend or endorse any opinions, ideas, products, information, or content of such sites, and makes no warranties as to the accuracy, completeness, reliability or suitability of their content. Cumberland Advisors hereby disclaims liability for any information, materials, products or services posted or offered at any of the Third-Party websites. The Third-Party may have a privacy and/or security policy different from that of Cumberland Advisors. Therefore, please refer to the specific privacy and security policies of the Third-Party when accessing their websites.
---
Sign up for our FREE Cumberland Market Commentaries
---
Cumberland Advisors Market Commentaries offer insights and analysis on upcoming, important economic issues that potentially impact global financial markets. Our team shares their thinking on global economic developments, market news and other factors that often influence investment opportunities and strategies.
Robert Eisenbeis, Ph.D.
News Source
U.S. News & World Report