Excerpt from...
Is this a 'golden age' of public finance as the infrastructure bill crosses the finish line?
by Andrea Riquier - Nov. 9, 2021
Image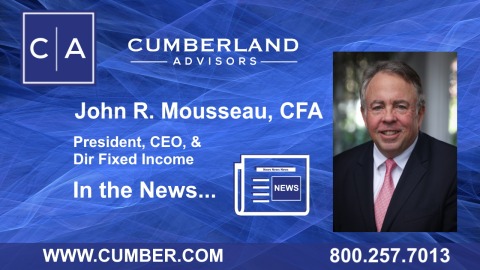 The bipartisan infrastructure bill passed late Friday by the House of Representatives promises hundreds of billions for a once-in-a-generation rebuild of America's aging and neglected built environment. But for the municipalities that stand to benefit from the funds, and the bond market where such projects are normally financed, it may not move the needle much, public-finance experts say.
Following the $260 billion American Rescue Plan by about six months, it extends what Tom Kozlik, head of municipal research and analytics at Hilltop Securities, calls a "golden age" of U.S. Public Finance.
"There's never been an infrastructure program in this country that doesn't feature the states and locals," said John Mousseau, president and CEO of Cumberland Advisors.
Mousseau thinks the legislation may, on the margin, boost supply, but notes that the federal COVID-19 responses that have been most effective have been those that "got money out the door" quickly, like the CARES Act, in contrast to those that moved slowly, like rental assistance programs.
"Being able to streamline the money that's been approved is just as important as getting new money out," Mousseau said in an interview.
It's hard to see anything that might dent demand for muni bonds, which has been red-hot, Kozlik noted. "The Rescue Plan act really put a floor under municipal credit at least for a couple years," he said.
Read the full article at the MarketWatch website: https://www.marketwatch.com/story/are-we-due-for-a-golden-age-of-public-finance-as-the-infrastructure-bill-crosses-the-finish-line-11636405536
---
Links to other websites or electronic media controlled or offered by Third-Parties (non-affiliates of Cumberland Advisors) are provided only as a reference and courtesy to our users. Cumberland Advisors has no control over such websites, does not recommend or endorse any opinions, ideas, products, information, or content of such sites, and makes no warranties as to the accuracy, completeness, reliability or suitability of their content. Cumberland Advisors hereby disclaims liability for any information, materials, products or services posted or offered at any of the Third-Party websites. The Third-Party may have a privacy and/or security policy different from that of Cumberland Advisors. Therefore, please refer to the specific privacy and security policies of the Third-Party when accessing their websites.
---
Sign up for our FREE Cumberland Market Commentaries
---
Cumberland Advisors Market Commentaries offer insights and analysis on upcoming, important economic issues that potentially impact global financial markets. Our team shares their thinking on global economic developments, market news and other factors that often influence investment opportunities and strategies.
John R. Mousseau, CFA