Excerpt from The Bond Buyer…
Larger primary led by DASNY's $1B of school bonds takes focus
By Jessica Lerner & Christine Albano — May 09, 2023
Quoted: John R. Mousseau, CFA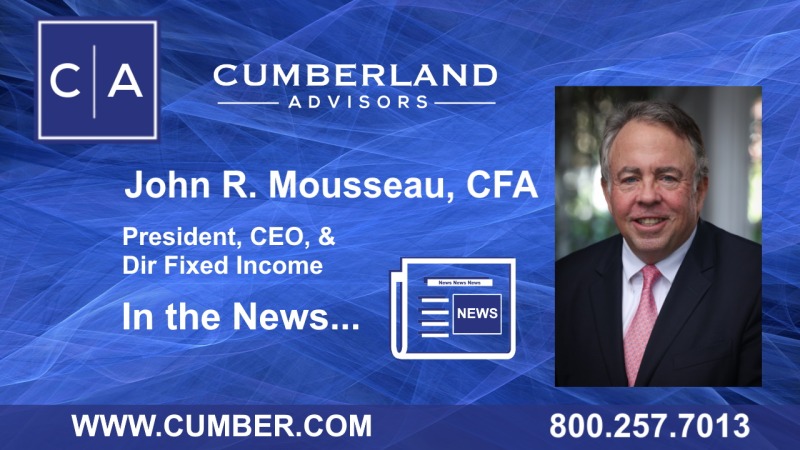 ---
Despite the attraction for new issues, sources said there is still uncertainty overall in the municipal market stemming from the regional banking crisis.
"The market treading on water," Farawell said, noting the latest Federal Reserve Board's rate hike last week.
When the Fed stops raising rates, he said that will "close a lot of uncertainty moving forward and it will be data-driven."
Others have taken a cautious approach on the buy-side this week, with some loose ends still remaining on the banking crisis spooking investors, according to John Mousseau, president and director of fixed income at Cumberland Advisors.
Some resolution of the banking crisis has helped retail investors allay their fears, but many are still on the sidelines awaiting further clarity.
"J.P. Morgan buying First Republic takes a big bank portfolio away from overhanging the market, but we still haven't seen anything from the [Silicon Valley Bank] portfolio," he said Tuesday.
"Beyond those sales should lie some better markets, particularly as you enter the summer season," Mousseau added.
---
Read the full article (with subscription) at The Bond Buyer: https://www.bondbuyer.com/news/munis-little-changed-as-primary-market-gets-underway
---
Links to other websites or electronic media controlled or offered by Third-Parties (non-affiliates of Cumberland Advisors) are provided only as a reference and courtesy to our users. Cumberland Advisors has no control over such websites, does not recommend or endorse any opinions, ideas, products, information, or content of such sites, and makes no warranties as to the accuracy, completeness, reliability or suitability of their content. Cumberland Advisors hereby disclaims liability for any information, materials, products or services posted or offered at any of the Third-Party websites. The Third-Party may have a privacy and/or security policy different from that of Cumberland Advisors. Therefore, please refer to the specific privacy and security policies of the Third-Party when accessing their websites.
---
Sign up for our FREE Cumberland Market Commentaries
---
Cumberland Advisors Market Commentaries offer insights and analysis on upcoming, important economic issues that potentially impact global financial markets. Our team shares their thinking on global economic developments, market news and other factors that often influence investment opportunities and strategies.
John R. Mousseau, CFA
News Source
The Bond Buyer