Excerpt from "Mallouk: Capital Gains Tax Hike Could 'Devastate' Hedge Funds, Boost DAFs" is below:
Image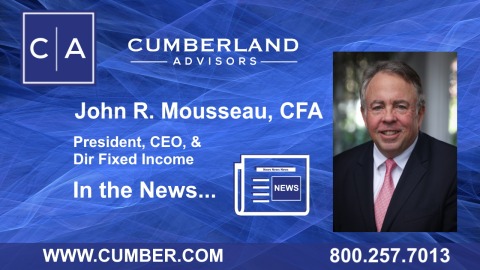 On Wednesday, President Joe Biden announced his American Families Plan, which includes not only a proposed increase in the top marginal tax rate for those earning more than $400,000 but also a capital gains tax increase for investors earning more than $1 million a year.
Demand for municipal bonds could also rise if the capital gains tax hike for wealthy investors is implemented, even though the primary tax advantage of munis is the exemption of their interest payments from income taxes.
"Wealthy investors are voting with their pocketbook," Mousseau said. "They smell higher income taxes and a higher overall rate when you add an increase in capital gains taxes."
Read the full newsletter at the ThinkAdvisor website: https://www.thinkadvisor.com/2021/04/27/what-a-capital-gains-tax-hike-could-mean-for-your-wealthy-clients/
---
Links to other websites or electronic media controlled or offered by Third-Parties (non-affiliates of Cumberland Advisors) are provided only as a reference and courtesy to our users. Cumberland Advisors has no control over such websites, does not recommend or endorse any opinions, ideas, products, information, or content of such sites, and makes no warranties as to the accuracy, completeness, reliability or suitability of their content. Cumberland Advisors hereby disclaims liability for any information, materials, products or services posted or offered at any of the Third-Party websites. The Third-Party may have a privacy and/or security policy different from that of Cumberland Advisors. Therefore, please refer to the specific privacy and security policies of the Third-Party when accessing their websites.
Sign up for our FREE Cumberland Market Commentaries Cumberland Advisors Market Commentaries offer insights and analysis on upcoming, important economic issues that potentially impact global financial markets. Our team shares their thinking on global economic developments, market news and other factors that often influence investment opportunities and strategies.
John R. Mousseau, CFA