John R. Mousseau in the news...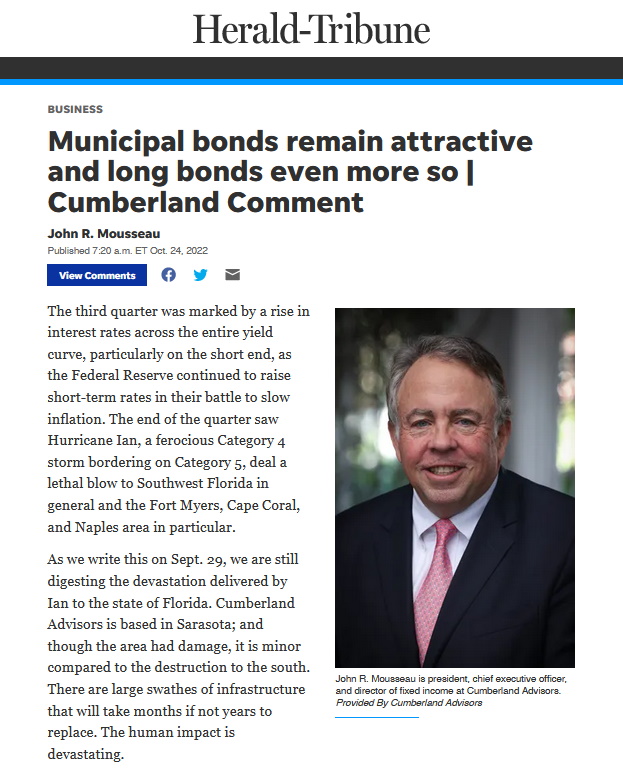 Continue reading at the Herald Tribune website where John R. Mousseau also delves into Hurricane Ian's impact and what we know from previous disasters:

-We know that the economic impact is severe and portends a big downshift in the economy of Southwest Florida and also the state.

-We know that areas rebuild, building codes are strengthened, and cities recover. And that activity produces a positive economic impact.

-But for now, we are sorting out the human impact, the economic impact, and the credit impact.

https://www.heraldtribune.com/story/business/2022/10/24/john-mousseau-muni-bonds-remain-attractive-long-bonds-even-more-so/10530504002/
---
Links to other websites or electronic media controlled or offered by Third-Parties (non-affiliates of Cumberland Advisors) are provided only as a reference and courtesy to our users. Cumberland Advisors has no control over such websites, does not recommend or endorse any opinions, ideas, products, information, or content of such sites, and makes no warranties as to the accuracy, completeness, reliability or suitability of their content. Cumberland Advisors hereby disclaims liability for any information, materials, products or services posted or offered at any of the Third-Party websites. The Third-Party may have a privacy and/or security policy different from that of Cumberland Advisors. Therefore, please refer to the specific privacy and security policies of the Third-Party when accessing their websites.
---
Sign up for our FREE Cumberland Market Commentaries
---
Cumberland Advisors Market Commentaries offer insights and analysis on upcoming, important economic issues that potentially impact global financial markets. Our team shares their thinking on global economic developments, market news and other factors that often influence investment opportunities and strategies.
John R. Mousseau, CFA
News Source
Sarasota Herald Tribune