Munis weaker in spots, outflows continue
By Jessica Lerner & Christine Albano, September 14, 2022
Image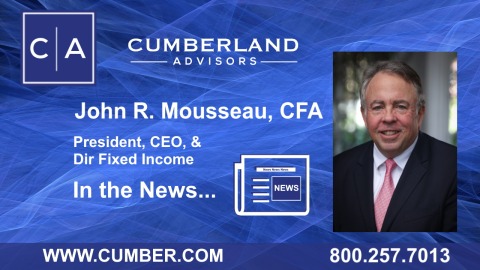 Municipals were weaker in spots Wednesday as mutual funds continued to see more outflows, while U.S. Treasuries and equities were mixed.
Uncertainty over supply-demand, interest rates and the economy are all giving investors of the municipal market some pause — highlighted by the ongoing outflow activity — but municipals are currently attractive and outperforming, according to municipal experts.
"Outflows are still dominating headlines, which probably means that yields on munis are close to peaking," said John Mousseau, president and CEO and director of fixed income at Cumberland Advisors.
"Deals are getting good reception, so that tells you that private accounts are picking up the slack from the funds," he noted.
Mousseau said monthly inflation numbers continue to be important because eventually they will go lower "and the market will sense a peak or plateau in the fed funds rate."
"The next assumption will be cutting and that will start the movement back into bond funds," Mousseau said. "It's a little counterintuitive since the short end of the curve is Fed-driven and the longer end is economy driven," he said, adding, retail investors react to those market signals.
See the full article (with subscription) at: https://www.bondbuyer.com/news/munis-weaker-in-spots-outflows-continue
---
Links to other websites or electronic media controlled or offered by Third-Parties (non-affiliates of Cumberland Advisors) are provided only as a reference and courtesy to our users. Cumberland Advisors has no control over such websites, does not recommend or endorse any opinions, ideas, products, information, or content of such sites, and makes no warranties as to the accuracy, completeness, reliability or suitability of their content. Cumberland Advisors hereby disclaims liability for any information, materials, products or services posted or offered at any of the Third-Party websites. The Third-Party may have a privacy and/or security policy different from that of Cumberland Advisors. Therefore, please refer to the specific privacy and security policies of the Third-Party when accessing their websites.
---
Sign up for our FREE Cumberland Market Commentaries
---
Cumberland Advisors Market Commentaries offer insights and analysis on upcoming, important economic issues that potentially impact global financial markets. Our team shares their thinking on global economic developments, market news and other factors that often influence investment opportunities and strategies.
John R. Mousseau, CFA
News Source
The Bond Buyer