Excerpt from the Wall Street Journal
Rising Rates Squeeze Bond Funds
Some funds that held up best strayed from their traditional investing grounds
by Sebastian Pellejero - Feb. 3, 2022
January's market turmoil hit even the safest bond funds. Some of those that held up best strayed from their traditional investing grounds, or concentrated on the shortest maturities.
Image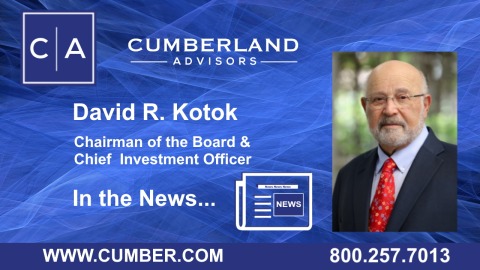 Only a few U.S.-based funds that focus on investment-grade taxable debt have earned a positive return or traded flat through January, when including interest payments and price swings, according to data compiled by Morningstar Direct. More than 300 others posted total losses ranging from minus 0.1% to minus 3.6% over the same period.
These bond funds, known on Wall Street as "core" and "core-plus" funds, typically hold some combination of relatively safe assets such as investment-grade corporate bonds, mortgage-backed securities and Treasurys. The pandemic's bond rally helped power total returns on some core funds as high as 18% just two years ago.
"The fund's performance in January illustrates the benefits of such a flexible strategy," he said.
David Kotok, chief investment officer of Cumberland Advisors, said rising rates are likely to spark bigger swings in the months ahead, but investors should resist the urge to make big moves, such as buying riskier debt, with the relatively safe portion of their portfolios. 
"Wear a helmet," he said. "And don't chase yield."
Read the full article at WSJ (with subscription): https://www.wsj.com/articles/rising-rates-squeeze-bond-funds-11643836562
---
Links to other websites or electronic media controlled or offered by Third-Parties (non-affiliates of Cumberland Advisors) are provided only as a reference and courtesy to our users. Cumberland Advisors has no control over such websites, does not recommend or endorse any opinions, ideas, products, information, or content of such sites, and makes no warranties as to the accuracy, completeness, reliability or suitability of their content. Cumberland Advisors hereby disclaims liability for any information, materials, products or services posted or offered at any of the Third-Party websites. The Third-Party may have a privacy and/or security policy different from that of Cumberland Advisors. Therefore, please refer to the specific privacy and security policies of the Third-Party when accessing their websites.
---
Sign up for our FREE Cumberland Market Commentaries
---
Cumberland Advisors Market Commentaries offer insights and analysis on upcoming, important economic issues that potentially impact global financial markets. Our team shares their thinking on global economic developments, market news and other factors that often influence investment opportunities and strategies.
David R. Kotok
News Source
Wall Street Journal