Excerpt from...
S&P 500 Perfect Earnings Record Is on the Line With Peak Growth
By Lu Wang  - July 10, 2021 - Bloomberg
Image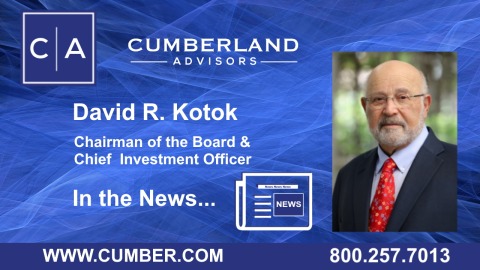 All through the pandemic era, buying stocks when corporate America delivers its quarterly reporting card has been a reliable winning trade. But the streak may be coming to a close.
A potential economic slowdown, the spread of a highly contagious coronavirus variant and the specter of Federal Reserve scaling back monetary stimulus have prompted Cumberland Advisors to recently raise cash holdings in its portfolios.
"We're a little more defensive," said David Kotok, chief investment officer at Cumberland. "We would like to see the optimistic outcomes, but we think the risk profile in the world is rising."
Signs of a weakening economy have rattled financial markets in recent weeks, contributing to a drop in 10-year Treasury yields. Meanwhile, economically sensitive shares like banks have lost some luster while steady growers such as technology are back in vogue.
Read the full article here: https://www.bloomberg.com/news/articles/2021-07-10/s-p-500-perfect-earnings-record-is-on-the-line-with-peak-growth
---
Links to other websites or electronic media controlled or offered by Third-Parties (non-affiliates of Cumberland Advisors) are provided only as a reference and courtesy to our users. Cumberland Advisors has no control over such websites, does not recommend or endorse any opinions, ideas, products, information, or content of such sites, and makes no warranties as to the accuracy, completeness, reliability or suitability of their content. Cumberland Advisors hereby disclaims liability for any information, materials, products or services posted or offered at any of the Third-Party websites. The Third-Party may have a privacy and/or security policy different from that of Cumberland Advisors. Therefore, please refer to the specific privacy and security policies of the Third-Party when accessing their websites.
---
Sign up for our FREE Cumberland Market Commentaries
---
Cumberland Advisors Market Commentaries offer insights and analysis on upcoming, important economic issues that potentially impact global financial markets. Our team shares their thinking on global economic developments, market news and other factors that often influence investment opportunities and strategies.
David R. Kotok