Stocks and bonds both get clobbered this time. Here's what's behind the double whammy
Image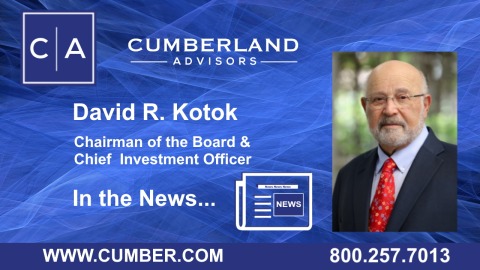 In normal times, when worries about a recession pushes down stocks, the Federal Reserve would cut interest rates to boost the economy. That also has the effect of pushing up bond prices. But that's not happening now.
"This is one of those rare years when both bonds and stocks work against the investor," says David Kotok, chief investment officer at Cumberland Advisors.
"This time, the Federal Reserve has a different problem," Kotok says. The worst inflation in 40 years is threatening to become embedded in the fabric of the economy. So instead of cutting interest rates, the Fed is trying to fight inflation by raising interest rates a lot to slow the economy.
Read or listen to the full article at Georgia Public Broadcasting website: https://www.gpb.org/news/2022/09/27/stocks-and-bonds-both-get-clobbered-time-heres-whats-behind-the-double-whammy
---
Links to other websites or electronic media controlled or offered by Third-Parties (non-affiliates of Cumberland Advisors) are provided only as a reference and courtesy to our users. Cumberland Advisors has no control over such websites, does not recommend or endorse any opinions, ideas, products, information, or content of such sites, and makes no warranties as to the accuracy, completeness, reliability or suitability of their content. Cumberland Advisors hereby disclaims liability for any information, materials, products or services posted or offered at any of the Third-Party websites. The Third-Party may have a privacy and/or security policy different from that of Cumberland Advisors. Therefore, please refer to the specific privacy and security policies of the Third-Party when accessing their websites.
---
Sign up for our FREE Cumberland Market Commentaries
---
Cumberland Advisors Market Commentaries offer insights and analysis on upcoming, important economic issues that potentially impact global financial markets. Our team shares their thinking on global economic developments, market news and other factors that often influence investment opportunities and strategies.
David R. Kotok
News Source
Georgia Public Broadcasting