David R. Kotok quoted in...
Stocks Climb on Inflation Data
Data show first inflation deceleration since August
By Joe Wallace - May 11, 2022
Excerpt below.
Image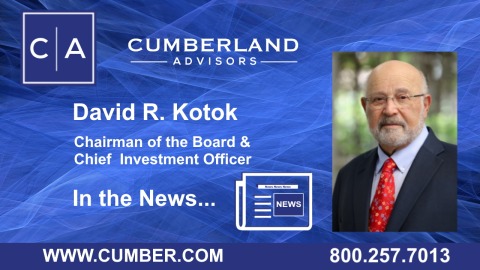 Stocks swung between gains and losses Wednesday after fresh data showed inflation eased slightly in April but not as much as economists expected.

The S&P 500 edged up 0.9% in morning trading. The index snapped a three-day losing streak Tuesday, hitting pause on a stretch of pressure that came as investors braced for the Federal Reserve to keep raising interest rates to curb decades-high inflation.

The trajectory of inflation and wages will determine how much the Fed will raise interest rates at its next policy meeting. The central bank last week lifted rates by half a percentage point, the biggest rise since 2000, and approved a plan to shrink its $9 trillion asset portfolio—kicking into a higher gear its campaign to rein in 40-year-high inflation.

"What we saw this morning was mostly in line with expectations—at least my expectations," said David Kotok, the chief investment officer at Cumberland Advisors. Inflation seems to be peaking, he said. Still, volatile markets have been primed to react strongly to any headline hinting at persistent price pressures. "We're in those kinds of crazy times," he said.

Stocks, particularly in the U.S., have been hit by a wave of selling in recent weeks. Investors are contending with the unwind of easy monetary policies that had boosted gains for stocks and bonds since the early days of the pandemic.

Read the full article at the Wall Street Journal: https://www.wsj.com/articles/global-stocks-markets-dow-update-05-11-2022-11652254409


---
Links to other websites or electronic media controlled or offered by Third-Parties (non-affiliates of Cumberland Advisors) are provided only as a reference and courtesy to our users. Cumberland Advisors has no control over such websites, does not recommend or endorse any opinions, ideas, products, information, or content of such sites, and makes no warranties as to the accuracy, completeness, reliability or suitability of their content. Cumberland Advisors hereby disclaims liability for any information, materials, products or services posted or offered at any of the Third-Party websites. The Third-Party may have a privacy and/or security policy different from that of Cumberland Advisors. Therefore, please refer to the specific privacy and security policies of the Third-Party when accessing their websites.
---
Sign up for our FREE Cumberland Market Commentaries
---
Cumberland Advisors Market Commentaries offer insights and analysis on upcoming, important economic issues that potentially impact global financial markets. Our team shares their thinking on global economic developments, market news and other factors that often influence investment opportunities and strategies.
David R. Kotok
News Source
Wall Street Journal