Excerpt from...
 
Stocks Mixed After Wall Street Record
Investors continue to evaluate Omicron; Dow industrials, oil prices rise

By Sebastian Pellejero & Anna Hirtenstein

Updated Dec. 28, 2021

Quoted: David R. Kotok
Image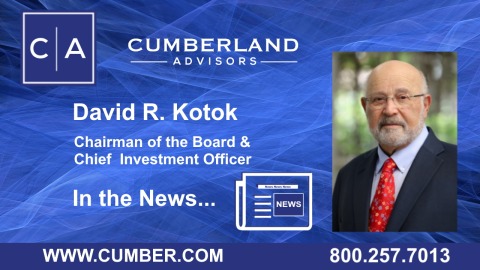 Governments and policy advisers are showing signs of taking a lighter touch with policies regarding the rapidly spreading Omicron variant, reducing quarantine times and in some instances forgoing social-distancing restrictions as they try to keep economies moving.

Cutting quarantine times is bullish for investors and prompting market participants to look beyond the Omicron surge, said David Kotok, chief investment officer at Cumberland Advisors. But it also risks allowing the Covid-19 virus to mutate, spread and disrupt economies, he added. He is overweight healthcare stocks.

"This ain't over, and markets want to celebrate it being over. But the virus doesn't care about markets want," Mr. Kotok said.

Read the full article at the WSJ website (paywall): https://www.wsj.com/articles/global-stock-markets-dow-update-12-28-2021-11640680761
---
Links to other websites or electronic media controlled or offered by Third-Parties (non-affiliates of Cumberland Advisors) are provided only as a reference and courtesy to our users. Cumberland Advisors has no control over such websites, does not recommend or endorse any opinions, ideas, products, information, or content of such sites, and makes no warranties as to the accuracy, completeness, reliability or suitability of their content. Cumberland Advisors hereby disclaims liability for any information, materials, products or services posted or offered at any of the Third-Party websites. The Third-Party may have a privacy and/or security policy different from that of Cumberland Advisors. Therefore, please refer to the specific privacy and security policies of the Third-Party when accessing their websites.
---
Sign up for our FREE Cumberland Market Commentaries
---
Cumberland Advisors Market Commentaries offer insights and analysis on upcoming, important economic issues that potentially impact global financial markets. Our team shares their thinking on global economic developments, market news and other factors that often influence investment opportunities and strategies.
David R. Kotok
News Source
Wall Street Journal