Excerpt from Yahoo Finance…
Surging US megacap stocks leave some wondering when to cash out
By Lewis Krauskopf - June 2, 2023 – Quoted: David R. Kotok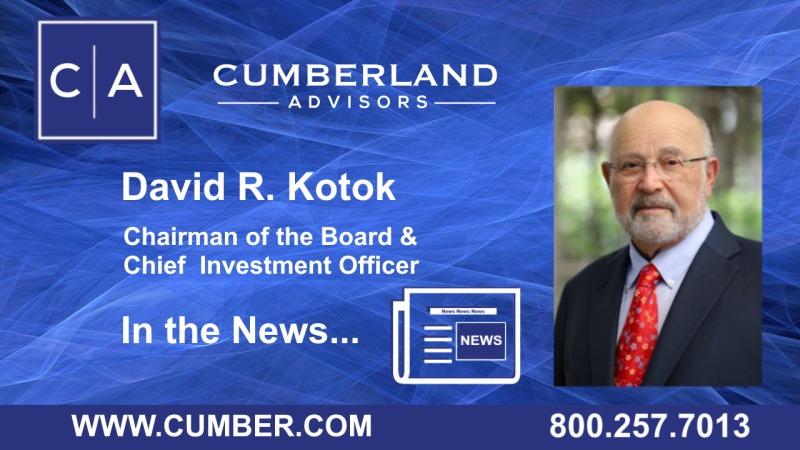 NEW YORK (Reuters) - As the U.S. stock market continues its climb, investors holding shares of the massive tech and growth companies leading the charge are debating whether to cash out or stay on for the ride.

The performance of just seven stocks, Apple, Microsoft, Alphabet, Amazon, Nvdia, Meta Platforms and Tesla, accounted for all of the S&P 500's 2023 total return through May, according to S&P Dow Jones Indices.
At the same time, only 20.3% of S&P 500 stocks have outperformed the index on a rolling three-month basis, a record low dating back five decades, according to Ned Davis. Levels below 30% have preceded weaker performance for the broader market, with the S&P 500 rising 4.4% over the next year versus an average of 8.2% for all one year periods, the firm's research showed.
David Kotok, chief investment officer at Cumberland Advisors, in recent days pared back holdings of the iShares semiconductor ETF following the latest spike in shares of Nvidia.
Kotok views narrowing breadth as an ominous sign for the broader stock market, saying that equities also look less favorable in certain asset valuation metrics.
In one commonly used valuation metric, the S&P 500 is trading at 18.5 times forward earnings estimates compared to its historic average of 15.6 times, according to Refinitiv Datastream.
"You can have (market) concentration and it can go on for a while," he said. But, he said, "for me, the narrowing is a warning."
(Reporting by Lewis Krauskopf; Editing by Ira Iosebashvili, Nick Zieminski and Diane Craft)
Links to other websites or electronic media controlled or offered by Third-Parties (non-affiliates of Cumberland Advisors) are provided only as a reference and courtesy to our users. Cumberland Advisors has no control over such websites, does not recommend or endorse any opinions, ideas, products, information, or content of such sites, and makes no warranties as to the accuracy, completeness, reliability or suitability of their content. Cumberland Advisors hereby disclaims liability for any information, materials, products or services posted or offered at any of the Third-Party websites. The Third-Party may have a privacy and/or security policy different from that of Cumberland Advisors. Therefore, please refer to the specific privacy and security policies of the Third-Party when accessing their websites.
---
Sign up for our FREE Cumberland Market Commentaries
---
Cumberland Advisors Market Commentaries offer insights and analysis on upcoming, important economic issues that potentially impact global financial markets. Our team shares their thinking on global economic developments, market news and other factors that often influence investment opportunities and strategies.
David R. Kotok
News Source
Yahoo Finance