Quoted: David R. Kotok in this excerpt from…
Zoltan Pozsar's Writing Is Dense, Esoteric—and a Hit. Now He's Left Credit Suisse.
By Matt Grossman & and Margot Patrick - May 8, 2023
Image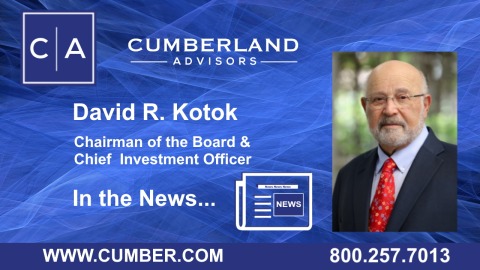 Zoltan Pozsar, a widely followed Credit Suisse markets guru, has left the bank, part of an exodus of staff that started in the months before the lender's shotgun takeover by rival UBS.
The Hungarian-born economist became a financial-world rock star for his analysis of mysterious market dynamics and behind-the-scenes accounts of how money flows through the plumbing of the global financial system.
He worked at the Federal Reserve Bank of New York and the U.S. Treasury before joining Credit Suisse in 2015, where he was Credit Suisse's global head of short-term interest-rate strategy.
Mr. Pozsar became a must read for traders and portfolio managers, and his first name a hashtag for finance nerds on Twitter.
"Zoltan knows that market, and he can probe it to find elements of risk and inefficiency," said David Kotok, chief investment officer at Cumberland Advisors. "There are very few places you can find such good explanations of it."
---
Read the full article with subscription at WSJ.com: https://www.wsj.com/articles/zoltan-pozsars-writing-is-dense-esoteric-and-a-hit-now-hes-left-credit-suisse-f2ec2483
Links to other websites or electronic media controlled or offered by Third-Parties (non-affiliates of Cumberland Advisors) are provided only as a reference and courtesy to our users. Cumberland Advisors has no control over such websites, does not recommend or endorse any opinions, ideas, products, information, or content of such sites, and makes no warranties as to the accuracy, completeness, reliability or suitability of their content. Cumberland Advisors hereby disclaims liability for any information, materials, products or services posted or offered at any of the Third-Party websites. The Third-Party may have a privacy and/or security policy different from that of Cumberland Advisors. Therefore, please refer to the specific privacy and security policies of the Third-Party when accessing their websites.
---
Sign up for our FREE Cumberland Market Commentaries
---
Cumberland Advisors Market Commentaries offer insights and analysis on upcoming, important economic issues that potentially impact global financial markets. Our team shares their thinking on global economic developments, market news and other factors that often influence investment opportunities and strategies.
David R. Kotok
News Source
The Wall Street Journal