Fri Oct 8, 2021
Once again, the BLS CES jobs report failed to meet expectations, with nonfarm employment increasing only 194,000, continuing a steady decline from July's increase of 1,091,000 jobs and August's increase of only 366,000. To be sure, the unemployment rate declined from 5.2% to 4.8%, but there are still over 7.7 million unemployed, and the number of permanent job losses remain at 2.3 million, while the number of people on temporary layoffs was largely unchanged at 1.1 million. Finally, the participation rate was unchanged at 61.6%.
Image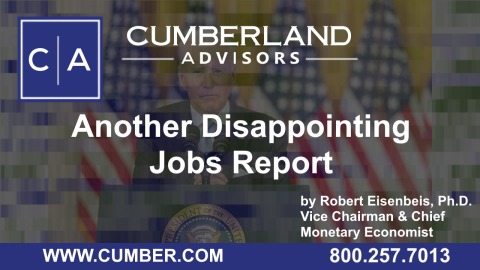 These jobs numbers stand in stark contrast to what economists were expecting. Reuters reported that their survey of economists' median forecast was for 500,000 jobs to be created in September (https://www.reuters.com/business/fed-prepared-handle-september-jobs-report-with-kid-gloves-2021-10-07). Similarly, ADP reported the change in nonfarm private employment was 568,000 in September, off considerably from what BLS is reporting.
The FOMC will have no more data from the CES report at its November 2–3 meeting, when it considers whether to begin tapering its asset purchases. Many have argued that this is the meeting where that decision will be made; but if "substantial progress" is required on the jobs front, then the data we have so far seems to argue against a policy change in November. The unemployment rates remain high among African Americans (7.9%) and Hispanics (6.3%), although improved, and stand in contrast to the unemployment rate among whites, which stands at 4.2%. The overall unemployment rate is, as mentioned previously, at 4.8%, which now equals the FOMC forecast for the end of 2021, but it remains far below its longer-run projection of 4%. Another key to assessing progress of the economy is the GDP situation in Q3. The first release is scheduled for October 28, so the FOMC will have that number at its November meeting. However, given the disappointing jobs numbers for August and September, combined with what we know about the impact of the COVID-19 surge in the third quarter, it is hard to see a blockbuster GDP report for Q3.

Robert Eisenbeis, Ph.D.
Vice Chairman & Chief Monetary Economist
Email | Bio
---
Links to other websites or electronic media controlled or offered by Third-Parties (non-affiliates of Cumberland Advisors) are provided only as a reference and courtesy to our users. Cumberland Advisors has no control over such websites, does not recommend or endorse any opinions, ideas, products, information, or content of such sites, and makes no warranties as to the accuracy, completeness, reliability or suitability of their content. Cumberland Advisors hereby disclaims liability for any information, materials, products or services posted or offered at any of the Third-Party websites. The Third-Party may have a privacy and/or security policy different from that of Cumberland Advisors. Therefore, please refer to the specific privacy and security policies of the Third-Party when accessing their websites.
---
Sign up for our FREE Cumberland Market Commentaries
---
Cumberland Advisors Market Commentaries offer insights and analysis on upcoming, important economic issues that potentially impact global financial markets. Our team shares their thinking on global economic developments, market news and other factors that often influence investment opportunities and strategies.