Mon Nov 22, 2021
It is almost 22 months since the United Kingdom formally exited the European Union (Brexit), and the two sides are again locked in difficult negotiations on the terms of the divorce. The first 11 months was a transition period during which the terms of the new trade arrangements were negotiated. In the last eleven months, the trade arrangements were applied, and serious problems developed.
 
Image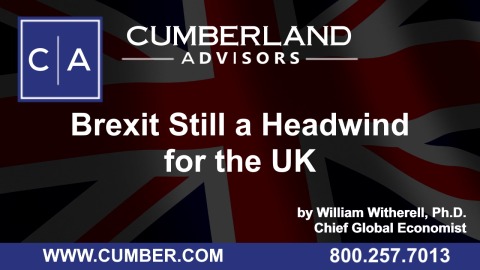 Many of the problems concern Northern Ireland, a region of the United Kingdom that was granted special status through the Northern Ireland Protocol, which was designed to keep Northern Ireland inside the EU's custom area and single market for goods while it remained part of the United Kingdom and the UK market. This objective is viewed by both sides as necessary for maintaining support of the 1998 Good Friday peace agreement that calls for no border checks between Northern Ireland and the Republic of Ireland, which remains a member of the EU. Achieving this result led the UK to accept, in effect, a border in the Irish Sea between Northern Ireland and the rest of the UK. This arrangement was created because some customs and health checks on goods moving from Great Britain to Northern Ireland are deemed necessary to safeguard the integrity of the EU's single market. The application of these custom and health regulations caused many problems, such as stocks stranded awaiting clearances, excessively complex paperwork, and other delays, making trade completely uneconomic. The result was that imports of food and medical supplies to Northern Ireland from Great Britain were seriously disrupted. Opposition to the Northern Ireland Protocol became intense.

The situation with respect to the Irish Sea border checks worsened in recent months, at the same time as other Brexit disputes heated up, notably the France-UK row over fishing rights, which remains unresolved. Last month, UK Brexit Minister David Frost said in a speech that the Protocol was agreed at "a moment of EU over-reach when the UK's negotiating hand was tied." He and Prime Minister Boris Johnson have argued that the EU's inspection regime has been excessive and disruptive. They also argue that the European Court of Justice should be removed from the dispute mechanism. Frost has stated that all checks on goods moving from Great Britain to Northern Ireland should cease. Escalating the confrontation, Frost has threatened to activate Article 16 of the Protocol, which allows temporary suspension of the deal if either party believes the deal is causing economic and social disruption or diversion of trade. The EU has proposed measures it could take to reduce customs and agrifood checks by 50 and 80 percent respectively and is reported to be considering retaliatory measures, including tariffs, should Article 16 be triggered. The two sides are now involved in intensive negotiations, with both sides signaling their intention to dial down the rhetoric and engage positively in an attempt to reach a deal before Christmas. Failure could well lead to a trade war that would be very harmful to all.

The dispute over the Northern Ireland Protocol, along with the other Brexit disputes, has had a harmful effect on UK-EU relations that is costly to the UK. For example, the draft memorandum of understanding on financial regulatory cooperation remains unsigned. The City of London has already lost trading in shares of EU companies, as the EU did not recognize the UK's regulation of the UK exchanges. The UK Office for Budget Responsibility has calculated that long-term Brexit costs to the UK economy will be twice COVID pandemic costs and that total UK imports and exports will eventually be 15% lower than if the UK had remained in the EU. There is, of course, a lot of uncertainty in such estimates about both future pandemic and UK-EU trade developments.

Forecasts for UK GDP growth in the current year and in 2022 have been reduced as a result of revisions in historical data and higher than expected inflation, which reached a near 10-year high of 4.2% in October. UK monetary authorities, concerned about inflation, have sounded more hawkish than those of the US, Europe, and Japan, and a rate increase is likely in December or February. Economic momentum is slowing, as most of the gains from reopening the economy are over, policy support is being withdrawn, and supply chain disruptions persist. Yet this year's GDP growth should still be 6.9%, similar to France's 6.8% but considerably above Germany's, which looks likely to be less than 3% this year.

Next year, the UK's GDP growth is still estimated to be above trend at 5.4%, fueled by strong consumption, with spending of accumulated excess savings and a vigorous recovery in fixed investment, with companies also spending large, accumulated cash holdings. The recent budget announcement included a welcome easing of the previously anticipated scale of fiscal tightening over the next few years.

Uncertainty about future developments in the pandemic is a source of downside risk to the above projections. Recently, the number of new cases has fallen significantly, though it is still high compared with case numbers seen in other advanced economies. The UK's rapidly deployed vaccination program appears to have kept down the rise in hospitalizations, a very positive development. Another source of risk in the outlook is future Brexit developments, both political disputes affecting trade and investment and the adjustment of business models to Brexit.
UK stocks have performed better than might have been expected in view of the negative news flow, with the FTSE 100 up 11.85% year-to-date November 19th. European stocks, as measured by the EURO STOXX 50, have performed considerably stronger, up 22.1%, as have US stocks, with the S&P 500 advancing 25.1%. UK stocks look substantially cheaper than US stocks and moderately cheaper than European stocks. They are an important part of the MSCI ACWI ex USA index, with a weight of 9.5%, following Japan (14.5%) and Hong Kong (10.5%).  Cumberland Advisors is maintaining its UK position in its International and Global equity ETF portfolios.
Bill Witherell, Ph.D.
Chief Global Economist
Email | Bio
---
Sources: Financial Times, ETF.com, CNBC.com, Oxford Economics, Goldman Sachs Research.
---
Links to other websites or electronic media controlled or offered by Third-Parties (non-affiliates of Cumberland Advisors) are provided only as a reference and courtesy to our users. Cumberland Advisors has no control over such websites, does not recommend or endorse any opinions, ideas, products, information, or content of such sites, and makes no warranties as to the accuracy, completeness, reliability or suitability of their content. Cumberland Advisors hereby disclaims liability for any information, materials, products or services posted or offered at any of the Third-Party websites. The Third-Party may have a privacy and/or security policy different from that of Cumberland Advisors. Therefore, please refer to the specific privacy and security policies of the Third-Party when accessing their websites.
---
Sign up for our FREE Cumberland Market Commentaries
---
Cumberland Advisors Market Commentaries offer insights and analysis on upcoming, important economic issues that potentially impact global financial markets. Our team shares their thinking on global economic developments, market news and other factors that often influence investment opportunities and strategies.