Fri Nov 19, 2021
In the new China finance regime, a required personal contribution to resolve a debt problem is now a standard. That new standard is there whether it was originally agreed to or not. Here's the proof: "Evergrande Chief Borrows $105 Million Against Hong Kong Properties," https://www.caixinglobal.com/2021-11-18/evergrande-chief-borrows-105-million-against-hong-kong-properties-101806562.html.
Image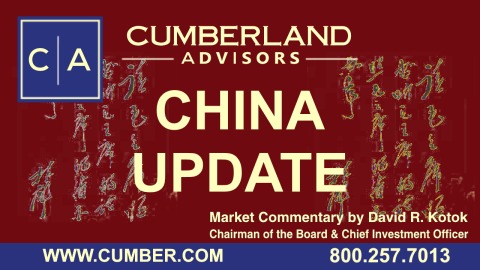 Where this leads, no one knows. But it is regime change, now applied in the world's second largest economy. And it is applied retroactively to the major players, who will comply because they fear for their safety (maybe their lives?). In the world of finance, a retroactively enforced personal guarantee is a new thing to contend with. It is like playing checkers with its "have to jump" rule and finding the rule changed in the middle of the game. Well, it has happened.
That means the terms of borrowing and use of debt and leverage are profoundly changed, as well. So is the credit analysis of debt. Maybe China will be better in the long run for initiating such discipline, but right now it is administering a shock. We expect more difficulty within the Chinese capital markets and with those firms that used the US financial markets as their sources of capital. We're underweight China in our International Equity ETF portfolio. We continue to be cautious about investment there.
David R. Kotok
Chairman and Chief Investment Officer
Email | Bio
---
Links to other websites or electronic media controlled or offered by Third-Parties (non-affiliates of Cumberland Advisors) are provided only as a reference and courtesy to our users. Cumberland Advisors has no control over such websites, does not recommend or endorse any opinions, ideas, products, information, or content of such sites, and makes no warranties as to the accuracy, completeness, reliability or suitability of their content. Cumberland Advisors hereby disclaims liability for any information, materials, products or services posted or offered at any of the Third-Party websites. The Third-Party may have a privacy and/or security policy different from that of Cumberland Advisors. Therefore, please refer to the specific privacy and security policies of the Third-Party when accessing their websites.
---
Sign up for our FREE Cumberland Market Commentaries
---
Cumberland Advisors Market Commentaries offer insights and analysis on upcoming, important economic issues that potentially impact global financial markets. Our team shares their thinking on global economic developments, market news and other factors that often influence investment opportunities and strategies.