Fri Jul 9, 2021
For the second time in eight months, the Chinese government has acted against a major Chinese technology firm seeking to list in the US market, again raising great concerns about the future of Chinese listing in the US and about Chinese stocks in general. In the previous case last November, Chinese regulators prevented what would have been a record-breaking listing by the Ant Group. We wrote about that in a November 10 commentary, "China Update – Ant Versus the State." Two days after its June 30th $4.4 billion New York initial public offering, the largest so far this year, the ride-hailing app firm Didi Chuxing was told by the Cyberspace Administration of China before the market opened to stop signing up new users. Just four days after the listing, the firm's app was removed by the government from China's app stores. It was reported that Didi had been advised to delay its listing until regulators completed a data security review, a warning that was ignored. The firm's share price dropped 5% on Friday, July 2, and tumbled a further 25% on Tuesday, July 6, and 4.6% on Wednesday, July 7.
Image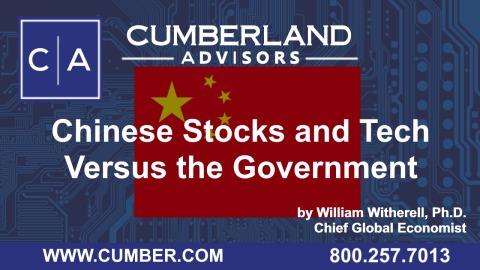 China's regulators first indicated that the action was taken because the firm had violated laws on the collection and use of personal data. The market's initial reaction was to the nature of the government's action, which clearly sought to make an example of Didi despite the negative effect on US investors. Market concerns grew greatly when, on Tuesday, July 6, China's State Council announced it would examine the "information securities responsibilities" of companies listing overseas. It said it is establishing "a system of extraterritorial application of China's capital market laws." While national-security data and protection of personal data concerns as well as competition-policy concerns about large, dominant technology firms are common to many national authorities, this action by China appears to be a response to a US law passed in December that requires US-listed Chinese companies to be audited by US audit firms. It was also probably a reaction to the surge in US listings by Chinese firms, which have raised about $24 billion over the past 18 months, including a record $12.4 billion in the first half of 2021.

The indication that China intends to tighten restrictions on overseas listings shocked global financial centers, particularly New York, where nearly 250 Chinese companies with a market capitalization of more than $2 trillion are listed. There is great concern that the lucrative IPO business will be seriously impacted, with Chinese technology listings worth billions moving to Hong Kong, despite the US market's offering greater depth. This business was already imperiled by the US law threatening delisting of foreign firms that fail to meet US accounting standards. It does appear likely that future IPOs will face longer wait times for Chinese regulatory approval, which will depress investor sentiment and make raising funds in the United States more costly for Chinese firms. Already, the Chinese firm Keep, China's most popular fitness app, has pulled out of plans for a $500 million IPO in the US. China has announced security investigations underway of the truck-hailing app Full Truck Alliance and the online recruiter Boss Zhipin, both having listed in the US recently.

The general nature of China's announcements to date does not make clear how stringent the restrictions will be or where the balance between strict national control over business and data and access to international capital will be struck. Is China suggesting a possible cooperative solution in its statement that there is a need to "further deepen cross-border audit-supervision cooperation"? Perhaps it is, though there have been no public indications of cooperation. However, a report that the US has rejected a proposal by China that Chinese regulators audit the accounts of Chinese firms and then submit the results to the US Public Company Accounting Board indicates there have been some discussions between the US and China. That is encouraging, but we are not optimistic, in view of the current thrust of Chinese policies. Should China's actions continue in the direction of limiting the access to and raising the cost of international capital for technology firms, its economy and even its security will be adversely affected. The stakes for the US and the global economy are also high in what Bloomberg calls "big data …the next major battleground in a clash of superpowers".

These developments are distinctly negative for Wall Street banks and Chinese technology firms, particularly those heavily dependent on data, and they are positive for Hong Kong banks. They cloud the outlook for all US-listed Chinese firms. Over the five days through July 7, the Invesco China Technology ETF, CQQQ, is down 7.6%; and the KraneShares CSI China Internet ETF, KWEB, dropped 13.3% on a total-return basis. Understandably, broad-based Chinese ETFs are also being affected by negative market sentiment. The SPDR S&P China ETF, GXC, which tracks a broad market-cap-weighted index of investable Chinese shares, has declined 7% over the same period and is down 6.1% year-to-date. The technology sector accounts for 40.4% of this ETF. Many of the firms outside of the tech sector are listed in the US. The Shanghai Composite Index suggests a much more modest impact, as it is down just 1.8% over the last five days and is still slightly up, 1.5%, year-to-date.

While the tech headwinds are likely to continue to weigh on market sentiment and political risk has risen significantly, there are positive factors that will continue to support Chinese stocks. China's economy did slow a bit in April and May. Nevertheless, beyond the current slow patch, it is expected to regain momentum in the second half and to register for the year an 8.5% growth rate. Next year's growth will continue at an above-trend rate of close to 6%. Such growth of the globe's second largest economy will be powered by private consumption advancing at an impressive pace of better than 9% each year. Fixed investment is likely to grow some 7% this year, and the boom in global trade as other economies gain momentum looks likely to boost China's exports at a robust pace of almost 18%. China corporate profits should continue to register strong gains, though the profits from the commodities market boom probably have peaked and internet companies are now threatened. Currently, we continue to hold broadly based China positions in our International and Global Equity ETF Portfolios, but this could change any day. We don't like the direction of political winds coming from the 100-year anniversary of the Chinese Communist Party. We are monitoring developments carefully.
Cumberland Advisors does not hold any of the ETFs mentioned in this note. The author does currently hold the ETFs CQQQ and KWEB in his personal account.

Bill Witherell
Chief Global Economist
Email | Bio
______________________________________________________________________________
Sources: Financial Times, Oxford Economics, kraneshares.com, Goldman Sachs Economic Research, CNBC.com, ETF.com, Bloomberg
---
Links to other websites or electronic media controlled or offered by Third-Parties (non-affiliates of Cumberland Advisors) are provided only as a reference and courtesy to our users. Cumberland Advisors has no control over such websites, does not recommend or endorse any opinions, ideas, products, information, or content of such sites, and makes no warranties as to the accuracy, completeness, reliability or suitability of their content. Cumberland Advisors hereby disclaims liability for any information, materials, products or services posted or offered at any of the Third-Party websites. The Third-Party may have a privacy and/or security policy different from that of Cumberland Advisors. Therefore, please refer to the specific privacy and security policies of the Third-Party when accessing their websites.
---
Sign up for our FREE Cumberland Market Commentaries
---
Cumberland Advisors Market Commentaries offer insights and analysis on upcoming, important economic issues that potentially impact global financial markets. Our team shares their thinking on global economic developments, market news and other factors that often influence investment opportunities and strategies.