Sun Apr 25, 2021
The Climate Adaptation Center in Sarasota, FL, headed by Bob Bunting, assembles and presents information obtained from curated sources. We support the CAC because it is focused on the response and not on the blame game.
Image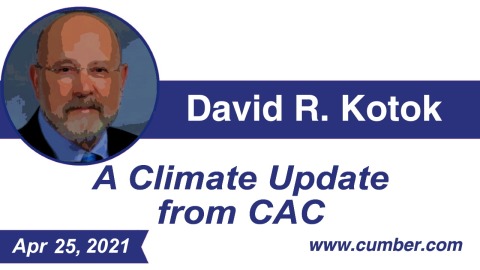 Specifically, CAC explores "synergies among science, business and government to help individuals and businesses to adapt and thrive in a dynamic climate." In Sarasota, sea level rise and red tide are each a big deal, and you can say that for the entire state of Florida. And nationwide, the US faces massive vulnerability to rising sea levels.  
 
Here are links to the latest set of briefings from the CAC, a three-part series titled "The Paris Climate Agreement – the Good, the Bad and the Opportunity!"
 
The Paris Agreement Series Introduction and Part 1: What's in the Paris Agreement and What's Not"
https://www.theclimateadaptationcenter.org/2021/04/03/the-paris-climate-agreement-part-1/
 
"The Paris Agreement, Part 2: The Good News and The Bad News,"
https://www.theclimateadaptationcenter.org/2021/04/21/the-paris-agreement-part-2-good-news-and-bad-news/
 
"The Paris Agreement, Part 3: The Opportunity!"
https://www.theclimateadaptationcenter.org/2021/04/22/the-paris-agreement-part-3-the-opportunity/
 
Investment implications are coming in other missives.  First we set the policy stage and commend CAC for doing so.  Happy Sunday morning.
David R. Kotok
Chairman of the Board & Chief Investment Officer
Email | Bio
---
Links to other websites or electronic media controlled or offered by Third-Parties (non-affiliates of Cumberland Advisors) are provided only as a reference and courtesy to our users. Cumberland Advisors has no control over such websites, does not recommend or endorse any opinions, ideas, products, information, or content of such sites, and makes no warranties as to the accuracy, completeness, reliability or suitability of their content. Cumberland Advisors hereby disclaims liability for any information, materials, products or services posted or offered at any of the Third-Party websites. The Third-Party may have a privacy and/or security policy different from that of Cumberland Advisors. Therefore, please refer to the specific privacy and security policies of the Third-Party when accessing their websites.
Sign up for our FREE Cumberland Market Commentaries Cumberland Advisors Market Commentaries offer insights and analysis on upcoming, important economic issues that potentially impact global financial markets. Our team shares their thinking on global economic developments, market news and other factors that often influence investment opportunities and strategies.