Mon Jan 11, 2021
When we mourn for a person, that is a certain kind of experience. Lose an aged parent and you feel the loss. But that loss is also a part of a repeating life cycle.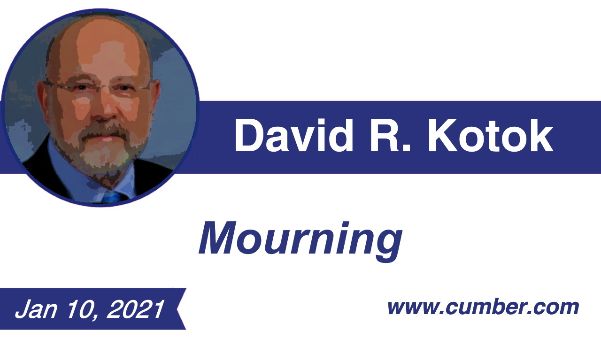 Lose a pet? Not the same, but there is a sense of loss of a different type.
But lose an idea? A concept? A construction? That's not the same as losing a person. The woman who was shot and died in Washington, DC is a stranger; she chose to be there. Even so, her death is a tragedy. She didn't have to die, and hers is a life lost. She is mourned by those who knew her. The Capitol Policeman who died is a tragedy; his is a life lost. He will be mourned by family and colleagues.
The stages of grief – denial, anger, bargaining, depression, acceptance – may be similar, whether for a person or for an idea. But they evidence themselves in a different way when we are mourning for an idea and not for a person.
Wednesday, my friend said, "I cannot believe what I see on TV!"
Denial?
Another friend snarled, "How can these animals do this to our Capitol?"
Anger?
TV images. Clear the chamber. Lockdown! National Guard. Virginia State Police.
Bargaining?
What about the fourth stage? What about depression?
That is where the mourning for the idea becomes intense. "I just ache like I've been kicked in the gut," said a friend. "Yup! That's how it feels." My friend and I both served in the army in the 1960s. He was on the side of the world that was a very tough place. We hung up with "Be safe, please."
The angst of mourning for an idea originates in the collective and not with the individual. We can learn how to mourn for a person. And that is what we do. We wish we didn't have to mourn, but we recognize that loss is part of a process, and we can relate to it as one person to another.
But to mourn for the loss of an idea, we must believe in the idea. We must hold it dear and cherish it. It has to be embedded in our psyches. It has to be part of our inner core. We have to be invested in the idea.
That is how we get to depression. That is why we feel the profound sense of loss when the symbol of the idea is attacked, and befouled, and scarred, and tarnished, and injured.
In America, many are mourning an idea that they have cherished and defended. Elsewhere in the world, others are also mourning for that idea, which they held (and still hold) in the highest esteem. And they fear the loss might be serious, and prolonged, and maybe even permanent. Yes, the world worries about permanent loss of an idea. It looks at history; it remembers the history and, therefore, it has good reason to worry.
We, here, also worry that the struggle with depression might be prolonged. Some of us fear it could become permanent. Permanent loss of this 250 year old experimental idea: Now that is a reason to feel depressed.
We have to reach acceptance to move on. Acceptance comes after depression.
It is hard to get there. The journey through the stages of grief usually takes time and discussion and reaching an inner peace with the five-stage sequence. But we've only had hours. We've compressed the notion of grief. We're mourning while worrying whether the idea is still valid, and is still alive, and is still cherished, and is still meritorious enough to warrant investment of energy.
We're absorbing all five stages of grief at once.
That is what we need to do in America. That is how we can move beyond the images we saw on TV. That is why mourning for an idea is so profoundly worthwhile. And that is why it is so difficult, and takes so much effort, and hurts so much. We hope that our national mourning ends with a renewal of determination. We seek an affirmation to uphold what we yet cherish.
America is in mourning. For the attack on a cherished idea. America needs to reach acceptance and then go into action and repair the damage.
The idea has endured so far. Will it continue to endure?
It had better. For my grandchildren and yours: it had better.
Please be safe.
David R. Kotok
Chairman of the Board & Chief Investment Officer
Email | Bio