Sat Jan 28, 2023
The Cumberland Advisors Week in Review is a recap of news, commentary, and opinion from our team. These are not revised assessments, and circumstances may have changed in the market from the time of original publication. We may include older commentaries that our editors have determined may be of interest to our audience. Your feedback is always welcome.
---
This Friday, January 27, 2023 Week in Review features an end-of-week update on market conditions, equities & bonds with Matt C. McAleer, Executive Vice President & Director of Equity Strategies, and John R. Mousseau, President, CEO, and Director of Fixed Income.
Image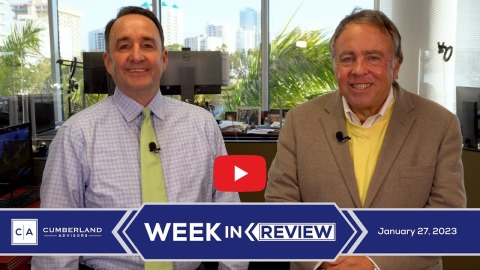 Matt McAleer and Equities Highlights
- Growth bid remained
- Lightened up on gold following its big move higher
- Still overweight Health Care, Defense & Energy in our U.S. ETF strategy 
- Will return to our discussions on momentum in next week's video

John Mousseau and Fixed Income Highlights
- PCE inflation numbers point to next Fed hike being at 25bps
- Are the end of rate hikes now in sight?
- Third week in a row for bond fund inflows
- No longer seeing 5% yields in Munis but some good deals at 4% still available
View this week's video "Green Streak" using the link above or this URL: https://youtu.be/32R_T0s-vJ4
Access past video updates including the most recent via this YouTube Playlist URL: https://www.youtube.com/playlist?list=PLu1JZIQ1mPrtx_q7i_C9FWN-cb9f594C1
The rest of our recap for the week can be viewed at our Email Distribution Archive on MailChimp's site via the link below. Please consider subscribing to our email list or YouTube channel to see updates as soon as they're posted: https://us8.campaign-archive.com/?u=d6f020f3bd6a1e2c4eb254e6c&id=8200b99f46
Please send any feedback from this update to Matt McAleer. You can reach him at:
Email: [email protected]
Twitter: https://twitter.com/matthewcmcaleer
LinkedIn: https://www.linkedin.com/in/matthew-c-mcaleer/
Call Matt: (800) 257-7013 ext. 346

Other questions or comments? Email us at [email protected] or give us a call at (800) 257-7013

With Appreciation,
-Cumberland Advisors
---
Links to other websites or electronic media controlled or offered by Third-Parties (non-affiliates of Cumberland Advisors) are provided only as a reference and courtesy to our users. Cumberland Advisors has no control over such websites, does not recommend or endorse any opinions, ideas, products, information, or content of such sites, and makes no warranties as to the accuracy, completeness, reliability or suitability of their content. Cumberland Advisors hereby disclaims liability for any information, materials, products or services posted or offered at any of the Third-Party websites. The Third-Party may have a privacy and/or security policy different from that of Cumberland Advisors. Therefore, please refer to the specific privacy and security policies of the Third-Party when accessing their websites.
---
Sign up for our FREE Cumberland Market Commentaries
---
Cumberland Advisors Market Commentaries offer insights and analysis on upcoming, important economic issues that potentially impact global financial markets. Our team shares their thinking on global economic developments, market news and other factors that often influence investment opportunities and strategies.