Sat May 28, 2022
Dear Clients & Friends,

Thank you for watching Cumberland Advisors' Friday, May 27, 2022 Week In Review, an end-of-week update on market conditions, equities & bonds with Matthew C. McAleer, Executive Vice President & Director of Equity Strategies, and John R. Mousseau, President, CEO, and Director of Fixed Income.
Image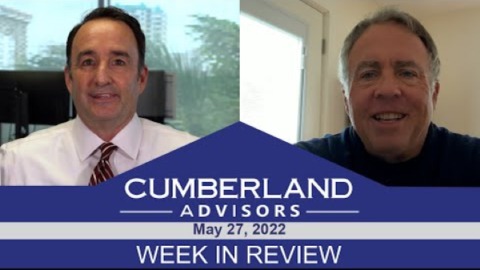 Matt McAleer & Equities
- Interest rates leveled off, causing Muni bonds to rip higher
- Saw a slightly weaker dollar as well, but oil still very strong
- Refining problem causing pinch for consumers
- Real demand returned to reverse weakness, helping to create levels to trade off of

John Mousseau & Fixed Income
- Treasuries down just slightly, provided other markets with some stability this week
- Munis rallied, with lower rated paper likely outperforming
- Bond fund flows still negative, but not as negative
- PCE right on expectations at .2, but month over month numbers lower

View this week's video Air Back in the Balloon using the link above or this URL: https://youtu.be/pvfOjU_G2pM

Please send any feedback from today's email/video to Matt McAleer.
-Link to Matt's Email: [email protected]
-Link to Matt's Twitter: https://twitter.com/MattMcAleer4
-Link to Matt's LinkedIn: https://www.linkedin.com/in/matthew-c-mcaleer/
-Call Matt: (800) 257-7013 ext. 346

Other questions or comments? Email us at [email protected] or give us a call at (800) 257-7013

Have a great weekend,
-Matt, John, & Cumberland Advisors
Please visit this link to our Email Distribution List where this commentary was initially published in full: https://us8.campaign-archive.com/?u=d6f020f3bd6a1e2c4eb254e6c&id=6cd865c6f8
To see these updates as soon as they are made public, please join our email list. Thank you.
-Cumberland Advisors
---
Links to other websites or electronic media controlled or offered by Third-Parties (non-affiliates of Cumberland Advisors) are provided only as a reference and courtesy to our users. Cumberland Advisors has no control over such websites, does not recommend or endorse any opinions, ideas, products, information, or content of such sites, and makes no warranties as to the accuracy, completeness, reliability or suitability of their content. Cumberland Advisors hereby disclaims liability for any information, materials, products or services posted or offered at any of the Third-Party websites. The Third-Party may have a privacy and/or security policy different from that of Cumberland Advisors. Therefore, please refer to the specific privacy and security policies of the Third-Party when accessing their websites.
---
Sign up for our FREE Cumberland Market Commentaries
---
Cumberland Advisors Market Commentaries offer insights and analysis on upcoming, important economic issues that potentially impact global financial markets. Our team shares their thinking on global economic developments, market news and other factors that often influence investment opportunities and strategies.