Sat Nov 19, 2022
The Cumberland Advisors Week in Review is a recap of news, commentary, and opinion from our team. These are not revised assessments, and circumstances may have changed in the market from the time of original publication. We may include older commentaries that our editors have determined may be of interest to our audience. Your feedback is always welcome.
---
Cumberland Advisors' Week in Review
Dear Clients & Friends,
Thank you for watching Cumberland Advisors' Friday, November 18, 2022 Week in Review, an end-of-week update on market conditions, equities & bonds with Todd Engelhardt, Regional Director of Investments, filling in for Matt McAleer, and John R. Mousseau, President, CEO, and Director of Fixed Income.
Image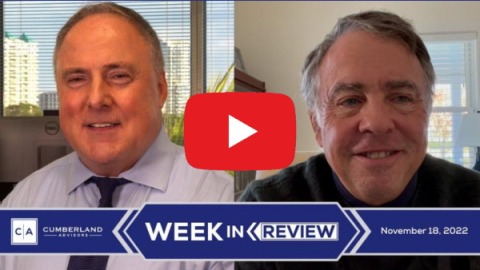 View this week's video "Mild Markets" using the link above or this URL: https://youtu.be/8jDNtP9HEDk

Please send any feedback from today's email/video to Matt McAleer. You can reach him at:
Email: [email protected]
Twitter: https://twitter.com/matthewcmcaleer
LinkedIn: https://www.linkedin.com/in/matthew-c-mcaleer/
Call Matt: (800) 257-7013 ext. 346

Other questions or comments? Email us at [email protected] or give us a call at (800) 257-7013

Have a great weekend,
-Todd, John & Cumberland Advisors