Fri Jan 27, 2023
The evidence indicates that the Fed's rate hikes are having the desired effects. Not only is the economy slowing gradually, having declined from an annualized increase of 3.2% in Q3 2022 to 2.9% in Q4 2022, but inflation as measured by the PCE has also declined from 5.5% year-over- year in November to 5.0% in December. The main sources of growth in Q4 were inventory increases, consumer spending, nonresidential investment, and government; these were partially offset by declines in exports and imports and by significant falloffs in housing and spending on services. Having said that, the increase in consumer spending overall was less in Q4 than in Q3 and may be reflected in inventory increases, as sales failed to meet expectations. Subsequent reports indicate that retail sales fell to 1.1% annualized growth in December, driven by declines in car sales and sales of other goods; and this trend appears to have continued into January 2023. Other evidence of a slowing is what is happening in certain segments of the labor market. While new claims for unemployment insurance declined even further to only 186,000 for the week ending January 21, some industry segments are exhibiting pressure, especially the tech sector, where major firms are cutting employment sharply. Initially markets reacted negatively to the GDP release, perhaps concerned that growth was too strong and thus that the FOMC will be forced to continue with 50-basis-point rate increases, but by late afternoon markets have rebounded.
 
Image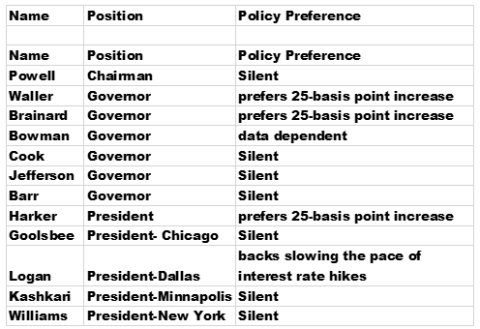 Going into the FOMC's first meeting of 2023, the Committee will be looking at a gradually slowing economy and declining inflation, albeit still at levels exceeding its 2% target for the PCE. As the chart below indicates, a number of voting members of the FOMC have not shied away from revealing their preferences for a 25-basis-point increase in rates at this meeting.

Five of the 12 Committee members have already indicated a preference for slowing the pace of rate increases. One suggests her position will be conditioned by incoming data, while the rest have been silent on their preferences so far. It will take only two more members who favor a 25-basis-point increase to carry the day. With the admission by many Committee participants that their earlier view that inflation was transitory was in error, the Committee's reputation has taken a huge hit. To keep piling on 50-basis-point rate increases and risk causing a recession would only compound the policy error. So, the odds now clearly suggest that we will see only a 25-basis-point rate increase, along with rhetoric asserting that further increases will continue to be "data-dependent." Again, the messaging in Chairman Powell's post-meeting press conference will be extremely important.
Robert Eisenbeis, Ph.D.
Vice Chairman & Chief Monetary Economist
Email | Bio
---
Links to other websites or electronic media controlled or offered by Third-Parties (non-affiliates of Cumberland Advisors) are provided only as a reference and courtesy to our users. Cumberland Advisors has no control over such websites, does not recommend or endorse any opinions, ideas, products, information, or content of such sites, and makes no warranties as to the accuracy, completeness, reliability or suitability of their content. Cumberland Advisors hereby disclaims liability for any information, materials, products or services posted or offered at any of the Third-Party websites. The Third-Party may have a privacy and/or security policy different from that of Cumberland Advisors. Therefore, please refer to the specific privacy and security policies of the Third-Party when accessing their websites.
---
Sign up for our FREE Cumberland Market Commentaries
---
Cumberland Advisors Market Commentaries offer insights and analysis on upcoming, important economic issues that potentially impact global financial markets. Our team shares their thinking on global economic developments, market news and other factors that often influence investment opportunities and strategies.