Mon Jul 25, 2022
On the heels of a surprise 50-basis-point increase in the ECB's target rate — despite evidence of a slowing of economic activity — the FOMC will likely make good on another 75-basis-point increase in its target federal funds range. Governor Waller gave a very specific speech on July 14th at the Rocky Mountain Economic Summit in which he detailed a puzzling set of economic developments, in that we have had not only a very strong labor market, with nearly twice the number of job vacancies as unemployed people and low unemployment, but also what appears to be a slowing economy. Governor Waller stated that he favored another 75-basis-point increase, as has St Louis Fed President James Bullard, who is a voting member of the FOMC this year.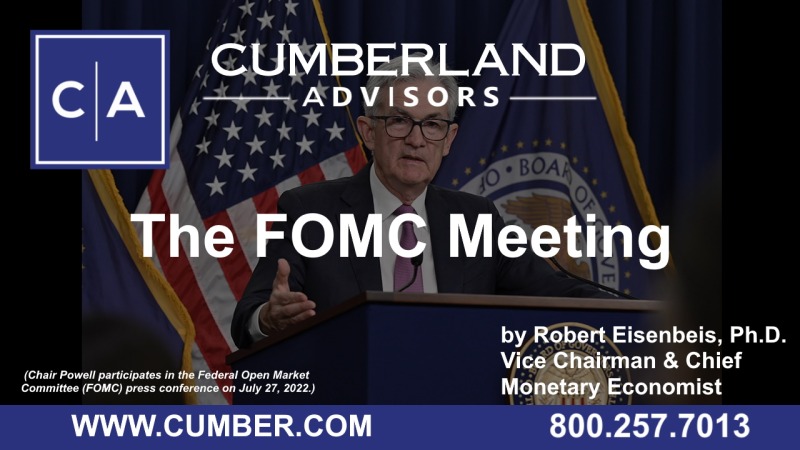 The slowdown in economic activity is supported by a number of pieces of evidence. The most recent Purchasing Managers Index showed a decline, the first since June 2020, in both the services sector and manufacturing. New orders were up modestly after a decline in June. Perhaps equally revealing and relevant to the FOMC is the Beige Book, which was prepared during the first week in July, covering mainly the month of June. Eight of the 12 districts reported only modest growth, which means slightly under 2% in Fed speak. Only New York reported that growth had "slowed to a crawl." The remaining districts reported that growth had declined slightly. A common theme across all twelve districts was the slowing and softening of residential and commercial real estate as higher interest and mortgage rates started to have the expected impact. Virtually all districts noted a softening in both manufacturing and retail sales, with notable exceptions being the Atlanta and St Louis districts, where manufacturing and consumer spending remained steady or increased.

Overall, the FOMC goes into this meeting with no signs of a recession, substantially higher-than-desired inflation and no signs that it is slowing, a moderating construction sector, and continued strength in labor markets. These factors all fit with the view that the Committee will raise rates another 75 basis points, and then Chair Powell will probably make the case that further moves will be data-dependent.
Robert Eisenbeis, Ph.D.
Vice Chairman & Chief Monetary Economist
Email | Bio
---
Links to other websites or electronic media controlled or offered by Third-Parties (non-affiliates of Cumberland Advisors) are provided only as a reference and courtesy to our users. Cumberland Advisors has no control over such websites, does not recommend or endorse any opinions, ideas, products, information, or content of such sites, and makes no warranties as to the accuracy, completeness, reliability or suitability of their content. Cumberland Advisors hereby disclaims liability for any information, materials, products or services posted or offered at any of the Third-Party websites. The Third-Party may have a privacy and/or security policy different from that of Cumberland Advisors. Therefore, please refer to the specific privacy and security policies of the Third-Party when accessing their websites.
---
Sign up for our FREE Cumberland Market Commentaries
---
Cumberland Advisors Market Commentaries offer insights and analysis on upcoming, important economic issues that potentially impact global financial markets. Our team shares their thinking on global economic developments, market news and other factors that often influence investment opportunities and strategies.