fishing buddy and longtime friend, Danny Blanchflower, is Professor of Economics at Dartmouth. His collaborator Alex Bryson is Professor of Quantitative Social Science, Social Research Institute, University College, London. Together these two economists have been looking at the predictive power of consumer sentiment to anticipate recessions. In an October 19 email, they looked at the what the data portends and at what that should mean for interest-rate decisions in the UK.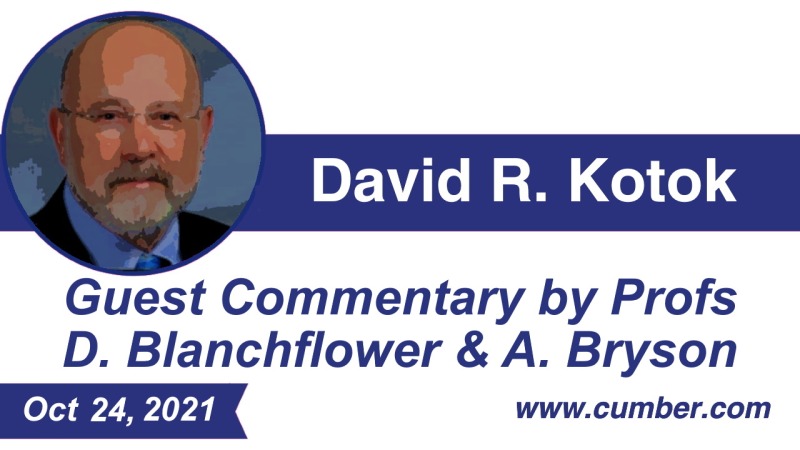 We would like to thank Danny and Alex for permission to share this note with our readers. Blanchflower and Bryson commentary follows.
 
---
Now is not the time to raise interest rates in the UK

by David Blanchflower and Alex Bryson - Oct. 19, 2021

All is not quite as it seems in the world economy. Whilst the worst of the COVID pandemic may be over in developed economies, its effects continue to reverberate both here and on the other side of the Pond. Indeed, in a paper we have just released we argue that the US economy is going into recession about now. You might not think so, judging by the markets and by labor market statistics, which seem quite buoyant. But if you focus on consumer and producer expectations about the near future, you get quite a different picture – one which is eerily familiar to those who remember the recession of 2008. Strikingly, these indices gave early warning to all six of the prior US recessions since 1979.

Those consumer and producer expectations indices tell us how economic actors are feeling about the future – the future of the economy, of unemployment and their own household finances. They are important because, as we show in a series of papers, they are predictive of what happens in the economy some 6–18 months later. Back in 2007 they were pointing to economic downturn, but few paid attention until it was too late. The same is true today. These indices have dropped in the last six months at a rate that is comparable to what happened in 2007/8.

Data on consumer expectations from The Conference Board, across the eight biggest states in the US, started slowing sharply in the spring of 2021, just as they did in 2007. For example, in New York State the index fell from 129 in March 2021 to 71 in September 2021. In 2007 it fell from 81 to 56. There are some similar signs of worsening consumer confidence in the UK. The YouGov Consumer Confidence Index fell in October, and the Institute of Director's Economic Confidence Index "fell off a cliff" in September.

PMI new orders in consumer-facing industries in the US also turned down last spring. There is evidence that the volume of loans on big US bank balance sheets keeps dropping. Commercial and industrial loans have fallen to the lowest [level] as a percentage of the total since 2012. Auto parts production is down 14% YoY. Median weekly earnings of the US's 115.3 million full-time wage and salary workers were $1,001 in the third quarter of 2021 (not seasonally adjusted), the US Bureau of Labor Statistics reported today was only 0.7 percent higher than a year earlier. This is dramatic slowing. Growth in Q22020 was 10.4%; Q32020 = 8.2%; Q42020 = 5.1%; Q12021 = 3.3%; Q22021 = -1.2%.

In part, the slowing in the US is driven by fears of COVID from returning to work with the Delta variant spreading, especially among women. A recent survey by The Conference Board, released on 31 August, 2021, indicates that 42% of workers are worried about returning to the workplace for fear of contracting COVID-19, a substantial increase from June 2021, when only 24% expressed this concern. Of note is that 48% of women and 37% of men said this. As a result, young women are leaving the US labour force; the participation rate of women ages 25–34 fell from 76.5% to 75.9%, whereas for women 35–44 it fell from 74.8% to 74.0% in September 2020. Older women are retiring.

In the UK a new survey from CV-Library found that a third of UK workers would consider leaving their job rather than work with an unvaccinated colleague.

This is important because, especially now, COVID means standard labor market indices – wage growth and employment growth – are particularly unreliable. Unlike in prior recessions, as the unemployment rate rose and wage growth rose, in all previous recessions the opposite occurs. There are 700,000 more benefit claimants than there are reported as ILO unemployed. The economy has been impacted by the furlough scheme, and we have little clue what proportion will lose their jobs now the payments have stopped. These glitches in official statistics will sort themselves soon; but, in the meantime, the most reliable readings for the economies of the United States and Europe are those we get from consumer and producer expectations. And they are looking bad. The US seems headed to recession.

The reason this matters in the UK is that, contrary to what Mervyn King used to tell us when he was Governor at the Bank of England, the US and UK economies have not decoupled. When America sneezes – and it is – the UK catches a cold. It usually takes 4–6 months before we feel the effects over here. That gives us until early in the New Year to steel ourselves against potential recession.

That's why this is the last time we should be thinking about raising interest rates in the UK. Remember, we have already seen the end of the furlough scheme, reductions in Universal Credit payments, and we have a tough budget coming up where the Chancellor will be looking for ways to raise taxes and limit spending commitments. If you add a tightening of monetary policy to that, it's going to increase the probability that we will import the recession that, we think, has already started in the United States.

It seems the Bank's Governor, Andrew Bailey, has not learned the lessons of the recent past. Remember when the European Central Bank raised rates in 2011 coming out of the Great Recession: big mistake. Again, remember when the Fed raised rates over the period 2015–2018. That tightening of monetary policy is now generally recognized to have been a big mistake, choking off full recovery. Chair Powell has admitted this was an error. Andrew Bailey looks to have committed a major error also by talking up the prospects of a rate rise.

In the minutes of the September 2021 Monetary Policy Committee (MPC) meeting there was a 9–0 vote to keep rates at 0.1%, noting that "The Committee's central expectation continues to be that current elevated global cost pressures will prove transitory." It is hard to understand what happened over the following month to change that, given that inflation ticked up to 3.2% in the latest data release in an entirely predictable way mostly due to base effects. Plus, the CPI has only been over 2.0% five times since January 2019, and there is zero in the data to suggest that any of these forces will be present at the end of 2021. If the Bank of England does pull the trigger next month, it probably won't be unanimous. Only twice before has the MPC followed a unanimous vote to keep rates on hold with a unanimous vote to raise them. Both times, November 1997 and August 2004, were late in their respective tightening cycles. They know not what they do.

It makes little sense to raise rates when still conducting QE. The markets seem to have got ahead of themselves. The best analogy here is to think what happens when a hurricane hits an island. The power goes out; stores lose the contents of their fridges; and the price of food rises. It is a bonanza time for roofers and electricians, whose wages rise dramatically for a while; and inflation goes up temporarily. But eventually, after a few months, things get back to normal, and there is no impact at all on inflation in a year's time. Nothing, zippo. That is what transitory means. Inflation reached a peak in the summer of 2008 and collapsed as the oil shock then was transitory, just as now.

Raising rates any time soon would seriously damage the reputation of the MPC. The likelihood would be that there would a damaging about-turn in a few months. It is unclear to us why the MPC want to push the UK into recession or what magically changed in a month. In uncertain times it is better to wait and watch the data unfold.
 
---

Thank you to B&B. We recommend that readers see David Blanchflower and Alex Bryson, "The economics of walking about and predicting US recessions," NBER Working Paper #29372, https://www.nber.org/papers/w29372.

In addition to Danny and Alex's discussion above, we suggest that readers spend some time reading three related NBER papers that Danny and Alex have co-authored. They are timely food for thought.

1. David G. Blanchflower and Alex Bryson, "The Economics of Walking About and Predicting US Downturns," NBER Working Paper W29372, https://www.nber.org/papers/w29372

2. David G. Blanchflower and Alex Bryson, "The Economics of Walking About and Predicting Unemployment," NBER Working Paper W29172, https://www.nber.org/papers/w29172

3. David G. Blanchflower and Alex Bryson, "The Sahm Rule and Predicting the Great Recession Across OECD Countries," NBER Working Paper W29300, https://www.nber.org/papers/w29300

Kotok comment: Lastly, we are tracking the Florida dataset referred to in the research papers. Florida is one of the eight large states. The data reveal deteriorating economic trends that have parallel characteristics with the deteriorating early phase during the Great Financial Crisis period starting in 2007. We are also tracking credit spreads for early market-based pricing of rising recession risk. Florida and all 50 states were dramatically helped by rapid and expansive Fed monetary policy applied by spring 2020 and continued through today. Huge federal fiscal policy moves coincided with the monetary policy. Now, the political divide in Washington is rapidly reducing fiscal support, while the Fed is signaling a trending removal of monetary policy starting next month or in December. Florida and other states will lose the combined fiscal and monetary tailwind. Instead, COVID policy or lack of same will determine the headwinds in each of the 50 states. B & B are onto something in their research. US market agents are warned that risk is rising. We will see the outcome of the B & B forecast soon. It may put some state economy data "on the rocks."
David R. Kotok
Chairman and Chief Investment Officer
Email | Bio
---
Links to other websites or electronic media controlled or offered by Third-Parties (non-affiliates of Cumberland Advisors) are provided only as a reference and courtesy to our users. Cumberland Advisors has no control over such websites, does not recommend or endorse any opinions, ideas, products, information, or content of such sites, and makes no warranties as to the accuracy, completeness, reliability or suitability of their content. Cumberland Advisors hereby disclaims liability for any information, materials, products or services posted or offered at any of the Third-Party websites. The Third-Party may have a privacy and/or security policy different from that of Cumberland Advisors. Therefore, please refer to the specific privacy and security policies of the Third-Party when accessing their websites.
---
Sign up for our FREE Cumberland Market Commentaries
---
Cumberland Advisors Market Commentaries offer insights and analysis on upcoming, important economic issues that potentially impact global financial markets. Our team shares their thinking on global economic developments, market news and other factors that often influence investment opportunities and strategies.