Sun Jul 4, 2021
Kotok note: since this guest commentary by Bob Bunting was written, many areas in America have endured record heat, water rationing from drought, rolling power outages, agriculture impairment and some deaths with causal attribution to the record heat. Many July 4 celebrations will be without fireworks and a few will also recognize the Delta variant COVID risk.
Image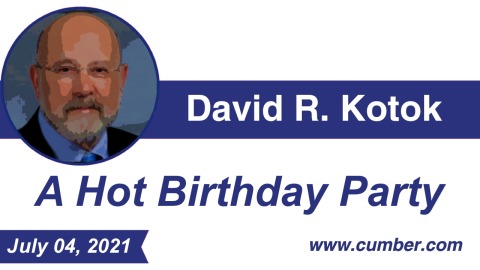 An email note from Bob came in June 29, 2021 and it reads, "The heatwave in the NW is now a 1 in a thousand year event. It is a 4.4 sigma event! Portland has recorded its all time record temperature of 112, that is 5 degrees above the all time ever measured temperature there. Canada as a nation, hit it's hottest ever recorded temperature of 113 was broken in Lytton BC with a 116! Another tropical storm or two could form in the next few days. If one forms it would tie last years all time record for 5 storms on or before July 8th. If both form then we are setting yet another record."

Bob wrote us again June 30, 2021 to add, "Climate & Human Health: Lytton, British Columbia, the town I wrote you about setting an all time high for Canada at 113 yesterday hit 121 today. This is a 5 sigma event! In Vancouver Canada (102°F) 134 dead from heat related issues and about 250 dead in BC."

Please be safe on America's birthday weekend. Now here's my intro and Bob Bunting's guest commentary.

-David
---

In this guest commentary, Bob Bunting, CEO and Chairman of the Climate Adaptation Center, delivers a succinct report explaining how the historic drought in the West, Southwest, and Midwest is being made worse by a persistent La Niña pattern that is also linked to stronger hurricanes. Looking at the entire picture, Bob also draws conclusions about the kind of hurricane season we will see in 2021.

The Climate Adaptation Center, headquartered in Sarasota, is an expert resource dedicated to informing government, academe, and the private sector so they can forge and implement adaptation strategies to protect our way of life in Florida and beyond. It provides support for the emergence of the Climate Economy.

The CAC website is www.theclimateadaptationcenter.org.

We encourage readers to take a few minutes to review the site, to support the CAC's mission, and to sign up for email notices. We hope you find this report valuable, and we thank Bob for giving us permission to share it with you.

 
---
Drought, La Niña, and Climate Warming
by Bob Bunting, CEO Climate Adaptation Center - June 16, 2021


Sometimes weather and climate events don't directly impact the media markets on the East Coast; they get underplayed in the news.
One such ongoing event is equivalent to a slow-moving train wreck. It's the drought in the western third of our nation, covering portions of the High Plains and much of the Southwest. The slow-moving part of this story is that the drought has been getting worse for 20 years.

A NOAA drought map shows that large portions of North and South Dakota, western Colorado, and even a swath of Wyoming are in severe to extreme and exceptional drought.

 
Image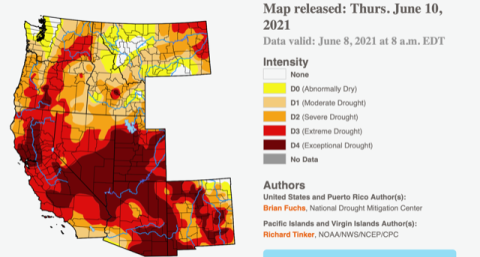 A second map shows that the West and Southwest have even larger areas of extreme to exceptional drought.

 
Image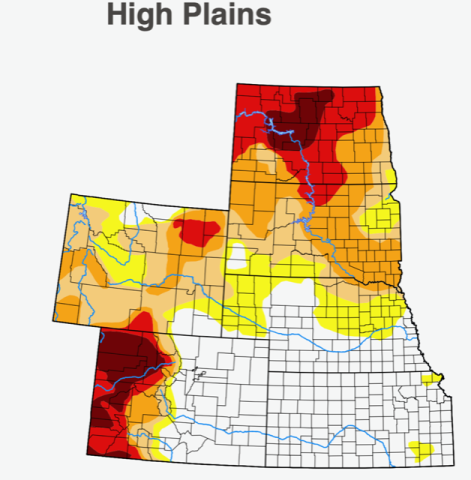 Some places have experienced conditions so dry that no measurable rain has fallen for a year or longer! Even in larger cities, such as Las Vegas, in 2020 no rain fell for 240 consecutive days, a record.

The West is particularly dependent on snowfall in the mountains to fill reservoirs. Snowfall in general is also decreasing in the West. Last winter, from the Colorado Rockies to the California Sierras, snowpacks were well below normal.

Water is the lifeblood of society. With California, Arizona, and Nevada having over 50 million residents, water is getting scarcer. The societal impacts will be increasingly profound in the years ahead.

Fires have been rampaging through populated area in recent years across much of this region, and another hot fire season is already upon us.
Hot is also the right word for temperatures this summer. Already, record temperatures, caused partly by the baked surface of the planet in this region, are fueling even more warming. Right now – and this is still early in the summer – records are being set as the first heat wave of the season is underway.

The absence of rain and snow has been exacerbated by a persistent La Niña pattern in the Pacific Ocean. La Niña creates colder water in the Pacific, and the colder water forces the jet stream that controls storm patterns to the north.
 
Image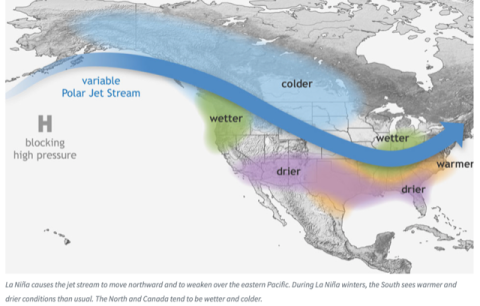 As you can see from the map above, a swath extending from the Southwest through the southern states experiences drier conditions during La Niña. So, with a long-term drought and La Niña, we have a one-two punch in progress.

The first punch is clearly created by a warming climate. Since 1990, there has been acceleration in global warming, and Earth's temperatures have set new high records in 17 of the years since the turn of the millennium. We estimate that the drought in the Southwest has reached this severity only one other time in the past thousand years. Of course, fewer people were impacted back then, but millions more are affected today!

The La Niña in progress is expected to continue at least to year-end. The graph below shows the model outputs that forecast La Niña. The average of the forecasts is represented by the solid blue line.
 
Image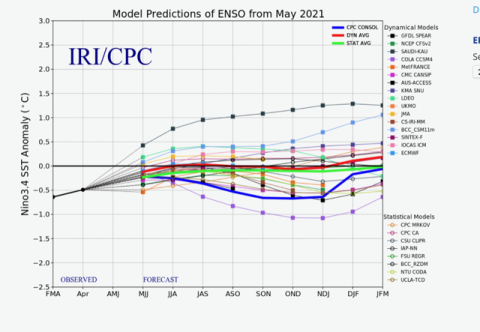 La Niña also diminishes wind shear, the increase of wind as one moves from the surface of the earth to higher levels in the atmosphere. When that happens, hurricanes in the Atlantic, the Gulf of Mexico, and the Caribbean tend to be stronger, since they are not disrupted by wind shear. The lack of wind shear is one reason the CAC is forecasting 20 storms this year, with 10 hurricanes and 3–5 major hurricanes.

The drought caused by La Niña has created the driest May on record in parts of Florida. Drought in May correlates well with major hurricanes in South Florida later in the season. In fact, from 1925 to 1993 there were 8 major hurricanes that impacted South Florida, and 7 of them came after dry Mays. Will this be another such year?

The Climate Adaptation Center (CAC) is translating science into information you can understand. Hopefully it will help guide you as you shape policy though your political leaders, through philanthropy, and by educating those who follow. More information about hurricanes is available at the CAC website: https://www.theclimateadaptationcenter.org/category/hurricanes/

The CAC will be hosting its second Climate Conference on November 19 in Sarasota. There the first-ever climate forecasts for 2030, 2040, and 2050 will be made for Florida from Tampa to Orlando and south to Key West.

What will the seasonal temperatures be, day and night? How many hurricanes will form, and what are their likely characteristics, including strength, duration, storm surge? How will toxic red tide evolve in a climate-warmed world, and what will the impacts be on human health? How will our ecosystem evolve under heat stress?

This probability-based climate forecast, much like the weather forecasts you hear today, will help decision makers in governments, the private sector, and academe plan for the climate disruptions sure to come.

By signing up here, you will receive updates about new informational pieces like this one and about CAC events: https://www.theclimateadaptationcenter.org/about-us/contact-us/

We would love your support and active participation. Here is the link you need in order to get involved: https://www.theclimateadaptationcenter.org/donation-form

I leave you with this recent photo of Lake Mead. The lake was built in the 1930s to provide water to the growing West. Today, for the first time, Lake Mead is lower than at any time since it was built!
Image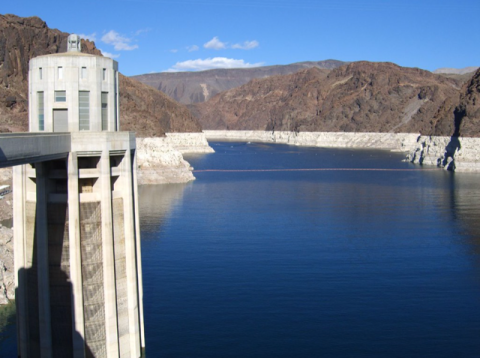 Be Safe!
Bob Bunting, CEO
111 S Pineapple Ave Unit 911
Sarasota, FL 34236-5774 · USA
---
Links to other websites or electronic media controlled or offered by Third-Parties (non-affiliates of Cumberland Advisors) are provided only as a reference and courtesy to our users. Cumberland Advisors has no control over such websites, does not recommend or endorse any opinions, ideas, products, information, or content of such sites, and makes no warranties as to the accuracy, completeness, reliability or suitability of their content. Cumberland Advisors hereby disclaims liability for any information, materials, products or services posted or offered at any of the Third-Party websites. The Third-Party may have a privacy and/or security policy different from that of Cumberland Advisors. Therefore, please refer to the specific privacy and security policies of the Third-Party when accessing their websites.
---
Sign up for our FREE Cumberland Market Commentaries
---
Cumberland Advisors Market Commentaries offer insights and analysis on upcoming, important economic issues that potentially impact global financial markets. Our team shares their thinking on global economic developments, market news and other factors that often influence investment opportunities and strategies.