Tue Sep 27, 2022
Hurricane Ian Notice
Image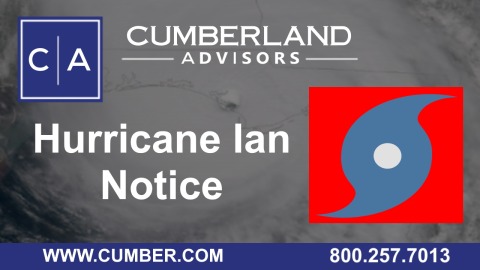 Due to the impending Hurricane Ian and its impact on the Sarasota area; Cumberland Advisors has mobilized and relocated our disaster recovery team to our Vineland, NJ office. If the storm does affect the Sarasota area, Cumberland Advisors' staff members are on standby, and ready to provide you with any assistance you may need.  Our phone lines and emails will be monitored, and we will respond to matters on a priority basis.
 
For any urgent concerns you may also contact the following individuals by email directly:
For our clients residing in the Sarasota area, Cumberland Advisors knows nothing is more important than the safety of you and your family. We urge you to take the necessary steps to protect your loved ones. Check your supplies and make sure you have plenty of fresh water, flashlights, and a battery-operated radio. Cumberland values our customers' security and peace of mind, and our goal is to provide outstanding service.
 
Thank you for entrusting us to continue to provide you service and may all stay safe.