Sun Aug 27, 2023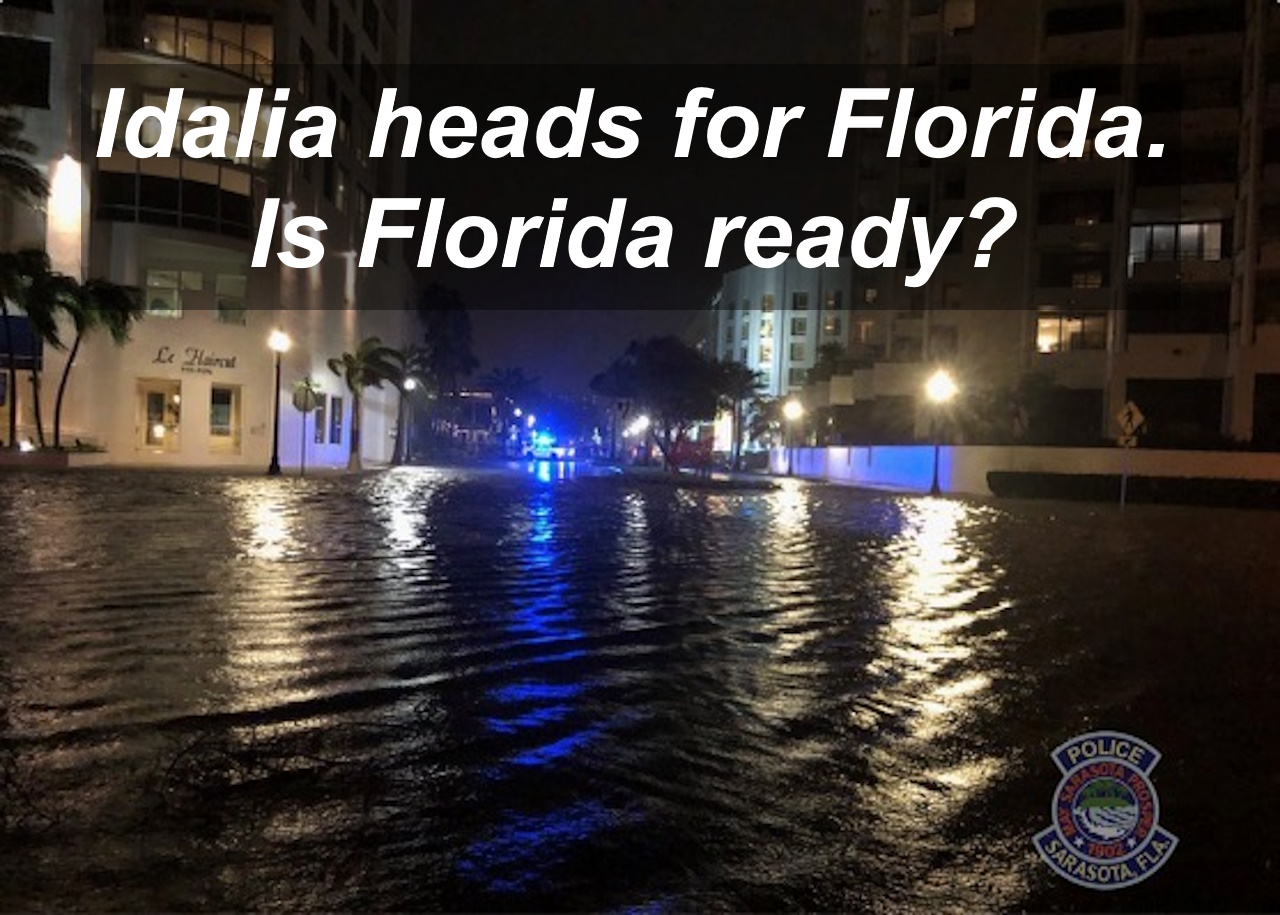 Idalia is now heading for Florida and the Sunday morning predictions call for a category 1 or 2 hurricane hitting the Big Bend region of the state. However, the forecasters are hedging because the Gulf of Mexico is so hot. Hotter water temperatures are fuel for hurricanes as they can intensify much more quickly than when water temperatures are cooler.

Below is a sculpture found on the Tamiami Trail in front of the Arts Center in Sarasota. This depicts the artist's impression of how Florida waits for things.
 


 
Here's a photo of what the downtown Sarasota corner closest to the new traffic circle at the base of the Ringling Bridge looks like when it is dry.
 


 
Now, pictured below, is the same view at night during tropical storm Eta in November 2020. Not even a hurricane, Eta caused a three-foot storm surge.
 


 
Both photos show the Art Ovation Hotel in the distance (far right) and the distance is one city block away from the most flooded low point. Note that the low point is one city block away from the right turn exit when you are driving north on the Tamiami Trail and entering the traffic circle. The massive circle construction project costs many millions. (Some estimates are $35-40 million final cost). When climate scientists argued that the circle elevation should be raised, their pleas fell on deaf ears in Tallahassee. The scientists argued that the circle elevation should be raised 3 feet in the interest of public safety from a storm surge.
 
When you examine the circle and its surroundings, you see that the only way for evacuation from Bird Key, Lido Key or the famous entirety of Longboat Key is either across the Ringling Bridge and through this circle or traverse the entire length of Longboat Key and then attempt to cross low lying bridges and find a route to Bradenton. Yes, in a storm surge there are only two ways out and neither one is desirable.
 


 
Drive down the barrier island of Longboat Key in Sarasota today and witness a billion dollar "gold coast" and the massive construction rising on the Gulf of Mexico side. So, one wonders how well-planned things are for a storm surge. We asked Bob Bunting of the Climate Adaptation Center (CAC) about the potential storm surge from Idalia. "It could be 6 feet under the worst case scenario," he said. Of course, it could also be zero if the hurricane remains far away from the Sarasota coastline and menaces another coastal region.
 
We'll know soon enough.
 
For updates on the hurricane from the CAC or to get on their alert list, see: https://www.theclimateadaptationcenter.org
 
Do you want to ask the CAC a question? https://www.theclimateadaptationcenter.org/about-us/contact-us/

CEO Bob Bunting says they try to answer all inquiries, but we suggest patience when major weather events are currently active.
 
Final note: Cumberland Advisors uses ESG factors to evaluate municipal credit risk and other investments. Readers may think about how they would rate the E and the G when it comes to the storm surge risk around this new traffic circle in downtown Sarasota. We are also an annual sponsor of the Climate Adaptation Center.
David R. Kotok
Cofounder & Chief Investment Officer
Email | Bio
---
Links to other websites or electronic media controlled or offered by Third-Parties (non-affiliates of Cumberland Advisors) are provided only as a reference and courtesy to our users. Cumberland Advisors has no control over such websites, does not recommend or endorse any opinions, ideas, products, information, or content of such sites, and makes no warranties as to the accuracy, completeness, reliability or suitability of their content. Cumberland Advisors hereby disclaims liability for any information, materials, products or services posted or offered at any of the Third-Party websites. The Third-Party may have a privacy and/or security policy different from that of Cumberland Advisors. Therefore, please refer to the specific privacy and security policies of the Third-Party when accessing their websites.
Sign up for our FREE Cumberland Market Commentaries
Cumberland Advisors Market Commentaries offer insights and analysis on upcoming, important economic issues that potentially impact global financial markets. Our team shares their thinking on global economic developments, market news and other factors that often influence investment opportunities and strategies.