Tue Mar 28, 2023
The global economy is in a moderate slowdown, with financial markets being whipsawed by tensions in the banking sectors of the US and Europe in the final weeks of the quarter. Growth was already slowing in 2022 as a result of Russia's war of aggression in Ukraine and its effects on inflation, together with a sharp reduction in the growth of China's economy as the government struggled with the Covid pandemic. Energy and food prices have eased, boosting purchasing power; but central banks continue to raise policy interest rates. Their battle against inflation continues, with services inflation proving to be more persistent than inflation in other sectors. The reopening of the Chinese economy is beginning to have a positive effect on global economic activity, both through easing supply chain problems and adding to aggregate demand.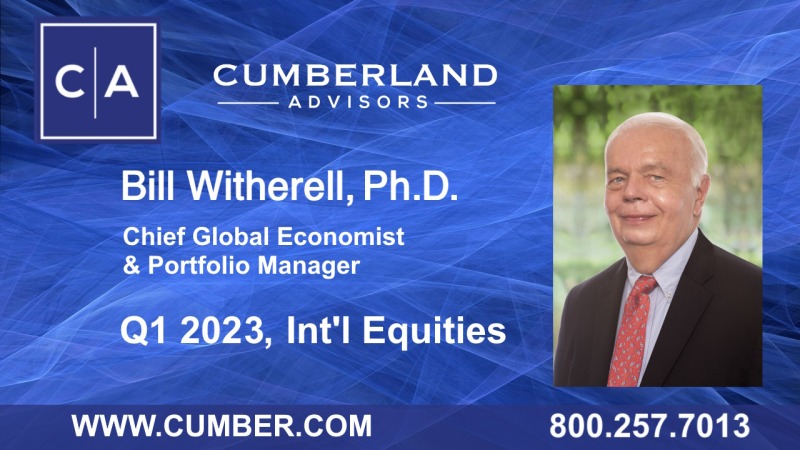 The OECD is projecting that global economic growth, as measured by real GDP, will be 2.6% this year, compared with 3.2% in 2022. The Eurozone area is expected to slow to just 0.8% and the UK economy to tumble to -0.2%, perhaps experiencing a recession midyear. Canadian economic activity is projected to ease to 1.1%. In contrast, Japan's economy, benefiting from China's reopening, is projected to maintain its moderate growth of 1.4% in 2023. The anticipated growth of China's economy, the globe's second largest, to over 5% this year from 3% in 2022 will provide a needed boost to many economies. The effects will be strongest in the Asia-Pacific region.  

Thus far in 2023, global equity markets have proven to be resilient in the face of weaker economic forecasts and banking tensions. The iShares MSCI EAFE ETF, which covers the advanced economy equity markets excluding the US and Canada, is up 4.45% for the last three months through March 24. The German and French markets have done even better, with gains of 7.29% and 7.84% respectively. Eurozone business on the whole is not yet slowing, according to the flash Eurozone Composite Purchasing Managers Index (PMI) for March, which is at a 10-month high of 54.1. However, the gain is due to services, as manufacturing output and new orders fell. In the largest Eurozone economy, that of Germany, manufacturing fell to the lowest level since the Covid pandemic. Also, consumer confidence readings remain well below the long-term average. With the European Central Bank not finished with its anti-inflation credit-tightening policy despite the bank sector tensions, the risk of a significant recession in the second half remains a concern for investors. High uncertainty about the future course of the Russia-Ukraine war underlies the fragility of the economic outlook for Europe.

The United Kingdom's equity market has underperformed during the quarter. The FTSE 100 Index is down 0.90% over the three months through March 24. The most recent economic data indicate that the equity market's pessimism may have been overdone. Retail sales in February registered a second large monthly increase in a row. The flash March composite PMI did slip a bit from February, with services again considerably stronger than manufacturing. The UK government announced a more growth-oriented fiscal policy that is leading to a more optimistic outlook for the UK economy. Nevertheless, downside risks remain significant.

Emerging market equity markets have had widely varying performances over the past three months. In China the reopening is being led by consumption, with rising retail sales. While increasing consumption in such a large economy bolsters global economic growth, the impact is less than it would be in an investment-led recovery. Chinese stocks are recovering, with the Shanghai Index up 7.22% over the past three months. Elsewhere in the region, Taiwan's stocks gained 11.51 % and Korea's KOSPI index 4.38% over the same period. India's economic outlook is strong, with growth projected at 5% this year and 7.7% next year — better than China's. Yet, its stocks suffered recently, with the Nifty 50 Index down 4.84% over the past three months, in large part because of problems experienced by the large Adani Group of businesses. In Latin America, Brazil's BOVESPA Index is down 9.91% over the past three months, with economic growth now expected to be only 1 % this year. Mexico's economic growth may be close to 2%, benefiting from its trade with both the US and China. The Mexico S&P Index is up 4.34%.
 
Investors in international stocks will need to take into account the high uncertainty about future developments with respect to the Russia-Ukraine war, the battle against high inflation, trade tensions, concerns about financial institutions, geopolitical threats, and internal political problems in individual countries. The global economy is projected to perform below trend both this year and the next. Diversification of investments and monitoring of developments will continue to be important.
 
William H. Witherell, Ph.D.
Vice Chairman & Chief Global Economist
Email | Bio
_____________________________________________________________
Sources: oecd.org, Oxford Economics, Goldman Sachs Economics Research, Wall Street Journal, Financial Times, pmi.spglobal.com
---
Links to other websites or electronic media controlled or offered by Third-Parties (non-affiliates of Cumberland Advisors) are provided only as a reference and courtesy to our users. Cumberland Advisors has no control over such websites, does not recommend or endorse any opinions, ideas, products, information, or content of such sites, and makes no warranties as to the accuracy, completeness, reliability or suitability of their content. Cumberland Advisors hereby disclaims liability for any information, materials, products or services posted or offered at any of the Third-Party websites. The Third-Party may have a privacy and/or security policy different from that of Cumberland Advisors. Therefore, please refer to the specific privacy and security policies of the Third-Party when accessing their websites.
---
Sign up for our FREE Cumberland Market Commentaries
---
Cumberland Advisors Market Commentaries offer insights and analysis on upcoming, important economic issues that potentially impact global financial markets. Our team shares their thinking on global economic developments, market news and other factors that often influence investment opportunities and strategies.