Fri Jun 3, 2022
​During the first week of June, we gain access to a number of important reports on the US labor market to go along with the inflation data for April. The FOMC, which meets June 13–14, will have one more observation on CPI inflation but will not receive the May PCE until April 30, after the meeting. We now also have a lot of the data and information from the Beige Book that will be key inputs to the FOMCs deliberations. As for the Beige Book's report on real activity, all sections of the country are showing continued growth, with four Districts reporting moderate growth (meaning between 1.8 and 2% — see Jeffrey Sparshott, "Fedspeak: What's the Difference Between 'Modest' and 'Moderate'?," The Wall Street Journal, Aug. 1, 2013), five reporting modest growth, and three reporting slight growth. Consistent with the growth estimates, the Beige Book also notes that labor markets improved modestly or moderately across Districts. It also noted slightly lower wage growth but challenges due to Covid and general labor shortages.
Image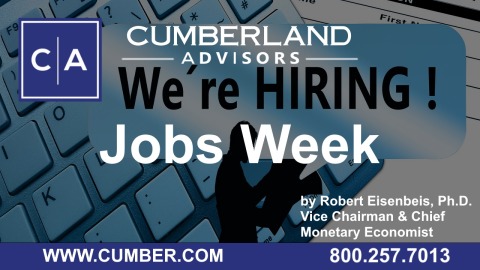 The more modest assessment of labor market conditions in the Beige Book contrasts with what appear to be across-the-board measures of labor strength in the national statistics. First, new claims for unemployment insurance are now down to 200,000 as of the last week in May after having risen slightly the second and third weeks of the month. The JOLTS data shown in the chart below, while available only with a lag, show that not only is the number of unemployed workers low by historical standards but also that there were, as of April, nearly 11,400,000 job vacancies compared with 5,941,000 unemployed people.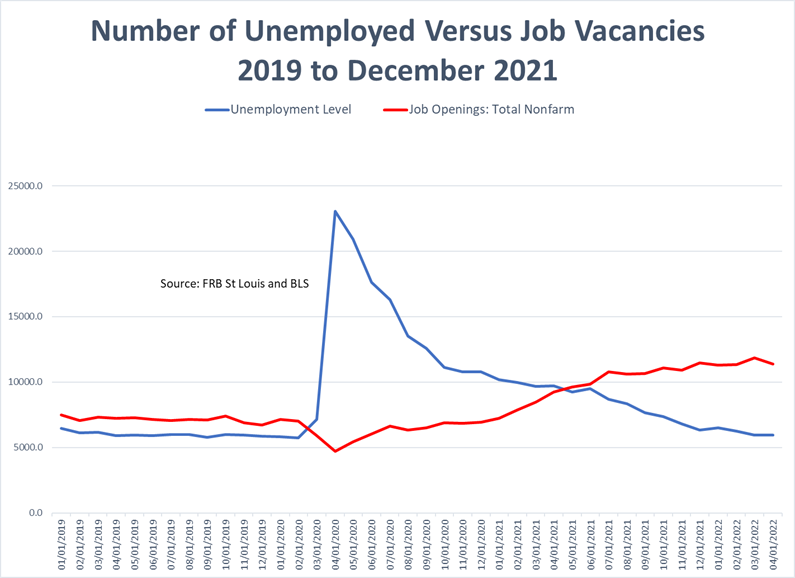 Furthermore, new hires, shown below, are greater than separations, while the number of people leaving existing jobs is nearly twice those being laid off. This means that people are quitting and getting new jobs, as distinct from being added to the list of those unemployed.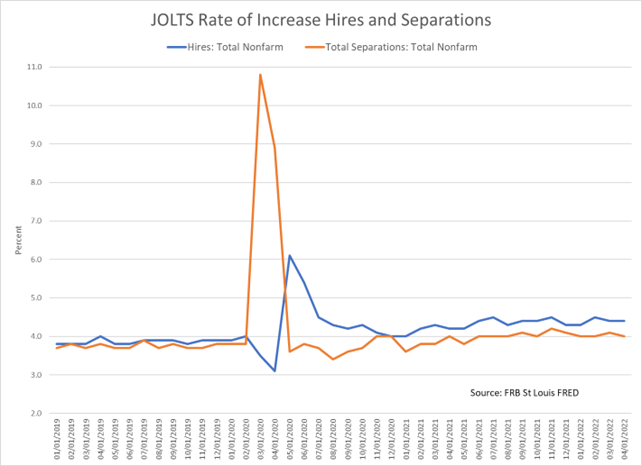 The jobs report from the BLS shows 390,000 jobs were created in May, down a bit from the 436,000 jobs created in April but not all that different from March's number.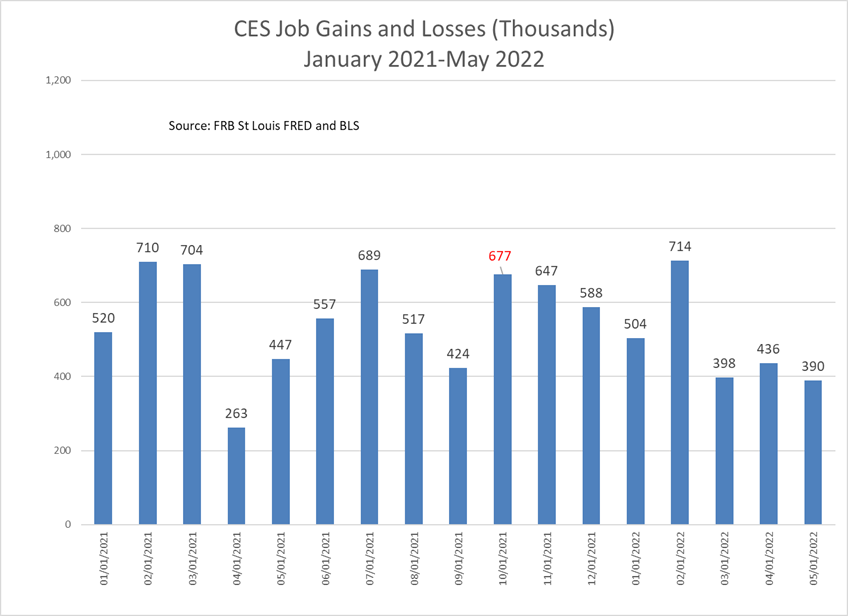 The May number is over twice that projected by ADP, which estimated that about 128,000 jobs had been created. Clearly, there has been a slowdown in job creation, but not nearly what ADP is suggesting. Positive gains were reported by BLS in most major categories, including leisure and hospitality, professional and business services, transportation and warehousing, construction, healthcare, manufacturing, wholesale trade, mining, and government. The only decline was in retail trade. Finally, average hourly wages have increased over the past 12 months by 5.2%, still below the overall increase in prices for the month. As for the slowing, with so many job vacancies relative to unemployed people, it is little wonder that employers are more cautious about creating jobs that cannot be filled.
 
So, from the FOMC's perspective, it is faced with PCE inflation running above its target, a strong labor market by most standards, and a moderately growing economy at about 2%. There is little in these data to suggest a recession is imminent, and the FOMC will likely see room for another 50-basis-point increase in its target federal funds rate at its upcoming meeting.
 
Robert Eisenbeis, Ph.D.
Vice Chairman & Chief Monetary Economist
Email | Bio
---
Links to other websites or electronic media controlled or offered by Third-Parties (non-affiliates of Cumberland Advisors) are provided only as a reference and courtesy to our users. Cumberland Advisors has no control over such websites, does not recommend or endorse any opinions, ideas, products, information, or content of such sites, and makes no warranties as to the accuracy, completeness, reliability or suitability of their content. Cumberland Advisors hereby disclaims liability for any information, materials, products or services posted or offered at any of the Third-Party websites. The Third-Party may have a privacy and/or security policy different from that of Cumberland Advisors. Therefore, please refer to the specific privacy and security policies of the Third-Party when accessing their websites.
---
Sign up for our FREE Cumberland Market Commentaries
---
Cumberland Advisors Market Commentaries offer insights and analysis on upcoming, important economic issues that potentially impact global financial markets. Our team shares their thinking on global economic developments, market news and other factors that often influence investment opportunities and strategies.
​