Sun Sep 26, 2021
Evidence from China continues to mount about financial difficulties in the property sector and the debt markets. We see that with the Evergrande affair. Markets are worried about contagion reaching beyond China's borders as well as about additional impacts within China. Those are two separate subjects, and information about each is evolving.

Meanwhile, the Chinese propaganda machine continues to spin in bizarre ways. We have been following it closely and want to illustrate how bizarre it is with this highly unusual example. Remember, nothing gets published in China without the central government's blessing. 
 
Here is the link to the article on the Chinese website Rednet.cn:  https://moment.rednet.cn/pc/content/2021/09/17/10172606.html.
We've taken a screenshot of the first section of the article (and saved a PDF of the whole piece) because we can never be sure that something that appears on the web won't be taken down at any time in China.
 
Image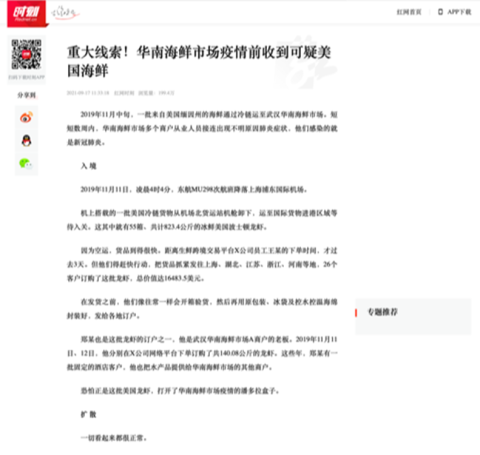 This is a story claiming that the initial outbreak of COVID was probably linked to a shipment of lobsters from the US state of Maine. We have a translation of exactly what the headline of the story says. Here is the English translation of that language below, from Cumberland Advisors Portfolio Manager and Quantitative Strategist Leo Chen, who explains: "The title says the outbreak of COVID from the southeast seafood market (suspected origin in Wuhan) involved suspicious seafood received from America."
 
Leo also translated the opening lines: "In Mid-November 2019, a shipment of seafood from Maine USA was delivered to the southeast seafood market. Within the following weeks, multiple workers from the market reported unknown pneumonia-like symptoms. As it turned out eventually, they all had COVID."
Image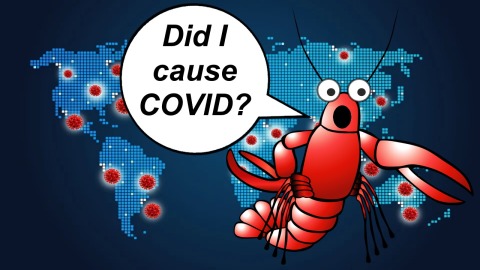 Dear readers, anybody in the United States who reads this story may laugh, and say, "That's absurd." I might point out that in Maine at our gatherings this year, our groups consumed Maine lobsters several different times without incurring any indigestion or illness. There is no evidence whatsoever that COVID started in Wuhan, China, in 2019 because of a shipment of Maine lobsters.
 
While you think about that, please also think about the fact that the story had approximately two million views in China as of September 17. And remember that the 1.4 billion people that are getting their news from websites like this one don't come to Maine and don't eat a Maine lobster in Maine. Instead, their information is coming from these types of government-approved or government-allowed sources.
 
While we think about this absurd claim in the context of the adverse developments in the relationship between China and the United States and the impacts of those developments on financial markets, on economics, on world trade, and on geopolitics, we want to add another piece of information for background.
 
Remember that the Trump tariffs started to take effect in 2018, and the retaliatory tariffs by the Chinese included tariffs on American fishery products. Among those products were lobsters from Maine. If you examine the tariff history closely, you will find that any shipment of lobsters from Maine at the time the Chinese writer is alleging that Maine lobsters sickened people at the Wuhan market would have been a shipment that occurred amid the tariff wars. Perhaps that shipment from Maine was delayed in a container for months at a Chinese port because of the tariff wars. It's clearly established through anecdotes that many New England lobsters were shipped to Canadian distributors and trans-shipped again from Canada to China as a workaround to avoid the tariffs. Remember that was the only way the American lobstermen could have some income and some business. It's conceivable that the tariff wars may have delayed a shipment of lobsters, which could have spoiled in a Chinese port. That's possible. If so, those lobsters could have gone to any market anywhere in China.
 
But whether spoiled lobsters actually ever reached the Wuhan market and caused anyone to get sick remains an open question. And if they did, neither they nor the lobstermen and lobsterwomen who catch them had anything to do with the COVID outbreak in Wuhan.

Readers can meet two hardy members of the lobstering profession, along with the alleged pandemic perpetrators they harvest, via this CBS Sunday report archived on YouTube: "A 101-year-old lobster lady," https://www.youtube.com/watch?v=6QeZa_Azgi4.
The Chinese report's preposterous claim aside, serious research continues into the possible vectors that infected humanity with a zoonotic virus eventually to be dubbed SARS-CoV-2. Here's a report by Bloomberg about investigations into very similar viruses found in bats in Asia: "Bats in Laos Caves Harbor Closest Relatives to Covid-19 Virus," https://www.bloomberg.com/news/articles/2021-09-18/bats-in-laos-caves-harbor-closest-relatives-to-covid-19-virus.
 
It's still not clear where the first COVID outbreak occurred, although it's believed to have been in the Wuhan wet market or the Wuhan vicinity in the Hubei Province of China, and it's still not clear exactly what vector or vectors introduced this virus to the human population of the world. There are speculations of all types including "gain of function" research but no conclusions can yet be drawn. We can, however, mark the lobsters off our list of suspects in the game of Pandemic Clue.
 
We hope readers found this story about lobsters interesting — not just amusing, but interesting — because it reflects the deterioration of a very large economic relationship; and it is an indicator, along with a thousand others, of the tension that's ongoing between China and the United States.
 
At Cumberland Advisors we are underweight exposure to China in our international portfolios; we are watching all these events closely in our US Equity ETF Portfolio. We are sensitive to exposures to China, and we are sensitive to geopolitical risk, which is why we have an overweight position in the aerospace and defense industry of the United States. We wish the world looked better than it does, but our job as a portfolio manager is to deal with the world that we face, not the one that we wish we had.
David R. Kotok
Chairman of the Board & Chief Investment Officer
Email | Bio
---
Links to other websites or electronic media controlled or offered by Third-Parties (non-affiliates of Cumberland Advisors) are provided only as a reference and courtesy to our users. Cumberland Advisors has no control over such websites, does not recommend or endorse any opinions, ideas, products, information, or content of such sites, and makes no warranties as to the accuracy, completeness, reliability or suitability of their content. Cumberland Advisors hereby disclaims liability for any information, materials, products or services posted or offered at any of the Third-Party websites. The Third-Party may have a privacy and/or security policy different from that of Cumberland Advisors. Therefore, please refer to the specific privacy and security policies of the Third-Party when accessing their websites.
---
Sign up for our FREE Cumberland Market Commentaries
---
Cumberland Advisors Market Commentaries offer insights and analysis on upcoming, important economic issues that potentially impact global financial markets. Our team shares their thinking on global economic developments, market news and other factors that often influence investment opportunities and strategies.