Thu May 5, 2022
Equity markets breathed a sigh of relief that the FOMC raised its target federal funds rate range by only 50 basis points, to 0.75%–1.0%, instead of the 75 basis points that some had feared. The Dow Jones surged 932 points after the meeting, the largest increase since 2020.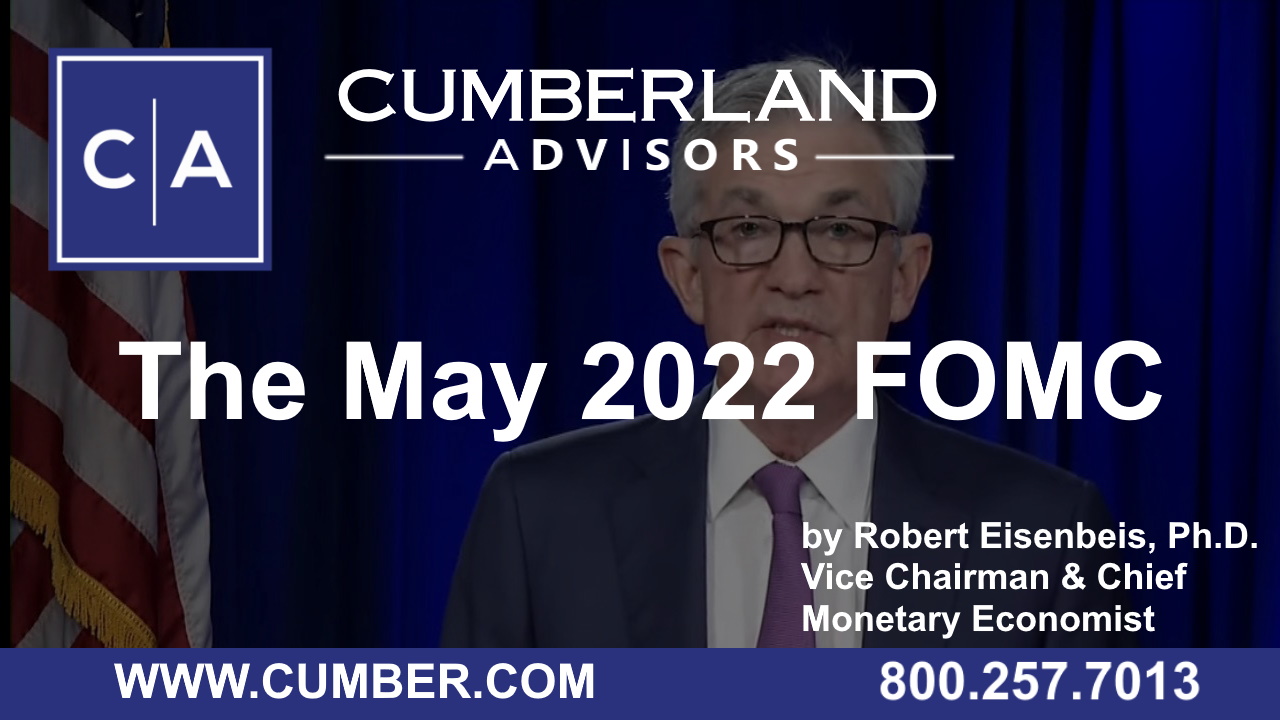 The Committee not only raised interest rates but also announced its intention to reduce the size of its balance sheet. For the first three months, beginning June 1, Treasuries and MBS will be reduced by $30 billion and $17.5 billion respectively as principal payments are received, and by $60 billion and $35 billion respectively the next three months. The plan was vague on exactly what the longer-run size of the balance sheet would be and instead made reference to the Committee's judgment as to when reserve balances were sufficient. The reasons cited for the policy moves focused on the current path of inflation, the fact that it was above the target rate of 2%, combined with an ultra-strong labor market that was above full employment, with two job vacancies for every unemployed worker.
During the press conference, Chairman Powell made it clear that two more 50-basis-point increases in the target rate were on the table for the next two meetings and then 25-basis-point increases would be considered thereafter, depending upon inflation. The press corps' questions were well focused on the nuances of policy and what was impacting inflation.
Powell made it clear that at this time, the path for the economy was uncertain, making forward guidance on future policy not very meaningful. At the same time, the underlying US economy remained strong, and the reported decline in measured real GDP for Q1 2022 was due to inventory adjustments and net exports, not to underlying problems domestically. When commenting on sources of inflation, he noted supply chain disruptions caused by the war in Ukraine and Covid disruptions in China, which were impacting not only energy prices but also prices more broadly as economies struggled to adjust. He noted, when queried, that there were both demand pressures and supply disruptions impacting inflation, but that monetary policy, through impacts on financial conditions, could deal only with demand sources of inflation. When pressed on what the Fed would do if supply disruptions were the main source of inflation pressures once monetary policy had dampened demand pressures, he demurred and said that right now the focus was on demand sources of inflation and tight labor markets. Interestingly, when pressed about whether the Committee would be willing to employ Paul Volcker-type policies and a recession to get inflation down, Powell clearly indicated that he viewed the present economy as strong. But more importantly, he viewed current policy as moving from an accommodative stance to a more neutral stance — a long way from restrictive policies. His goal was a soft transition to a more normal policy and not reliance upon a recession to dampen inflation.
We are left with the view that the Fed is seeking a return to a 2% inflation rate after experiencing an volatile environment that we haven't seen in 40 years (and perhaps never with a pandemic), a series of external geopolitical shocks, and both demand and supply forces that complicate any formulation of a policy aiming to proceed without a recession. This is the environment that the FOMC is facing.
Robert Eisenbeis, Ph.D.
Vice Chairman & Chief Monetary Economist
Email | Bio
---
Links to other websites or electronic media controlled or offered by Third-Parties (non-affiliates of Cumberland Advisors) are provided only as a reference and courtesy to our users. Cumberland Advisors has no control over such websites, does not recommend or endorse any opinions, ideas, products, information, or content of such sites, and makes no warranties as to the accuracy, completeness, reliability or suitability of their content. Cumberland Advisors hereby disclaims liability for any information, materials, products or services posted or offered at any of the Third-Party websites. The Third-Party may have a privacy and/or security policy different from that of Cumberland Advisors. Therefore, please refer to the specific privacy and security policies of the Third-Party when accessing their websites.
---
Sign up for our FREE Cumberland Market Commentaries
---
Cumberland Advisors Market Commentaries offer insights and analysis on upcoming, important economic issues that potentially impact global financial markets. Our team shares their thinking on global economic developments, market news and other factors that often influence investment opportunities and strategies.