Sun Oct 17, 2021
A number of readers have asked us about the Mu variant of COVID, and we've had several recent conference calls and Zoom meetings on the subject. Those conversations have actually focused on two variants, Mu and R.1. So far, neither variant has posed as serious a threat as Delta has. Delta seems to be more infectious and "crowds out" the others. In other words, Delta is more readily able to infect its human targets.
Image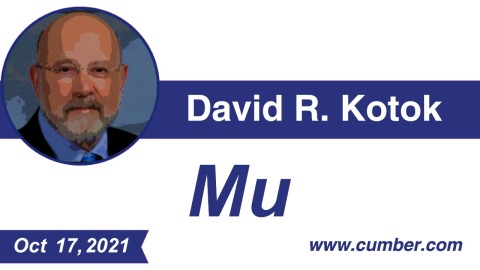 That said, both Mu and R.1 are quite capable of infecting an unvaccinated person and causing serious illness or death. In addition, we have large populations in the world that remain unvaccinated and exposed. Both Mu and R.1 are confirmed in the United States. Remember, we have an unvaccinated population of about 70 million people. Every one of them is a target for Mu or R.1 or Delta.
Computational virologist Trevor Bedford has done extensive work on Mu and other SARS-CoV-2 variants and genomic strains. He is an associate professor in the Vaccine and Infectious Disease, Computational Biology, and Public Health Sciences Divisions at Fred Hutch (https://www.fredhutch.org/en.html). Dr. Bedford studies the evolution and spread of viruses, including those that cause COVID-19, influenza, Ebola and Zika. He conducts computational analyses to depict the proliferation of viral strains and to predict which ones may prove problematic for the world. For more information about his work, see https://www.fredhutch.org/en/faculty-lab-directory/bedford-trevor.html.
I have never met Dr. Bedford; however, I will take this opportunity to thank him for the invaluable professional contributions he makes to curated information about COVID.
In the following Twitter thread, published on October 11, Dr. Bedford lays out what we know about the Mu variant of SARS-CoV-2, which appears to be second only to Delta in its fitness and transmissibility, and prospects for further mutation. The thread begins at this link: https://twitter.com/trvrb/status/1447566558973231104?s=11. For readers' convenience, it is spooled in its entirety below.
---
Dr. Bedford's Twitter thread
(follow Twitter or MailChimp links to see charts: https://twitter.com/trvrb/status/1447566558973231104?s=11 or http://eepurl.com/hKLFmX)
I realize this is rather late to the party, but I wanted to provide a look at the prospects of Mu variant virus. I believe we can conclude that Mu appears more transmissible than all circulating variants except for Delta, but Delta is substantially fitter than Mu. If we look within Colombia, we see Mu becoming predominant around May 2021, outcompeting other endogenous South American variants Gamma and Lambda. However, recent sequencing suggests that Delta is successfully invading on this Mu background (). (nextstrain.org/ncov/gisaid/so…)
In neighboring Ecuador, we see a heterogeneous mix of Alpha, Gamma, Iota, Lambda and Mu by June 2021. Delta has been successfully displacing most of this diversity since July 2021, while Mu has remained relatively stable (). (nextstrain.org/ncov/gisaid/so…)
A more rigorous analysis of variant-specific Rt by @marlinfiggins that partitions @CDCgov case counts across states in the US by sequencing data from @GISAID shows that Mu was maintaining Rt > 1 in most states in July 2021 when Alpha, Beta and Gamma had dropped below 1.
However, Rt of Delta is substantially greater than that of Mu and if we estimate variant-specific transmission advantage relative to ancestral non-variant viruses we see that Delta > Mu > other variant viruses.
Here, each point is an estimate for a particular state analyzed independently, so that consistency of these estimates across states gives some degree of confidence in the results.
Model results by @ftzo et al () show a similar pattern with Mu viruses assigned a higher fitness than non-Delta variants. (medrxiv.org/content/10.110…)(nextstrain.org/ncov/gisaid/gl…)
A couple broader thoughts here:
1. I still expect Delta to sweep through the global virus population.
2. Mu's estimated transmission advantage suggests that it would have spread widely had Delta not interfered.
At this point, focus of genomic surveillance should be to identify sub-lineages of Delta bearing mutations that contribute to further transmissibility or to antigenic drift. So far, there is little signal here, but I expect such sub-lineages to emerge in the coming months.
David R. Kotok
Chairman and Chief Investment Officer
Email | Bio
---
Links to other websites or electronic media controlled or offered by Third-Parties (non-affiliates of Cumberland Advisors) are provided only as a reference and courtesy to our users. Cumberland Advisors has no control over such websites, does not recommend or endorse any opinions, ideas, products, information, or content of such sites, and makes no warranties as to the accuracy, completeness, reliability or suitability of their content. Cumberland Advisors hereby disclaims liability for any information, materials, products or services posted or offered at any of the Third-Party websites. The Third-Party may have a privacy and/or security policy different from that of Cumberland Advisors. Therefore, please refer to the specific privacy and security policies of the Third-Party when accessing their websites.
---
Sign up for our FREE Cumberland Market Commentaries
---
Cumberland Advisors Market Commentaries offer insights and analysis on upcoming, important economic issues that potentially impact global financial markets. Our team shares their thinking on global economic developments, market news and other factors that often influence investment opportunities and strategies.