Tue Apr 20, 2021
"Covid-19 hospitalizations have yet to follow suit (sic case counts rising). Several sources cite increased hospitalizations among unvaccinated adults under 50 years old. Vaccinations for this population have become available only recently. The rate of all U.S. adults that have received at least one dose is much lower (45%) than the rate for seniors. Achieving relatively high adoption in this non-senior age group could significantly impact future hospitalization rates."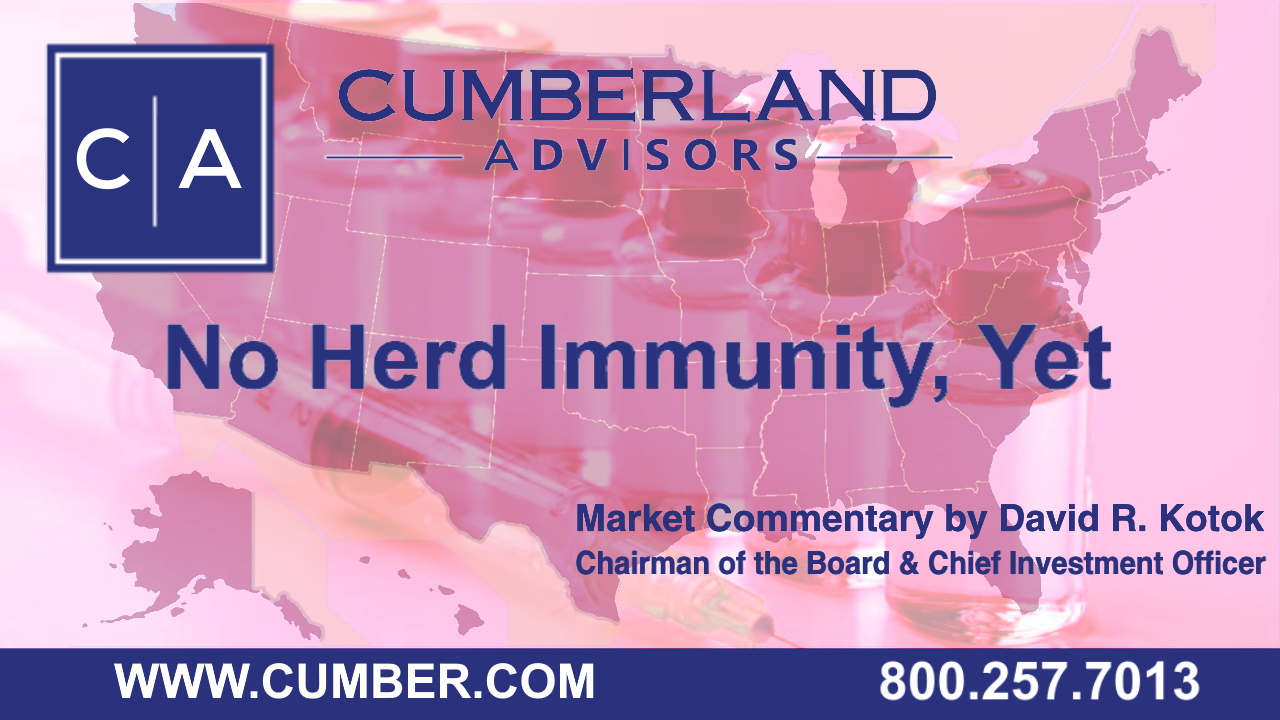 Our source for this COVID-19 update is a recent issue of Health Industry Advisor's free newsletter, Chronicles of a Pandemic ("Covid-19 'Vital Signs,'" Issue 317, April 12, 2021, https://healthindustryadvisor.com/pdfs/covid-19-2021-04-12-day317.pdf). We highly recommend this source of timely and valuable information. We read it on receipt. See Health Industry Advisor's home page to subscribe: https://healthindustryadvisor.com/index.html.
 
The key to success in the US will be the vaccines prevailing over the disinformation and the anti-vaxxers' false narrative. In the US we have plenty of vaccine doses rolling out. We also have plenty of disinformation and misinformation, and almost 20% of our population still resists the idea of getting the vaccine, according to a recent Ipsos poll: https://www.ipsos.com/en-us/news-polls/axios-ipsos-coronavirus-index. Who wins in this tug of war will determine how many get sick and how many get hospitalized and how many have long haul illness and how many may die. It is simple. Vaccines and nonpharmaceutical mitigations (masking, distancing, ventilation of indoor spaces, handwashing, etc.) reduce death and disease. Vaccine avoidance and no risk mitigation increase death and disease. 
 
Below we have listed sources for state-level updates on cases, counts, vaccination progress, vaccination resistance and hesitance, the prevalence of variants insofar as tracking has kept up (it hasn't — see "Why US coronavirus tracking can't keep up with concerning variants," https://www.nature.com/articles/d41586-021-00908-0), and other mitigation measures that states are taking (or not taking). 
 
"US COVID-19 7-Day Case Rate per 100,000, by State/Territory,"
https://covid.cdc.gov/covid-data-tracker/#cases_casesper100klast7days
 
Vaccinations by state as reported to the CDC:
https://covid.cdc.gov/covid-data-tracker/#vaccinations
 
Vaccine attitudes by state (select state to see percentage of population that is vaccine resistant or vaccine hesitant):
https://covidstates.org
 
CDC's COVID Data Tracker: "Proportions of SARS-CoV-2 Variants of Concern by State." (Scroll down for the table showing data for each state.)
https://covid.cdc.gov/covid-data-tracker/#variant-proportions
 
"See Coronavirus Restrictions and Mask Mandates for All 50 States,
https://www.nytimes.com/interactive/2020/us/states-reopen-map-coronavirus.html
 
A look at the covidstates.org map of attitudes toward the vaccine (screenshot below, link to the interactive map above) points to the magnitude of the challenge that threatens to undermine the massive push to outflank COVID-19 and the virus that causes it.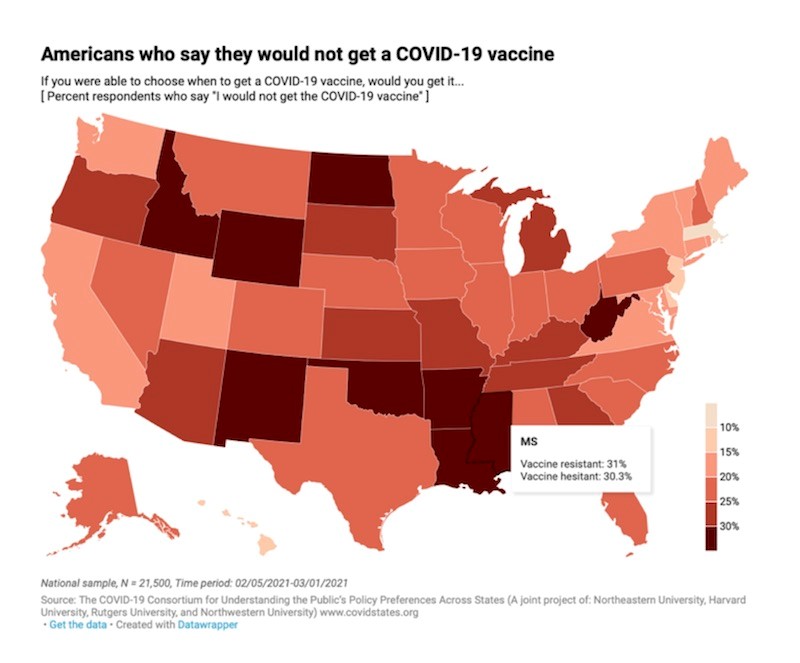 While people may have sensible questions about the vaccine that doctors and other experts can answer to ease concerns, others are caught up in a net of disinformation and misinformation about COVID-19 and about the vaccines and are poised to make decisions that impact who lives and who dies and whether an economic recovery steams ahead or stalls as cases and death counts mount and ICU beds fill again. A new factor in the equation emerged on Tuesday, April 14, when J&J vaccinations in the US were paused by the FDA and CDC in the wake of six cases, all among women, of a rare blood-clotting disorder, out of seven million J&J vaccinations administered thus far ("Johnson & Johnson Vaccine And Blood Clots: What You Need To Know," https://www.npr.org/sections/health-shots/2021/04/13/986767069/johnson-johnson-vaccine-and-blood-clots-what-you-need-to-know). How those cases and a pause for further investigation will impact public trust in the vaccines promises to be complicated and to play out over time.
 
We've seen misinformation and disinformation spouted by talking heads on television and rampant on social media, spread by both the insidious and by the misinformed but well-meaning. Most of us know people personally who may be caught up in that net. Countering false information and defusing the damage it has done and continues to do remains a formidable challenge. The Knight Center for Journalism at the University of Texas at Austin has recently offered a MOOC for journalists and others who want to seek the truth in order to tell their audiences the truth, called, "Welcome to Covering the COVID-19 vaccine: What journalists need to know!" In this video introducing the third module of the four-week course, Instructor Maryn McKenna discusses COVID misinformation, disinformation, their impacts on behavior and the course of the pandemic, and how best to counter flawed information and reasoning with facts: https://www.youtube.com/watch?v=wXGzfsDmMD8. A succinct 14 minutes, the video is well worth watching. One of the sources McKenna recommends for facts is "Fighting the Infodemic: The #CoronaVirusFacts Alliance," https://www.poynter.org/coronavirusfactsalliance/.
 
The world has learned a great deal about COVID-19 over the past year. Emerging facts change thinking. One now-debunked notion is that the best way forward is simply achieving herd immunity through natural infection (while protecting the vulnerable). Because of the nature of this coronavirus and the emergence of variants, humanity is simply not going to see herd immunity by natural means. Reinfections have demonstrated that, especially in places such as Brazil. Worse yet, mistakenly pursuing the mirage of naturally achieved herd immunity results in more deaths and legions of long haulers who face medical costs paired with varying degrees of lost productivity and quality of life.
 
Sweden is the case study to follow. Last year's "Swedish model," which embraced the goal of herd immunity, has now been fully discredited, even by the Swedes themselves. Here is a link to the Swedish admission of error and repudiation of their earlier policy: "Sweden's prime minister admits the country got its coronavirus strategy wrong," https://www.businessinsider.com/sweden-admits-coronavirus-strategy-underestimated-strenght-virus-lofven-stefan-2020-12.
 
In his column from Monday, April 12 ("Goldilocks Markets Should Brace for a Testing Week," https://www.bloomberg.com/opinion/articles/2021-04-12/goldilocks-markets-may-face-test-in-earnings-inflation-data), John Authers cautions that it is too soon to conclude that we have beaten the pandemic, and he offers an incisive, fact-filled analysis showing why, documenting "beacons of hope" such as the UK's data on declining death rates scored as vaccines are administered, and "pockets of despair" such as Brazil and now Michigan as cases rise sharply there. He then segues into an extensive study of the Sweden experiment and its result.
 
Authers compares the Swedish outcome with that of neighboring Scandinavian countries, stepping through arguments and evidence point by point. He writes, in part,
 
"The pro-Swedish argument was that the country had saved itself from another spike in infections by enduring one early in the pandemic, while its neighbors locked down. This obviously hasn't come true.
 
"Here are the rolling death tolls: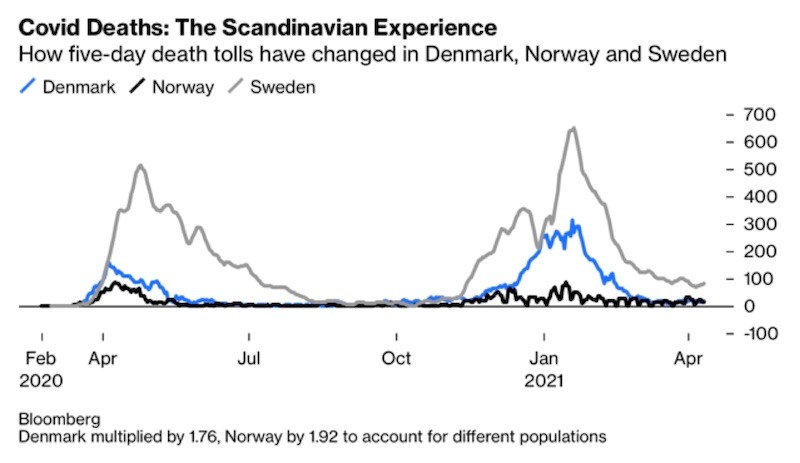 "Again, the lesson might be that it is Norway, and not Sweden, that has done something truly special. Sweden's suffering did nothing to protect it in the second wave. The country's latest wave hasn't yet led to more deaths, and that's encouraging. But it's not the point; Sweden's supposedly better policy for dealing with the pandemic in no way shows up in any of the most important data."
 
We strongly recommend John Authers' entire piece and will continue to look at issues of misinformation and disinformation in future missives. We will also be tracking very closely the race between the vaccines and the variants and its economic and investing implications. Stay safe.
David R. Kotok
Chairman of the Board & Chief Investment Officer
Email | Bio
---
Links to other websites or electronic media controlled or offered by Third-Parties (non-affiliates of Cumberland Advisors) are provided only as a reference and courtesy to our users. Cumberland Advisors has no control over such websites, does not recommend or endorse any opinions, ideas, products, information, or content of such sites, and makes no warranties as to the accuracy, completeness, reliability or suitability of their content. Cumberland Advisors hereby disclaims liability for any information, materials, products or services posted or offered at any of the Third-Party websites. The Third-Party may have a privacy and/or security policy different from that of Cumberland Advisors. Therefore, please refer to the specific privacy and security policies of the Third-Party when accessing their websites.
Sign up for our FREE Cumberland Market Commentaries Cumberland Advisors Market Commentaries offer insights and analysis on upcoming, important economic issues that potentially impact global financial markets. Our team shares their thinking on global economic developments, market news and other factors that often influence investment opportunities and strategies.