Fri Apr 30, 2021
One wonders how different the FOMC's policy statement and press conference would have been had the FOMC met next week after the first release of real GDP growth for the first quarter of 2021. CNBC's most recent survey of economists, released April 27, showed that they now expect 6.8% growth in Q1 2021, up from 5.3% in the March 16th survey. The Atlanta Fed's GDPNow estimate stood at 7.9% on April 28.
Image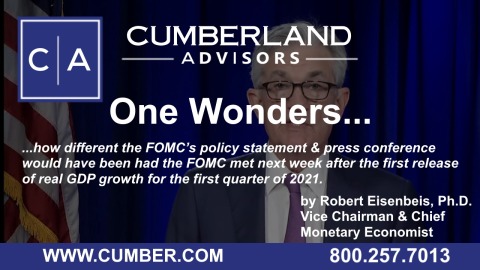 Without that estimate, the FOMC's decision to keep its target federal funds rate between 0 and .25% and to maintain the current asset purchase program feels like a decision based upon stale news. There were the familiar phrases to lead off the statement, pledging that the Fed will use all available tools to achieve its statutory employment and inflation objectives. The statement went on to discuss the effects of the COVID-19 pandemic on the economy. The committee  noted some improvement in the most severely impacted segments of the economy but reiterated that the path forward will be critically dependent upon the course of the virus and vaccinations. As in the statement following the last meeting, while inflation had increased, that increase was dismissed as transitory.

The press conference following the meeting was even less enlightening. There were three main themes that Chairman Powell emphasized. First, he stressed that the current stance of policy guidance is outcome dependent and will not be determined by forecasts. In particular, before its course changes, the committee wants to see substantial progress in obtaining full employment with inflation at 2% and showing signs of exceeding that number for a period of time. As we have noted in other commentaries, however, that guidance lacked specificity: There was no indication of how full employment will be determined; nor was there any indication of how much above 2% inflation will have to be, or for how long, before a policy move is triggered.

Second, Powell was asked what the FOMC might do if inflation rises above 2% but employment still falls short of what the committee might view as meeting its full employment standard. Rather than answering the question directly, he went on to deny the premise. He argued that inflation is unlikely to exceed 2% unless or until the economy achieves full employment. This assumption feels like a Phillips curve view of inflation dynamics.

 Finally, Mike McKee asked about how much benefit there is to the size of the current asset purchase program and whether the same accommodation and impact could be achieved with a smaller program. Again, Powell did not answer the question but rather asserted that the Committee views the current program as adequately accommodative and an important complement to its other policy tools.

All in all, we conclude that the FOMC is currently marking time, which will likely fuel market speculation as more data come out, especially if indicators are positive.
Robert Eisenbeis, Ph.D.
Vice Chairman & Chief Monetary Economist
Email | Bio
---
Links to other websites or electronic media controlled or offered by Third-Parties (non-affiliates of Cumberland Advisors) are provided only as a reference and courtesy to our users. Cumberland Advisors has no control over such websites, does not recommend or endorse any opinions, ideas, products, information, or content of such sites, and makes no warranties as to the accuracy, completeness, reliability or suitability of their content. Cumberland Advisors hereby disclaims liability for any information, materials, products or services posted or offered at any of the Third-Party websites. The Third-Party may have a privacy and/or security policy different from that of Cumberland Advisors. Therefore, please refer to the specific privacy and security policies of the Third-Party when accessing their websites. Sign up for our FREE Cumberland Market Commentaries Cumberland Advisors Market Commentaries offer insights and analysis on upcoming, important economic issues that potentially impact global financial markets. Our team shares their thinking on global economic developments, market news and other factors that often influence investment opportunities and strategies.