Tue Sep 28, 2021
The Fed entered its September meeting with some distressing and difficult information to digest, let alone spin a story as to why it did what it did.
Image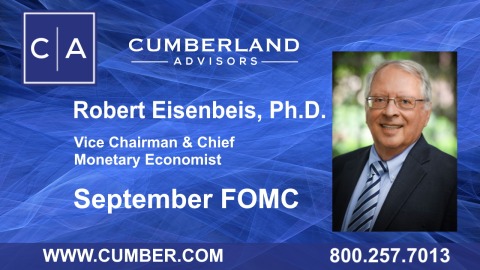 Financial markets tumbled on the Monday preceding the meeting: the Dow shed 600 points, falling 1.7%, the largest one-day decline since last May.  Not only was there concern about the sharp fall in international markets, there was uncertainty about whether and when the Fed would start tapering its asset purchase program.  Then, the next day - Tuesday-what appeared to be a rally fizzled by the end of the day, only to be followed by a rebound on Wednesday, the last day of the FOMC's two-day meeting.  This, on top of inflation numbers which showed a continuation of the monthly increases in the CPI, albeit somewhat less in August than in the previous several months, but still up 5.3% on a year-over-year basis.  As a consequence, it is not surprising that the FOMC decided to keep its target rate near zero and to continue its asset purchase program.
           
The September meeting was also one where the Committee presented another set of economic projections.  These projections showed a markdown in GDP growth for 2021 from 7% to 5.9%, an increase in the projected unemployment rate from 4.5% in the Committee's June projections to 4.8%, and an increase in the projected year-end inflation rate from 3.4% to 4.2% The projections provide further evidence of progress towards the Committee's inflation objectives but not quite as strong as had been expected.  Finally, during the press conference, Powell was quite clear that policy would be critically dependent upon how the fourth phase of the Covid-19 virus pandemic progressed and that it had been a major cause of a slowdown in the recovery progress.
           
At the press conference, significant attention was given to when the tapering process would begin, what it might look like, and when the FOMC might begin raising the target federal funds rate.  The wording in the state on this issue changed somewhat from what it was in July leading some in the press and other observes to conclude that tapering would start, perhaps as soon as December.  Chairman Powell said that tapering would begin when substantial progress had been made on the Committee's inflation and employment objectives, and he allowed that at least in his view, the inflation objective had been met  He also indicated that the criteria for making the tapering decision were not as stringent as the criteria for changing the funds rate target, but that it was likely that the FOMC might make a decision on when to start its tapering process at its next meeting and that he didn't envision a rate hike until tapering had finished.  When asked about what would happen if developments called for a change in the funds rate target before tapering had been completed, Powell stated that in that case the more likely policy move would be to accelerate the tapering process rather than change the funds rate target. 
           
Aside from a bit more clarity on tapering and funds rate policy change, there was little to be gleaned from the press conference or policy statement that was released after the meeting.  It was clear, however, that uncertainty about the path for the Delta variant of the virus would be a key factor in the Committee's decision process.  And given that the employment situation is key to the tapering decision, Thursday' increase in new claims for unemployment insurance on top of the increase the previous week, certainly suggests there is still a way to go as far as full recovery of the job market is concerned.
Robert Eisenbeis, Ph.D.
Vice Chairman & Chief Monetary Economist
Email | Bio
---
Links to other websites or electronic media controlled or offered by Third-Parties (non-affiliates of Cumberland Advisors) are provided only as a reference and courtesy to our users. Cumberland Advisors has no control over such websites, does not recommend or endorse any opinions, ideas, products, information, or content of such sites, and makes no warranties as to the accuracy, completeness, reliability or suitability of their content. Cumberland Advisors hereby disclaims liability for any information, materials, products or services posted or offered at any of the Third-Party websites. The Third-Party may have a privacy and/or security policy different from that of Cumberland Advisors. Therefore, please refer to the specific privacy and security policies of the Third-Party when accessing their websites.
---
Sign up for our FREE Cumberland Market Commentaries
---
Cumberland Advisors Market Commentaries offer insights and analysis on upcoming, important economic issues that potentially impact global financial markets. Our team shares their thinking on global economic developments, market news and other factors that often influence investment opportunities and strategies.