Thu Apr 15, 2021
This link will take you to a ten-minute Bloomberg "QuickTake" well worth watching. It is investigative journalism at its best: "The Solar Industry's Xinjiang Problem," https://www.bloomberg.com/news/videos/2021-04-13/the-solar-industry-s-xinjiang-problem-video
 
And here is a related article: "Xinjiang Is a Minefield for Global Companies," https://www.bloomberg.com/news/newsletters/2021-04-13/xinjiang-is-a-minefield-for-global-companies?sref=q88SDHkB.
 
After watching and reading, please consider the extremely complex policy trade-offs that are in play. Examine the balance between ESG concerns and a supply chain that provides key components for solar power systems. Also note that coal is a major power source in China, where coal plants are still under construction, and that coal-fired factories in Xinjiang Province are producing polysilicon for a large fraction of the world's solar panels. And remember, please, that China's population is four times larger than the US's, with a cohort of 400 million Millennials versus 90 million in the US.
Image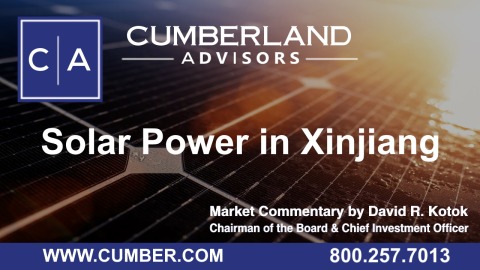 Now feed that information into your analysis of the US infrastructure debate. And ask where human rights in China fits in.
 
We don't have answers. We do have personal views within our company, and they vary, as you might expect.
 
The global investment community is moving to more deeply defined ESG practices. Google searches for ESG exceed searches for indices. ESG is a major discussion topic for those who buy and sell stocks and bonds, and the territory is changing rapidly.
 
At Cumberland our US ETF portfolios are overweight solar, wind, and water power. We also have a special strategy that we call Pandemic-Affected Municipal Bonds (PAMS). On the other hand, our quant strategy ignores ESG and focuses on math applied to market-based prices and various indicators.
 
Nobody said the investment advisory business was easy. We'll send information on any strategy to anyone who asks.
David R. Kotok
Chairman of the Board & Chief Investment Officer
Email | Bio
---
Links to other websites or electronic media controlled or offered by Third-Parties (non-affiliates of Cumberland Advisors) are provided only as a reference and courtesy to our users. Cumberland Advisors has no control over such websites, does not recommend or endorse any opinions, ideas, products, information, or content of such sites, and makes no warranties as to the accuracy, completeness, reliability or suitability of their content. Cumberland Advisors hereby disclaims liability for any information, materials, products or services posted or offered at any of the Third-Party websites. The Third-Party may have a privacy and/or security policy different from that of Cumberland Advisors. Therefore, please refer to the specific privacy and security policies of the Third-Party when accessing their websites. Sign up for our FREE Cumberland Market Commentaries Cumberland Advisors Market Commentaries offer insights and analysis on upcoming, important economic issues that potentially impact global financial markets. Our team shares their thinking on global economic developments, market news and other factors that often influence investment opportunities and strategies.