Fri Oct 1, 2021
The Treasury curve continued to flatten during the third quarter of 2021, with short-term Treasury yields rising while longer Treasury yields declined. The largest increase in yield is seen in the 5-year, which is up 10.4 bps to 0.995% as of 9/29/21. The biggest decline in yield is seen in the 30-year Treasury, which is down 3.8 bps to 2.05% as of 9/29/21. You can see the complete movement in the Treasury curve in the chart below.
Image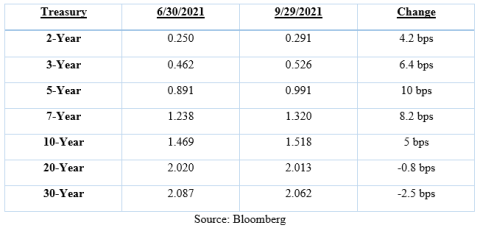 As the Treasury curve flattened, we saw minimal movement in the already tight spreads of corporates and taxable municipals. As of 9/29/21, the Bloomberg Barclays US Agg Corporate Bond Index was flat at +82 bps. Spreads on taxable municipals also approach the close of the quarter flat, with the Bloomberg Barclays Taxable Muni US Agg Index currently at +86 bps. The continued tight spreads benefited the long end of our barbell strategy as Treasury yields dropped and the additional yield of the spread securities added to our performance.

At the September FOMC meeting, the Fed made comments that led market participants to believe that tapering could start as early as November. The following statement was added and helped to trigger a rise in yields across the Treasury curve during the last week of the quarter: "If progress continues broadly as expected, the Committee judges that a moderation in the pace of asset purchases may soon be warranted." They also made another significant increase in inflation estimates for 2021. They expect PCE inflation to average 4.2% in Q4 and core inflation to rise to 3.7% by the end of the year. There was also a change in policy projections with the dot plot. Nine of the 18 participants now expect rate hikes in 2022, and the median forecast for the end of 2023 is up to 1%. That's a 50bps increase from last quarter's projection. All this information raises expectations of higher interest rates and reaffirms our defensive positioning in portfolios.

During the quarter, we continued shortening durations at the margin as we positioned portfolios more defensively. We are also continuing to add more defensive securities to the portfolios, including Treasury floaters and short callable agencies, as we discussed in last quarter's article. We are maintaining a duration target of 4.00–4.50, with the possibility of lowering the target again before year end. We still believe that the long-term trend in Treasury yields will be higher.

Going forward, we are looking to continue structuring portfolios defensively by maintaining shorter durations and taking a conservative approach to the current yield environment. We expect to maintain an increased weighting in defensive securities as outlined above while looking to take profits in securities that have benefited from tighter spreads. We will stay flexible in our investment process while following macroeconomic data to guide our decisions as we navigate the fourth quarter.
Daniel Himelberger
Portfolio Manager & Analyst – Fixed Income
Email | Bio
---
Links to other websites or electronic media controlled or offered by Third-Parties (non-affiliates of Cumberland Advisors) are provided only as a reference and courtesy to our users. Cumberland Advisors has no control over such websites, does not recommend or endorse any opinions, ideas, products, information, or content of such sites, and makes no warranties as to the accuracy, completeness, reliability or suitability of their content. Cumberland Advisors hereby disclaims liability for any information, materials, products or services posted or offered at any of the Third-Party websites. The Third-Party may have a privacy and/or security policy different from that of Cumberland Advisors. Therefore, please refer to the specific privacy and security policies of the Third-Party when accessing their websites.
---
Sign up for our FREE Cumberland Market Commentaries
---
Cumberland Advisors Market Commentaries offer insights and analysis on upcoming, important economic issues that potentially impact global financial markets. Our team shares their thinking on global economic developments, market news and other factors that often influence investment opportunities and strategies.