Cumberland Advisors Chief U.S. Economist David W. Berson joins Yahoo Finance Live to discuss inflation, rate hikes, Fed policy, the expectations for markets, and the outlook for the U.S. economy.
February 13, 2023
Image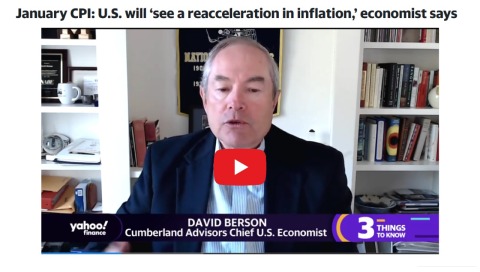 Excerpt follows:
DAVID W. BERSON: …For January, we're going to see a reacceleration in inflation. I think the 0.5% estimate that is the consensus is probably going to be pretty close. Now, that doesn't mean that we're not seeing a disinflationary trend. You know, the decline last month, we're not seeing negative inflation. We're not seeing deflation. So a bump-up this month probably shows too much inflation. Last month certainly showed too little inflation compared to what's actually happening in the economy… Inflation is slowing-- not slowing nearly as much as it showed last month. You know, if you look at the 12-month change, we saw some pretty hefty inflation. It's down substantially from the peak. And we'll probably see inflation continue to moderate as the year goes on.
Video and transcript continued at Yahoo Finance: https://finance.yahoo.com/video/january-cpi-u-see-reacceleration-143851542.html
More about David W. Berson, Ph.D. here: www.cumber.com/team/david-w-berson-phd
---
Links to other websites or electronic media controlled or offered by Third-Parties (non-affiliates of Cumberland Advisors) are provided only as a reference and courtesy to our users. Cumberland Advisors has no control over such websites, does not recommend or endorse any opinions, ideas, products, information, or content of such sites, and makes no warranties as to the accuracy, completeness, reliability or suitability of their content. Cumberland Advisors hereby disclaims liability for any information, materials, products or services posted or offered at any of the Third-Party websites. The Third-Party may have a privacy and/or security policy different from that of Cumberland Advisors. Therefore, please refer to the specific privacy and security policies of the Third-Party when accessing their websites.
---
Sign up for our FREE Cumberland Market Commentaries
---
Cumberland Advisors Market Commentaries offer insights and analysis on upcoming, important economic issues that potentially impact global financial markets. Our team shares their thinking on global economic developments, market news and other factors that often influence investment opportunities and strategies.
David W. Berson, Ph.D.
News Source
Yahoo Finance