Excerpt from MarketWatch Featuring John R. Mousseau, CFA...
 
'In a muni bankruptcy, the same entity emerges': Puerto Rico exits bankruptcy with questions remaining

By Andrea Riquier – First Published: Jan. 19, 2022
Image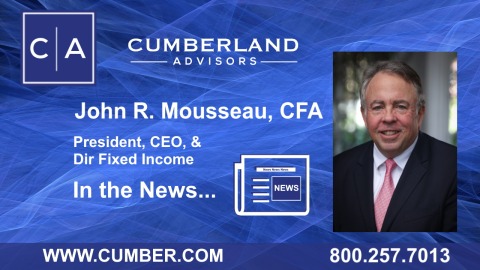 Puerto Rico on Tuesday received court approval to exit its municipal bankruptcy, restructuring over $30 billion of debt, but leaving plenty of questions about the sustainability of its finances.

"This is a significant step forward," said John Mousseau, president and CEO of Cumberland Advisors, which has $4.1 billion in assets. Cumberland holds only insured Puerto Rico bonds. "This bankruptcy has been a dark cloud for a long time. It hasn't been beneficial to anyone. If you end up with a plan where no one is happy you probably have the right plan."

Still, Mousseau said in an interview, "people have short memories. People said no one would ever buy Detroit's paper again, but they are. I think people will be buying (Puerto Rico debt) again. It will be more secure but not without risk."

Mousseau thinks Puerto Rico should be granted statehood.

Read (or listen to) the full article at MarketWatch.com: https://www.marketwatch.com/story/in-a-muni-bankruptcy-the-same-entity-emerges-and-the-same-issues-puerto-rico-exits-bankruptcy-with-questions-remaining-11642609973
---
Links to other websites or electronic media controlled or offered by Third-Parties (non-affiliates of Cumberland Advisors) are provided only as a reference and courtesy to our users. Cumberland Advisors has no control over such websites, does not recommend or endorse any opinions, ideas, products, information, or content of such sites, and makes no warranties as to the accuracy, completeness, reliability or suitability of their content. Cumberland Advisors hereby disclaims liability for any information, materials, products or services posted or offered at any of the Third-Party websites. The Third-Party may have a privacy and/or security policy different from that of Cumberland Advisors. Therefore, please refer to the specific privacy and security policies of the Third-Party when accessing their websites.
---
Sign up for our FREE Cumberland Market Commentaries
---
Cumberland Advisors Market Commentaries offer insights and analysis on upcoming, important economic issues that potentially impact global financial markets. Our team shares their thinking on global economic developments, market news and other factors that often influence investment opportunities and strategies.
John R. Mousseau, CFA