Tue Jan 31, 2023
"How was Cuba?" is the question I've been asked several times since I returned from the Global Interdependence Center (GIC) delegation's trip to Cuba January 8–12, 2023. 
 
My personal experience with Cuba started before Cumberland Advisors was created in 1973.   We had family conversations about I Love Lucy and the role of Desi Arnaz. I watched Fidel Castro's rise to power.  I vividly recall the Cuban missile crisis and the confrontation between the United States and Russia.  And of course, there is the Bay of Pigs invasion attempt.  They are all part of my personal memory. In the 1960s, I had a fraternity brother at Penn who had fled Cuba with his parents.  He would share stories from firsthand experience.  Readers who are history buffs may want to find a copy of Bay of Pigs, The Untold Story, a 1979 publication by Simon and Schuster, written by Peter H. Wyden.
 
So, a visit to Cuba with a GIC fact-finding delegation was not without some experience-induced biases and expectations. The actual results from my contacts and personal experiences in Havana have triggered introspection and reconsideration of my previous biases. 
 
This was my third trip to Cuba. 
 
I made the first trip to research the Cuban healthcare system's response to the Zika virus. You can find my writings about Zika and the chapter on Cuba here: https://www.cumber.com/sites/default/files/2021-08/Zika-Pamphlet-by-David-R-Kotok.pdf.
 
My second trip took place in 2019. Then, I co-chaired a GIC (www.interdependence.org) delegation to Cuba. We had a fact-finding visit with a diverse and serious group of professionals in our delegation. Our meetings in 2019 were at ministerial level and with the central bank. Never did I expect to meet at the conference room of the Central Bank of Cuba — until that visit unfolded in 2019. And just four years later our delegation was in that same conference room again.
 
Here are a few observations and impressions from this recent and extraordinary visit to Havana in January 2023. At the end of this commentary we are including two reports by Rick Newman of Yahoo Finance, who has written in detail about the group trip. Between his Twitter thread photo essay and his column, we believe readers are in for a full tour de force about this delegation trip to Cuba.
Image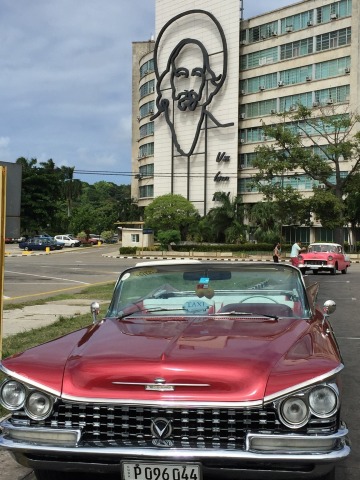 (Photo: Revolution Square in Havana, Cuba by David R. Kotok)
 
This GIC official trip took months to organize. It required certain Cuban visas. Our group traveled under special rules issued by the US State Department. We designed an itinerary that complied with those special rules.
 
A few days prior to our arrival, the United States announced the reopening of the consulate in Havana. (See "The US is reopening visa and consular services at embassy in Cuba," https://www.npr.org/2023/01/04/1146863107/the-u-s-is-reopening-visa-and-consular-services-at-embassy-in-cuba.) We did not visit the US Embassy, and I do not know if that can be arranged on a future trip.
 
After more than a quarter century of GIC-related delegation visits worldwide, this was the first time I personally led a delegation to a country officially listed by the United States as a "state sponsor of terrorism." Here's a link to what that designation was originally intended to accomplish after the 9/11 attack on the World Trade Center: https://www.piie.com/publications/policy-briefs/using-sanctions-fight-terrorism.
 
Please note that the perpetrators of 9/11 are now known and were not fully known then. Among the several countries involved with 9/11 either directly or indirectly you can find connections to Afghanistan and Saudi Arabia, neither is currently listed as a state sponsor of terrorism. Yemen was listed and has been removed from that list by the US. 
 
Please note that I would not personally visit the other three existing countries presently listed in that category. Those three are Iran, North Korea, and Syria. Please also note that Russia and Belarus and Taliban-governed Afghanistan and Myanmar and others that I am sure readers can name as candidates for that designation are NOT on this list. 
 
Our delegation wondered whether the designation of Cuba was consistent with that for the other three countries. We can easily understand such a designation for North Korea, as we see them developing nuclear weapons and firing missiles over Japan. We can see Iranian drones in use by Russia in Ukraine. But we cannot see equivalent evidence of state-sponsored terrorism from Cuba.  No Cuban missiles fly over Florida; no Cuban drones do either.  No Cubans are reported to fall out of windows like we see from Russia.  We haven't seen any evidence of poisoning like we have seen by Russia or North Korea. 
 
Here's the link to the US State Department's listing of Cuba as a state sponsor of terrorism. This action was taken in the final days of the Trump Administration: https://www.state.gov/state-sponsors-of-terrorism/. The order was issued by the State Department on January 12, 2021, six days after the January 6th events that occurred at the Capitol of the United States, with the following rationale: https://cu.usembassy.gov/u-s-announces-designation-of-cuba-as-a-state-sponsor-of-terrorism/.
 
We cannot find any direct action that triggered the timing of the January 2020 order. There's no way to know whether there was and nonapparent motivation behind the timing. Many of the reasons cited in the order for the action had been alleged for a while.
 
In October 2022, NBC News reported on the question of Cuba's designation by the US State Department, noting that: "According to half a dozen interviews with former intelligence analysts and officials who worked on Cuba policy in both Republican and Democratic administrations, the 'consensus position' in the U.S. intelligence community has for decades been that the communist-led nation does not sponsor terrorism" ("Should Cuba be on the U.S. list of state sponsors of terrorism? Former intelligence officials say no," https://www.nbcnews.com/news/latino/cuba-shouldnt-sponsor-terrorism-list-former-us-officials-say-rcna52728). I believe that's something to think about. 
 
This GIC delegation was a collection of professionals. A leading surgeon specializing in cochlear implants, a distinuguished practitioner specializing in vestibular/balance rehabilitation, a prominent lawyer, a prestigious Florida-based banker, several prominent and serious professional investors, a leading expert in agriculture, and a noted meteorologist and physicist were among the group. Our meetings included many direct contacts and discussions with Cubans in those professions and many visits with entrepreneurial Cuban businesses. Our delegation divided up so that we could connect with Cuban professional counterparts who were not official governmental representatives. Please note that the Cuban government did not interfere in any meetings. All those meetings were very open and candid. I personally had several such meetings. 
 
We also had very-high-level discussions with Cuban government officials. You can read about the meeting with Deputy Minister Carlos Fernandez de Cossio in Rick's column. I can personally attest that the meeting was cordial, candid, and very forthright about the discussion of issues both positive and negative in the US-Cuba relationship. In every single meeting with different officials, they were welcoming and gracious.  In our private meetings, we raised some tough questions and had some exchanges about differing points of view.  The meetings were not combative.
 
As we expected, the Cuban government officials offered a similar and consistent point of view in all their presentations. They were then open to questions and discussion about differences of viewpoint.  Every minister extended the allotted time so that members of our delegation had the opportunity to raise issues and questions. 
 
For me, the final takeaway has two elements.
 
The first is that the terrorism designation is questionable and is also harming America. I wouldn't say that about Iran or North Korea or Syria. But it seems so when applied to Cuba. It is certainly hurting the Cuban people and the Cuban economy. There is no question about that when you personally observe the absence of some medical products or food or many basic modern necessities. That doesn't seem to have any effect on the way the Cuban socialist political system works, but it hurts the population of Cuba a lot. 
 
Secondly, I believe the US is missing a great opportunity that can benefit Americans in medicine, business, agriculture, and other areas — because the Cubans want to do business with us. They want to buy from us and trade with American businesses. Of course, that is good for Cuba, but it is also good for us. There are areas of common interest and alignment that can benefit both countries. Why impede the benefits with this extreme designation?  We, in America, gain nothing.  And we drive Cubans away and many of them would prefer to gravitate in our direction.
 
I may try to describe those opportunities for the United States in greater depth in future writings, but several examples come immediately to mind. There are enormous, geographically particular business opportunities for Florida-based businesses and for Central US agricultural enterprises (think about top chicken-producing states such as Iowa, Ohio, and Arkansas, for example). The Cubans cannot make payments under the present sanctions, and trade credits are stymied. Why not alter the mix when it comes to sanctions on healthcare and humanitarian items, food items, and consumer goods? 
 
On a different front, a joint Cuban-American lung cancer vaccination and cure research project is being impeded by these US rules. The Cuban-American joint effort on hurricane damage mitigation is being impeded by these rules. Does anyone think about the fact that the US hurricane-hunter planes that were measuring Hurricane Ian needed to fly through Cuban air space and that information sharing between the US and Cuba is beneficial to Florida when a Hurricane Ian is threatening Fort Myers? Does anyone in Florida think about what a Cuba-Florida joint climate mitigation program dealing with rising sea levels and severe storm protection could do to benefit both Cuba and Florida? The discussion in Cuba included the common and aligned interests of both countries that were made clear when hurricane Ian hit Cuba and then Ft. Myers, Florida. Bob Bunting, CEO and chairman of the Climate Adaptation Center (CAC) and a member of our delegation, reported on the trip in his January 20 edition of the CAC newsletter Climate Insights, which readers can subscribe to at this link: https://www.theclimateadaptationcenter.org/about-us/contact-us/. Bob offered this summary:
 
The CAC was honored and awed to participate in our partner, The Global Interdependence Center's, delegation to Cuba. Our group of 20, including 4 from the CAC, met with 5 ministers of various Cuban government ministries to discuss a wide variety of issues from central banking to climate and its impact on Cuba, including the recent devastation of Hurricane Ian.
 
Florida and Cuba, in the climate-warmed world, are now both in the Caribbean climate zone, and we have a lot in common. I was privileged to lead a key meeting at the Ministry of Energy and the Environment where we had an almost two-hour deep conversation on how climate is [impacting] and will impact Cuba and Florida. They are well versed, and the CAC forecast and the Cuban forecast through 2050 are nearly identical. Science has always provided a bridge, and I hope the lanes widen so we can work on common issues. It will take me some time to internalize all that I saw and heard on this special delegation trip. 
 
Rick Newman of Yahoo Finance was also a member of our delegation. He had full access to every meeting. The Cubans did not restrain him in any way. He brought his skills to the discussions and asked some hard questions. Rick has published a serious and substantial thread on Twitter, cataloging his takeaways as a journalist. He has given us permission to share his first Twitter thread about the trip. We have provided links (below the screenshot of Rick's opening) so that readers access Rick's incisive observations and his many accompanying photographs, which tell important stories about life in Cuba today and suggest opportunities for the future.
 
Image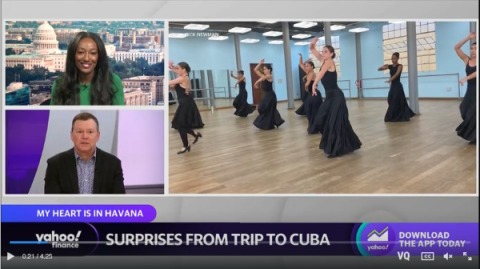 Access Rick's thread on Twitter: 
https://twitter.com/rickjnewman/status/1614368747346591750?s=20&t=luaW6IUUOsVnqAAMWS-nwA
 
Or via Thread Reader:
https://threadreaderapp.com/thread/1614368747346591750.html
 
Or in PDF format (provided by Thread Reader):
https://www.cumber.com/sites/default/files/2023-01/Rick%20Newman%20Twitter%20Thread%20on%20Cuba%20compiled%20by%20Thread%20Reader.pdf
 
Readers may want to follow Rick on Twitter (https://twitter.com/rickjnewman) and on Yahoo (https://www.yahoo.com/author/rick-newman/). We also refer readers to the Global Interdependence Center website: https://www.interdependence.org.
 
On January 19 Rick's full column on the Cuba trip was published at Yahoo Finance: "7 surprises from a visit to Cuba," https://finance.yahoo.com/news/7-surprises-from-a-visit-to-cuba-175126441.html. He has described the meetings and the characterized our trip with precision and accuracy. Rick's article is a must-read and is preceded by a four-minute video interview with Rick about the trip. It plays after a short ad and is well worth watching.
 
We're back at work and thinking about the fact that our delegation traveled safely and had an eye-opening experience. I personally have no fear about taking a future trip to Cuba. Some folks have asked me about that. I'm hopeful that some reengagement by the United States with Cuba can occur for the benefit of the United States and for the benefit of the many friendly people I met in Cuba.
David R. Kotok
Chairman & Chief Investment Officer
Email | Bio
---
Links to other websites or electronic media controlled or offered by Third-Parties (non-affiliates of Cumberland Advisors) are provided only as a reference and courtesy to our users. Cumberland Advisors has no control over such websites, does not recommend or endorse any opinions, ideas, products, information, or content of such sites, and makes no warranties as to the accuracy, completeness, reliability or suitability of their content. Cumberland Advisors hereby disclaims liability for any information, materials, products or services posted or offered at any of the Third-Party websites. The Third-Party may have a privacy and/or security policy different from that of Cumberland Advisors. Therefore, please refer to the specific privacy and security policies of the Third-Party when accessing their websites.
---
Sign up for our FREE Cumberland Market Commentaries
---
Cumberland Advisors Market Commentaries offer insights and analysis on upcoming, important economic issues that potentially impact global financial markets. Our team shares their thinking on global economic developments, market news and other factors that often influence investment opportunities and strategies.