Mon May 3, 2021
On Wednesday night (April 27), the president formally unveiled the $1.8 trillion American Families Plan (AFP), which provides $1 trillion in direct aid and $800 billion in tax credits to fund childcare, healthcare, and education initiatives. The AFP is another installment of Biden's Build Back Better initiative. As we noted in our short commentary on the American Jobs Plan (AJP) and in our Q1 credit commentary, the AFP addresses what many consider social infrastructure. Pundits' responses after the formal announcement were both for and against the plan – and some of those who spoke against it thought the plan did not go far enough to support social needs! Funding of the plan would come from income and wealth taxes – including raising the top tax bracket on those making over a million to 39.7% from 37.0%, raising the capital gains tax to 39.6% from 20%, and stepping up enforcement to collect timely taxes.
Image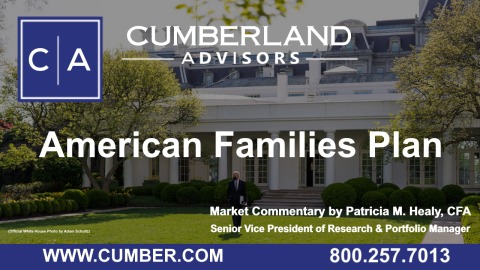 The American Jobs Plan, formally proposed on March 31st, is $2.65 trillion (including $400 million in green tax credits subsequently added) to be funded with increases in corporate taxes; and the approved $1.9 trillion American Rescue Plan, together with the American Families Plan, totals over $6 trillion. The aid is expected to improve economic conditions – but also to increase income, wealth, and corporate taxes to be incurred and spent over the next 8 to 15 years.
Passage of the AFP and the AJP is far from certain. Democrats could use political capital to push through portions of the plans that are allowed through reconciliation. Alternatively, aspects of the plans could be included in smaller, more directed bills in order to get some planning, projects, and initiatives started. 
The AJP and AFP have been discussed for some time, so the formal proposals are not a surprise to the municipal market, which has seen consecutive weeks of inflows and strong demand from investors expecting higher taxes in the future. 
On April 22, Republicans proposed a $568 billion plan for infrastructure funding, which is meant to serve as a guide to develop bipartisan bills that will move by regular order. The Republican proposal includes transportation projects as well as drinking water and broadband. Included in the AJP is $621 billion transportation funding including EV, road safety, disaster, and underserved funding. In addition to the $621 billion, there's $111 million for clean water, $100 million for electric grid improvements, and $100 million in broadband improvements. Of the Republican framework, $65 billion is included for broadband. There should be some common ground for Congress to get started.
It is important to arrive at some form of a plan soon, even a less ambitious one, so that states and municipalities can move forward with planning and construction funding. We have been moving in the right direction, but more needs to be done. The American Society of Civil Engineers (ASCE) Infrastructure Report Card now grades our infrastructure at a C-, up from a D+. That mark is still not good, as we know from our grade-school report cards

("2021 Report Card for America's Infrastructure grades reveal widening investment gap," Civil Engineering Source,
https://source.asce.org/2021-report-card-for-americas-infrastructure-grades-reveal-widening-investment-gap/)

. 
Aviation, drinking water, energy, inland waterways, and ports improved since the last report in 2017; however, bridge grades declined from a grade of C. Recent events such as the Texas freeze, more frequent and damaging storms and fires, and sea level rise highlight the need for more resilient infrastructure. And an emphasis on environmental, social, and governance (ESG) issues continues to be a priority for some investors and planners. 
Municipalities are experienced in providing much of our nation's infrastructure and are knowledgeable on regional efforts and needs. Municipalities are concerned about sustainability, including climate initiatives and protecting against sea level rise, changing storm patterns, and increased wildfires. This municipal involvement should be taken into account as infrastructure plans are finalized
.
---
Links to other websites or electronic media controlled or offered by Third-Parties (non-affiliates of Cumberland Advisors) are provided only as a reference and courtesy to our users. Cumberland Advisors has no control over such websites, does not recommend or endorse any opinions, ideas, products, information, or content of such sites, and makes no warranties as to the accuracy, completeness, reliability or suitability of their content. Cumberland Advisors hereby disclaims liability for any information, materials, products or services posted or offered at any of the Third-Party websites. The Third-Party may have a privacy and/or security policy different from that of Cumberland Advisors. Therefore, please refer to the specific privacy and security policies of the Third-Party when accessing their websites.
Sign up for our FREE Cumberland Market Commentaries Cumberland Advisors Market Commentaries offer insights and analysis on upcoming, important economic issues that potentially impact global financial markets. Our team shares their thinking on global economic developments, market news and other factors that often influence investment opportunities and strategies.